Find a Finance Speaker with a Professional Touch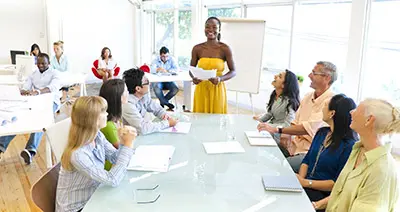 Looking for a finance speaker to lend a professional touch to your next event? The National Financial Educators Council (NFEC) has the answer. They have founded the Personal Finance Speakers Association, the first national speakers' bureau that covers financial education material. This team of highly-trained and certified presenters, keynote speakers, and advocates will provide that professional touch you're looking for.
The NFEC is an independent group with a social enterprise model. The organization is dedicated to raising the financial capabilities of people around the globe, thus giving them the opportunity to improve their lives, the lives of their loved ones, and the lives of people they reach. The NFEC's team of credible, qualified finance speakers can help make your next event so memorable that participants will be talking about it for months to come.
Booking a motivational financial literacy speaker is easy. The NFEC has featured presenters who are skilled at gaining rapport, entertaining and engaging audiences of all ages and walks of life, with interactive techniques that really bring the message home. Further, these speakers are recognized experts. All members of the speakers association have completed the coursework and educational requirements to become certified financial education speakers that meet the NFEC's stringent standards.
If building financial competencies among your employees, members, or people you serve is one of your organizational goals, or if you simply would like to include personal finance as a topic at your next event, the NFEC has a speaker that will meet your needs and budget. Speakers who are members of the Personal Finance Speakers Association are not only certified and credible. They have honed their presentation skills and attained the confidence to entertain while they educate. A speaker from the NFEC will ensure that attendees leave your event inspired to take action toward financial wellness.
Share This Article