Benefits of Financial Education
Benefits of financial education are far-reaching. In fact, it forms the foundation of an abundant life. Properly planning one's finances improves self-esteem and garners the respect of friends and family. When people know how to make prudent financial decisions, they avoid common pitfalls of those who do not. Without financial literacy courses or other financial education, people naturally make bad decisions about their money. These bad decisions usually compound to create a financial hole that many can never escape throughout their lives. Not being educated about financial matters has a negative impact on every aspect of one's life. Financial education is the difference between those who are controlled by money and those who reign as the masters of money.
The Immense Benefits of Financial Education
The benefits of financial education have been well documented in studies conducted by academia, government agencies and financial education companies. The strongest benefits are seen when participants complete a program that induces real, positive behavioral change in financial matters. The research-backed benefits of financial education include having less debt, being able to manage household finances more skillfully, making well-informed investment decisions that will produce higher personal net worth, and a myriad of other habits that promote a happier life.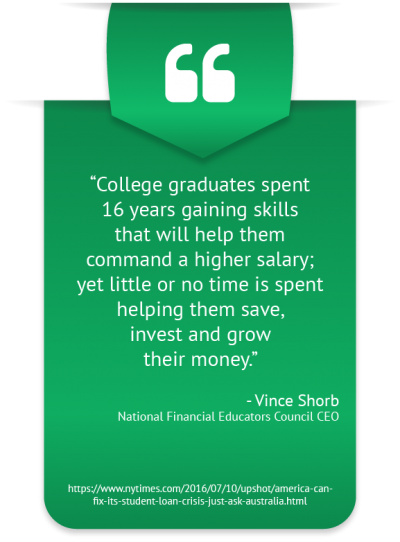 Proven Positive Impact of Financial Education
The Federal Deposit Insurance Corporation (FDIC) analyzed the intermediate-term impact of a financial literacy program on consumers' behavior and confidence 6 – 12 months after the end of the program. They found that consumers were more likely to have a checking account, budget wisely, save for retirement, and more. After the program, 78% of respondents reported they had a checking account, up from 12% before they had undergone the program. Another 69% reported their level of savings had increased after taking the program, with only 3% reporting that it had declined (Federal Deposit Insurance Corporation). https://www.fdic.gov/consumers/consumer/moneysmart/pubs/ms070424.pdf
Students who underwent the Moneytalks educational curriculum demonstrated positive behavioral changes. A 'saving scale' constructed by the author was the composite of a series of questions asking students about their savings habits. The mean value of the savings scale rose from a mean of 24.28 to 26.78, which was deemed statistically significant. Furthermore, statistically significant differences were noted for the proportion of kids who would compare price and buy on sale (University of California Agriculture and Natural Resources). http://ucanr.edu/sites/consumereconomics/files/136495.pdf
Attending an employer-sponsored retirement seminar saw net worth increase by nearly 27% for those who were in the lowest income bracket and had not received a high school diploma (Dartmouth). http://www.dartmouth.edu/~alusardi/Papers/Financial_Education_2004.pdf
Community, Culture and Education Influence Financial Habits
Researchers at NBER demonstrated the positive relation between the average stock market participation between the individual's community and the individual's participation rate in the markets. This effect was proven to be stronger in more sociable communities (National Bureau of Economic Research). http://www.nber.org/papers/w13168.pdf
In a survey by OECD, well over a quarter of respondents replied that their culture influenced their attitudes toward wealth (Organization for Economic Cooperation and Development). https://www.oecd.org/finance/financial-education/2017%20Seminar%20on%20financial%20education%20and%20
financial%20consumer%20protection%20LAC%20Wood%20.pdf
The GAO states that programs should be culturally sensitive and be cognizant of differing conceptions of gender roles and religious values (University of North Texas). https://digital.library.unt.edu/ark:/67531/metadc296866/m2/1/high_res_d/320216.pdf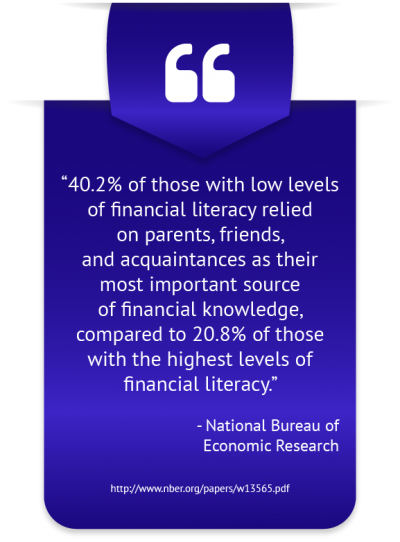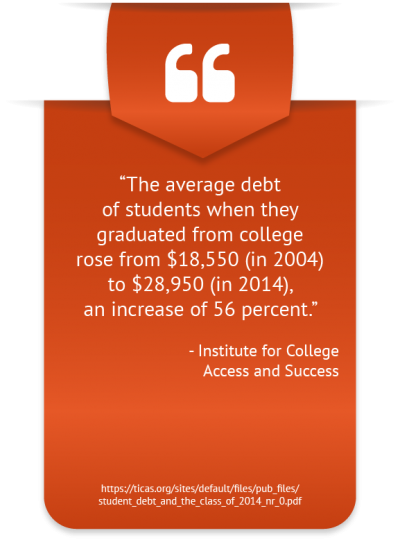 Financial Education Can Improve the Current Grim Outlook
"The number one problem in today's generation and economy is the lack of financial literacy." – Alan Greenspan, former Chairman of the Federal Reserve
Two in five U.S. adults report keeping a budget and tracking their spending (National Foundation for Credit Counseling). "https://www.nfcc.org/wp-content/uploads/2017/03/NFCC_BECU_2017-FLS_datasheet-with-key-findings.pdf
15% of adults roll over $2,500 or more in credit card debt each month (National Foundation for Credit Counseling). https://www.nfcc.org/wp-content/uploads/2017/03/NFCC_BECU_2017-FLS_datasheet-with-key-findings.pdf
26% of adults admit to not paying their bills on time (National Foundation for Credit Counseling). https://www.nfcc.org/NewsRoom/FinancialLiteracy/files2013/NFCC_NBPCA_2013%20FinancialLiteracy_survey_datasheet_key
%20findings_032913.pdf
31% agree they have more debt than the average person (Money Confident Kids). http://www.moneyconfidentkids.com/content/dam/money-confident-kids/PDFs/PKM-Surveys/2017_PKM_Results.pdf
Only 16% of Americans between ages 18-26 are very optimistic about their financial future (Bank of America). https://bankofamerica.com
Financial Education Programs Must Be of Highest Quality
The change in financial literacy statistics are observed through the administration of quality financial education. Many respected government agencies and distinguished national education providers have published their own financial strategies, including best practices found through research. While individuals may be enthusiastic about bringing financial literacy to their communities, they must exercise caution in adopting only the highest quality financial education materials. Only when done correctly can financial education facilitate financial literacy and good financial health.
The Jumpstart Coalition upholds that resources are readily available to both teachers and students, and are offered in special needs formats such as another language, braille, or audio (Jumpstart.org). https://www.jumpstart.org/wp-content/uploads/2018/01/2010_J-BestPracticesMaterials.pdf
"It's pretty much how we get anything added to the curriculum. When parents said children needed to be computer literate, the schools started responding. The same thing is true of basic financial literacy." – Elizabeth Warren, United States Senator
"Financial literacy is not an end in itself, but a step-by-step process. It begins in childhood and continues throughout a person's life all the way to retirement. Instilling the financial-literacy message in children is especially important, because they will carry it for the rest of their lives." – George Karl, former NBA coach
Why Do Schools Overlook the Benefits of Financial Education?
With the benefits of financial education made so apparent, it is perplexing why so many communities and institutions of learning do not place the same emphasis on financial literacy that they do on other subjects. Most overlook why financial literacy is important and how it can impact students.  Financial education intervention, in both young and older participants, has repeatedly been shown to improve financial knowledge and more importantly, engender changes in financial behavior that reflect the increased knowledge learners have gained. In light of the numerous benefits of financial education, individuals and educators looking to improve the state of their communities must actively support teaching financial literacy programs.