A Primer for Teaching Personal Finance in Schools
Do you feel called to the task of teaching personal finance in schools? If so, we commend you for your passion and direct you to the information below. These pages offer resources and guidance to those with an interest in teaching money management in schools, according to an approved eight-step process.
Eight Guidelines for Teaching Money Management in Schools


1. The 8-Step Solution for Teaching Personal Finance in Schools

There are proven best practices for teaching money management in schools, which you will find here. First, read the following case study that illustrates how the guidelines can be put into action.
As a volunteer leader for Girl Scouts of the U.S.A., Mandy Mills' mission was to help Girl Scouts unleash their inner G.I.R.L. – Go-getter, Innovator, Risk-taker, Leader™. Mandy had decided that teaching personal finance in schools in her community would be a great service, but she wasn't aware of the best practices for program initiation and follow-through. The audience Mandy especially wanted to empower with money management skills was Girl Scouts in middle and high school – ages 10 through 18. To assess her audience's needs, she solicited feedback from the parents of her Girl Scout Troop, and learned that the girls lacked knowledge about career and higher education pursuits.
2. For Teaching Money Management in Schools, Knowing the Audience is Critical
Mandy initially sought to introduce the Girl Scouts to some key information about preparing to move out on their own one day, specifically information about careers and college because those were their main interests. She worked with the middle and high schools in her town, and received agreement to conduct two after-school workshops at each school. With this fair allotment of time, Mandy could cover those two topics initially, with the hope of expanding into more comprehensive efforts for teaching personal finance in schools farther down the road. For these initial presentations she considered how to teach personal finance topics they could use. Mandy's goal was that the girls would reach Bloom's Taxonomy "Apply" level – where they could use knowledge and apply it in various ways.
3. Clarified your Goals? Now Determine How you'll Deliver and Pace the Lessons

Ms. Mills had clarified her near-term and longer-term objectives; now she could turn toward choosing delivery methods for the workshops. She had about an hour for each of the four workshops, but she wanted to give the girls more in-depth information than she could cover in an hour. Mandy opted to have the girls conduct online research about their career interests and colleges they might want to attend, and then bring the information to the workshops to discuss – a blended delivery option. Thus the activities would be a hybrid of self- and timeline-based pacing.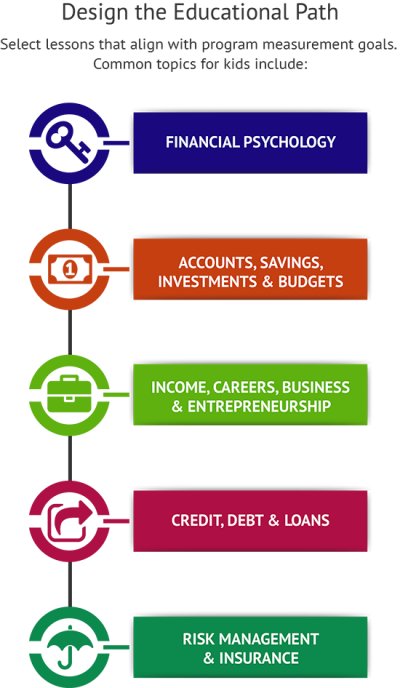 4. Next Point in Teaching Personal Finance in Schools: Design the Topical Focus
Next on Mandy's eight-point checklist for teaching personal finance in schools was to select age-appropriate topics for the workshops. She knew when teaching financial literacy to youth, important topics include helping the girls to learn about career and college, so she chose career planning, entrepreneurship, higher education, and preparing to live on one's own for the initial instruction.
5. And Now, Choose an Appropriate and Well-qualified Instructor

What next? Mandy needed to locate an educator with superior qualifications, both in teaching money management in schools and in personal finance content. Mandy herself had no background in education or finance, although she was well-versed in leading a Girl Scout Troop. Ms. Mills' solution was to bring in personal finance speakers who meet national standards for teaching personal finance in schools by graduating from the NFEC's Certified Financial Education Instructor program.
6. Which Curriculum Packages Meet My Goals for Teaching Money Management in Schools?

Now Mandy faced the next step in the process for teaching personal finance in schools: choosing presentation resources. She wanted personal finance lesson plans for high school with engaging, interactive activities the girls could complete at home, as well as workshop materials that would encourage complex thinking about the selected topics. Mandy suited those needs by finding curriculum with actionable, practical lessons and that aligned with educational standards for teaching money management in schools.
7. Did it Work? Only if You Measure, Will You Know

Mandy's workshops were quite successful. A total of 16 middle schoolers and 12 high school students attended her initial attempt at teaching personal finance in schools, and out of those 28 total, the average improvement in scores between pre- and post-test was 14%. Mandy gathered these data into a succinct report and presented it to the Girl Scout Council, with the hope that they would help fund future workshop opportunities.
8. Extend Program Impact by Recognizing Accomplishments, Reinforcing Future Learning

Mandy was happy with the results she had realized while teaching money management in schools, but also wanted to expand those effects into the future. She knew the Girl Scouts would need ongoing encouragement and support to retain the information and apply it in their real-world lives as they moved toward adulthood. She hosted a graduation event immediately after the four initial workshops ended, to recognize the girls' achievements. Then Mandy set up a series of quarterly podcasts and personal finance presentations, with email alerts to let the girls knew the podcasts were coming up. Her goal was to keep them thinking about financial responsibility as they matured.
Visitors Also Read