Financial problems have reached epidemic proportions. People across the country and in your community are suffering from long-term financial problems. Consider the following statistics:
78% of workers live paycheck-to-paycheck

61% would have trouble accessing $1,000 for an emergency

$38,000 Americans average in personal debt (excluding home mortgages)

$280 Billion Cost of Financial illiteracy to Americans each year
These challenges have far-reaching implications. Money affects much more than just people's bank accounts – it permeates most areas of their lives. It has impact on central areas of our happiness and well-being: relationships, stress, health, productivity at work, lifestyle, lifespan, and community.
NFEC's Social Impact Strategy
The NFEC is a social impact company focused on advancing financial wellness. We work toward this goal daily, balancing profit and growth with social impact and community improvement. We are guided by these values:
Year-end Report 2020 & Key Highlights
We track and report on our social impact annually. Reports are cumulative and show the NFEC's progress toward its mission and social impact goals.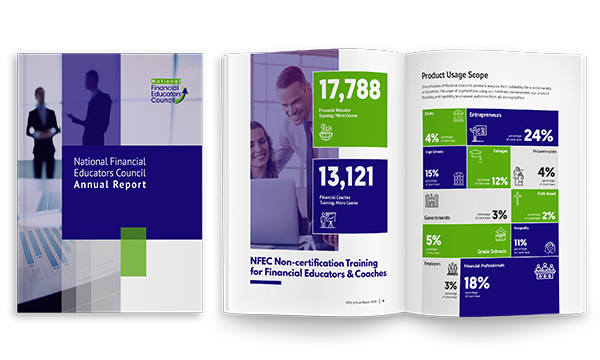 Key Highlights
Educators & Coaches who Enrolled in Certification Programs
Educators & Coaches who Accessed Educational Resources