A superficial money management meaning will mention different aspects of managing your personal finances. It will mention the knowledge you need to make sound financial decisions. It will discuss balancing the different options with the many variables involved in planning for an unknown future. It might touch on the idea of developing a coherent plan that maximizes financial growth while minimizing risk. All these things are involved in the meaning of money management. For a deeply personal money management meaning, however, look at your own life. You will quickly realize that money management means the difference between a lifetime as money's master or its slave. Money management is not to be taken lightly.
What Does Money Management Mean?
Money management meanings cover a broad domain of knowledge including everything relating to handling money wisely, whether budgeting, saving or investing your personal assets. Financial educators who design data-driven curriculum based off industry best practices attempt to ensure that everyone undergoing the program walks away with an accurate money management meaning. A look below will reveal what some organizations believe money management stands for and what proper financial education can do to money management behavior.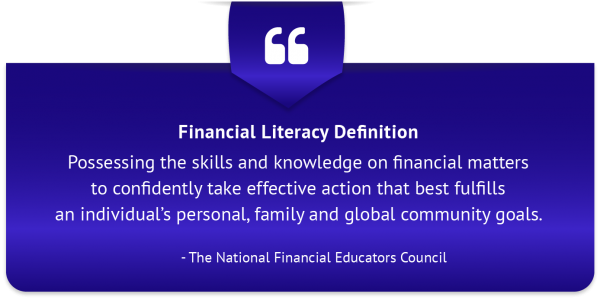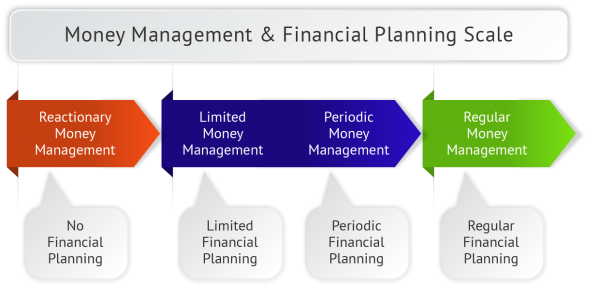 How Financial Organizations and Professionals Define Money Management
"Money management is the process of budgeting, saving, investing, spending or otherwise overseeing the capital usage of an individual or group" (Investopedia).
"Money management refers to how you handle all aspects of your finances, from making a budget for where each paycheck goes to setting long-term goals to picking investments that will help you to reach those goals" (Quicken).
"Money management is the process of knowing where you are spending your money today and having a well-thought-out plan in place for where you want it to go in the future" (Balance Track).
"The good news, though, is that all of us can improve the security of our futures through financial literacy. With a better understanding of the basics of finance—how to save, budget and invest—we can increase both our earning potential and our prospects for a solid financial future." – Reba Dominski, President of U.S. Bank Foundation
"I want kids to understand the importance of savings and investing. It's crucial that people understand the importance of financial literacy, because it's actually life-saving." – Mellody Hobson, President of Ariel Investments
Effective Money Management Programs Must Combine Theory with Practice
Many contend money management is an essential life skill and should be taught in school. Financial literacy programs, in addition to teaching the fundamental financial skills necessary to effectively manage personal finances, should also introduce case studies to serve as examples of how classroom learning is relevant to people's financial lives. Without connecting the theory to its application in real scenarios, financial literacy programs run the risk of graduating individuals who are still incapable of taking their financial lives into their own hands. When done right however, money management programs can effectively improve people's financial wellness.
New Zealand's Commission for Financial Literacy and Retirement Income outlines that the benefits of financial literacy should be promoted through appropriate channels so as to make potential participants aware of the practical impact the program can have on their lives (Commission for Financial Capability). https://www.cffc.org.nz
The President's Advisory Council on Financial Capability reveals that rigorously evaluated pilot programs can help keep costs down while determining which implementation of a program will produce the intended effect (US Dept of the Treasury). https://www.treasury.gov
People Need to Improve their Money Management Practices
44% of Americans aged 22-26 do their own taxes (Bank of America). https://about.bankofamerica.com
Two in five U.S. adults report keeping a budget and tracking their spending (National Foundation for Credit Counseling). https://www.nfcc.org
65% of adults in the United States report using a saving account (National Foundation for Credit Counseling). https://www.nfcc.org
A research study analyzing the effects of parents' values on children found a statistically significant positive association between parent's savings rates and children's savings rates (University of Agder, Journal of Economic Psychology). https://home.uia.no
An additional year of schooling increases the probability of having an investment income by 4.4% for whites and 1.7% for blacks (Harvard Business School). http://www.people.hbs.edu
We Must Actively Push for Money Management Education
The variety of money management meanings all relate to an individual's capability of controlling his or her financial situation while meeting financial goals. Government organizations and financial educators that publish their own money management definition also bring attention to the dichotomy between the importance of money management and the attention it receives in public education. In order for this fundamentally necessary knowledge to be taught in the education system, concerned individuals must apply pressure to public education directors to incorporate money management classes into schools.
Readers also viewed financial literacy meaning and money management research papers.