How to Customize Financial Literacy for Children
There are age-appropriate ways to increase financial literacy for children, and if you're interested in becoming involved in this cause, you will find essential information here. This page covers the influences on children that determine their money habits, and how to tailor programs to help guide kids in a positive direction.
Influences that Shape Financial Literacy for Children
It's vitally important to develop financial literacy for children in a way that takes advantage of opportunities to impart good money habits. Initially, consider that each child is born into a certain home and environment. The financial situations into which children are born will have key influence on their future finances. But even if a kid is born into poverty, there is always hope to work toward greater financial wellness.
Next, think about the pressures that influence a child's financial behavior. Children absorb information quickly and easily. Unless their parents take proactive steps to teach them about financial health and neutralize the powerful effects of advertising and peer pressure, kids may pick up negative habits around money. One study analyzed how parental values affected children, finding that parents' savings rates were significantly associated with the rates at which their children saved (https://home.uia.no).
Then it's time to consider people's attitudes and beliefs about money, which are key indicators of their financial state and determine their willingness to improve their finances. As children grow up, their emotions toward money management also are maturing. Efforts at building financial literacy for children should help kids become self-reliant and self-assured when handling finances.
Lastly, most people never receive any training in financial literacy for children. Parents lack knowledge and confidence to teach them, and very few school systems mandate financial education. Those lucky students who do get exposed to classes find that the programs being offered are substandard. It's time to develop programs in financial literacy for children that address behavior, psychology, management systems, and key influences.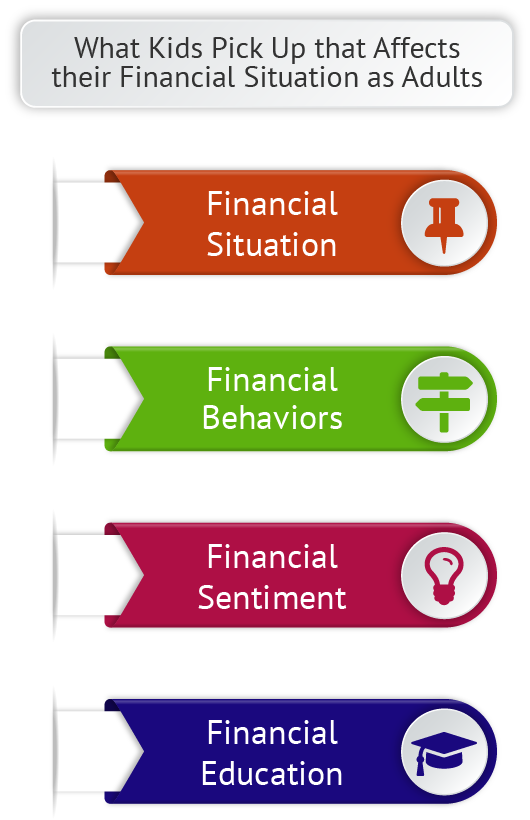 Individualize Financial Literacy for Children at Each Cognitive Stage

Is there a theoretical basis for deciding how to teach financial literacy for children? Yes. Piaget's Theory of Cognitive Development breaks down activities and delivery methods across three stages in a child's life: preoperational (ages 2 through 6), concrete operational (ages 7 through 11), and formal operational (ages 12 through adult). The preoperational level is when kids are developing language skills, and can be introduced to simple tasks first and then problems of increased complexity over time. One of our favorite activities is a "moving budget" where children move around the room to balance an imaginary budget. At the concrete operational level, kids develop logic processes about concrete objects. At this stage they understand volume, mass, and numeric relations. After age 11, youth benefit from group and project-based activities. They are becoming abstract thinkers, and we have special opportunity to mold positive financial behaviors among kids at this juncture.
We've talked about bringing the whole family together to build positive action steps toward achieving key family goals. Now let's talk about how to set goals effectively, another great method to teach children money management principles.
Using sound goal-setting techniques helps families maximize their potential to work together toward accomplishing those goals. The S.M.A.R.T. guidelines offer a handy framework to help families in their efforts for teaching children about money:
Specific. Goals should be clear and specific enough that you know when you've reached them.
Measurable. Be sure you have a clear measure that tells you when your goal is reached. You also want to be able to track progress along the way.
Achievable. Don't pick a pie-in-the-sky goal that you really have no hope of reaching.
Realistic. All the resources you need are available, and you can realistically move toward this goal.
Time-driven. Setting a specific target date will keep you motivated and active toward your goal.
A key point to remember about kids and money management is that a long-term future is hard for them to envision. It's a good idea to start by setting small and relatively easily achievable goals. Then each time you reach one of these small goals, celebrate together as a family. Kids will begin to associate positive financial goal-setting with enjoyment and success. This is an excellent way to encourage financial literacy for children.
Using family goals to teach money management for teenagers can yield an even bigger reward. This kind of goal-setting exercise is exactly what they need to get them started on making plans for attending college, acquiring high-income jobs, and embarking on satisfying careers. Teens who pick up good money management habits are happier, healthier, more confident, and able to experience more of what life has to offer—a delicious recipe for success.
Children and Money Management Article References
Financial Education Programs for Kids
NFEC Curriculum Presents Money Management for Children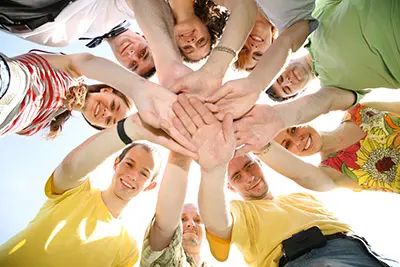 Laugh, learn, play, and empower—that's the mantra of a curriculum program developed by the National Financial Educators Council (NFEC) to provide effective instruction in money management for children. This curriculum teaches kids real-world money skills that can help them avoid the common financial pitfalls that plague so many young adults in today's uncertain economic world.
The NFEC developed their curriculum in collaboration with a team of expert advisors and financial professionals. The resulting package represents an innovative strategy to teach kids about money using fun, engaging activities, games, and worksheets.
All the curriculum lessons and activities present money management for kids using practical, hands-on learning techniques that let kids practice working with money and thus reap the benefits of forming positive monetary habits at an early age. Some of those benefits include being more likely to graduate from college, having more free time to enjoy spending with friends or family, and building financial security for the long-term. Teaching children money management benefits not only an individual child, but that child's whole family and the entire community at the same time.
The NFEC is a social enterprise organization that is independent from commercial associations or influence, so their sole purpose is to increase the financial competencies of people around the globe. In its children's curriculum program, the organization has created financial literacy lesson plans for kids that deliver:
Engaging, fun, and interactive lessons that engage students in the learning process.
Real-world lesson plans that meet core educational standards while remaining fun and entertaining for kids.
Modular design so the lessons can be incorporated into a variety of scheduling formats, from single classes, to camps, to three-hour after-school programs, to full-scale community events.
Independence from commercial advertising or product plugs.
Money Management for Children Article References
Programs: Money Management for Children