Love & Money Month – Romantic Relationships
Love is in the air in February. Across the country, people are celebrating Valentine's Day and taking time out of their schedules to express love for their romantic partners. The NFEC founded Love & Money Month to provide data and resources to support individuals in romantic relationships and raise awareness for the importance of communication about the topic of money.
Since money issues are a leading cause of divorce, fights, and strain in relationships – people should address finances to work toward stronger relationships. This process starts with awareness. Each February, the NFEC will release new data that can put focus on the connection between finances and a person's love life.
The other core objective of the NFEC's Love & Money Month is to help couples. To meet that end, we provide tips on how couples can align their finances and goals, planning tips to prepare for love life events, and conversation starters to use at each relationship stage to make talking about money topics easier.
Love & Money Survey
You will see data that gives insight into these areas:
There is a cost to love; and we have defined that cost at each relationship stage. The goal is to help you plan for the cost of love at all stages – from dating through marriage through having a child. This guide will give you the data you need to plan for upcoming love-related expenses.
Couples Money Talks – All Relationship Stages
Relationships develop over time. At each stage, it's important to start discussing personal finances with our romantic interest. The Couples Money Talk Guide includes tips and conversation starters for people at each stage of a relationship.
We use the Knapp Relationship Escalation Model, which defines each relationship milestone:
Initiation – First impression stage.

Experimentation – Probing to decide whether to deepen the relationship.

Intensifying – Continued experimentation and deepening of a relationship.

Integration – Deepening intimacy and sharing spaces (friends, interests, etc.).

Bonding – Public displays of commitment (ex: marriage).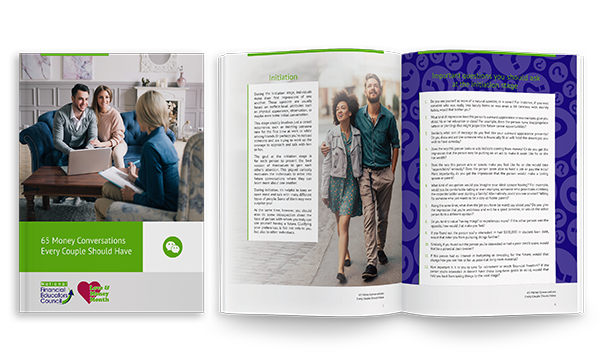 How to be Financially Prepared for 8 Important Love Life Events
So are you financially ready for love? We'll walk you through eight events that nearly every couple faces. We'll talk about how you can prepare to afford each occasion, plus some great tips that will help you save money along the way.
Money and Relationships Survey
If you are have difficulty completing this survey, please click here and it will open in a new window.