Financial Wellness Definition
A financial wellness definition has to do with your relationship with money. It refers to how secure your money is, given all the variables involving an unknown future. Are you financially prepared for emergencies? Do you have active plans in place to reach your long-term and short-term financial goals throughout life? It also includes your present situation with money. Do you have a budget? Do you stick to it? What about your attitude toward money? Does the thought of it make you sick to your stomach or does it make you come alive? All of these considerations and more must be a part of a thorough financial wellness definition.
Spreading Awareness of the Importance of Financial Wellness
A financial wellness definition connects financial knowledge to specific actions that allow people to attain financial security and prevent stress due to financial struggles. In recent years, many employers have come out with their own financial wellness definitions. These companies recognize that financially illiterate employees are often demoralized and less productive due to the stress induced from financial struggles. Educating employees through financial wellness programming helps maintain their financial well-being and promotes a healthier outcome for both the employer and employee.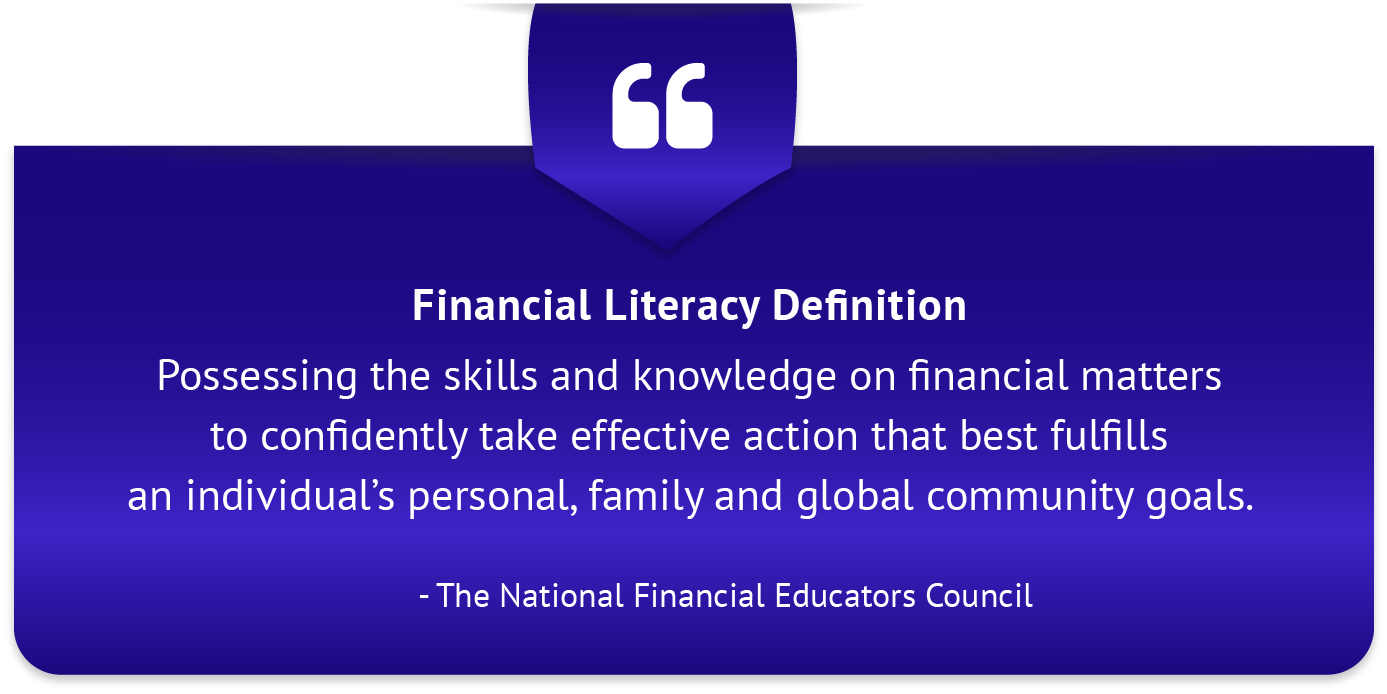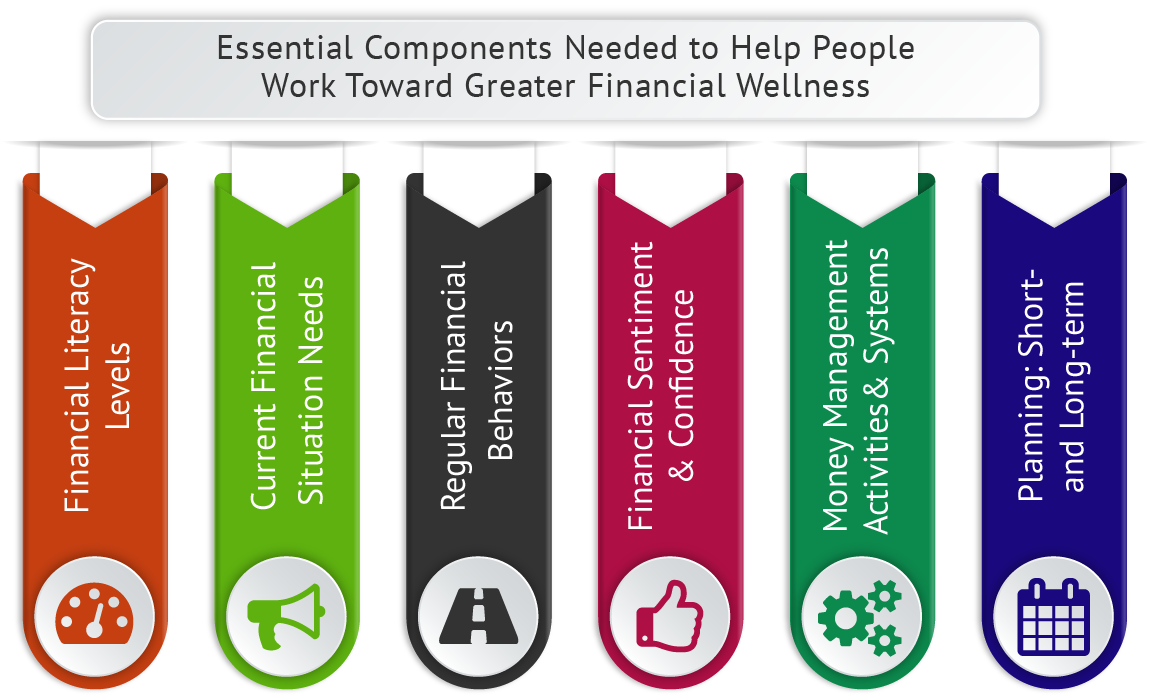 Organizations Define Financial Wellness
"Financial Wellness involves the process of learning how to successfully manage financial expenses" (UC Davis).
"Financial wellness is defined as "effectively managing your economic life" (Questis).
"Well-being is defined as having financial security and financial freedom of choice, in the present and in the future" (Consumer Financial Protection Bureau).
Financial Gurus Speak About Financial Wellness
"The good news, though, is that all of us can improve the security of our futures through financial literacy. With a better understanding of the basics of finance—how to save, budget and invest—we can increase both our earning potential and our prospects for a solid financial future." – Reba Dominski, President of U.S. Bank Foundation
"Many entrepreneurs struggle to understand payroll taxes, health care and other thorny issues… In other words, they don't have the financial literacy to scale their businesses and attract investors." – Daymond John, CEO of FUBU and Sharktank host
Financial Wellness Includes Knowledge and Behavior
Financial wellness requires action, not just learning in the classroom. While financial discernment is without a doubt necessary for financial well-being, an application of that knowledge is required to modify habits for the better. Knowledge of a 401(k) plan is great and puts you ahead of most people, but without exploring the retirement savings options to your specific situation, that knowledge will be of no use and leave you as unprepared for retirement as someone who is financially illiterate.
New Zealand's Commission for Financial Literacy and Retirement Income states the first step to crafting a good curriculum is to produce quality education developed around a set of financial capabilities that the program is intended to impart upon participants. Content should be free of promotions or endorsements (Commission for Financial Capability). https://www.cffc.org.nz
The JumpStart Coalition recommends that resources provided to students are written in plain language when possible, clearly defining any obscure words. Materials are specifically tailored toward the intended target group (Jumpstart.org). https://www.jumpstart.org
When High Schools Fail, Community Teaches Financial Habits
A mere 31% of young Americans thought that their high school education adequately taught them good financial habits (Bank of America). https://about.bankofamerica.com
Researchers at NBER demonstrated the positive relation between the average stock market participation between the individual's community and the individual's participation rate in the markets. This effect was proven to be stronger in more sociable communities (National Bureau for Economic Research). http://www.nber.org
Current Behavior Does Not Lead to Financial Wellness
Nearly two in ten adults roll over $2,500 or more in credit card debt each month (National Foundation for Credit Counseling). https://www.nfcc.org
44% of Americans aged 22-26 do their own taxes (Bank of America). https://about.bankofamerica.com
More than one in four (27%) U.S. adults admit to not paying their bills on time (National Foundation for Credit Counseling). https://www.nfcc.org
Steps Toward Improving the Financial Well-being Definition & Impact
Financial wellness definitions have multiplied in recent years as the term is being used by more and more organizations to represent a connection between the financial literacy of an individual and the financial well-being of that individual. What is financial wellness? A financial wellness definition recognizes that a lack of proper financial planning leads to increased stress, lower academic performance and lower productivity, among other negative consequences. Those looking to improve financial wellness among the people they know can partner with the efforts of financial educators to bring a quality curriculum to their community.