Financial Literacy Programs: Banks and Credit Unions
In the past, the biggest barriers encountered by banks and credit unions looking to participate in financial literacy initiatives centered on the cost, time, and complexity involved to develop and deploy financial education programming. A properly-designed financial education campaign provides ways for banks and credit unions to make a long-term positive difference in their communities while receiving a measurable ROI for their efforts.
The NFEC designs financial literacy programs for banks and credit unions that reflect positively on the institution's brand and align with best practices for promoting financial wellness. With over 15 years leading the deployment of financial education programs, we share a model with you that includes education, awareness, and sustainability components to increase program reach and impact.
Banking Industries' Role in Financial Education
As a nation, we spend about $670 million per year on financial education – banks & credit unions spend $31 million on direct program provision (hosting events, developing materials, presentations, etc.) and $129 million on sponsorships, donations, and supporting services. Consumer Financial Protection Bureau.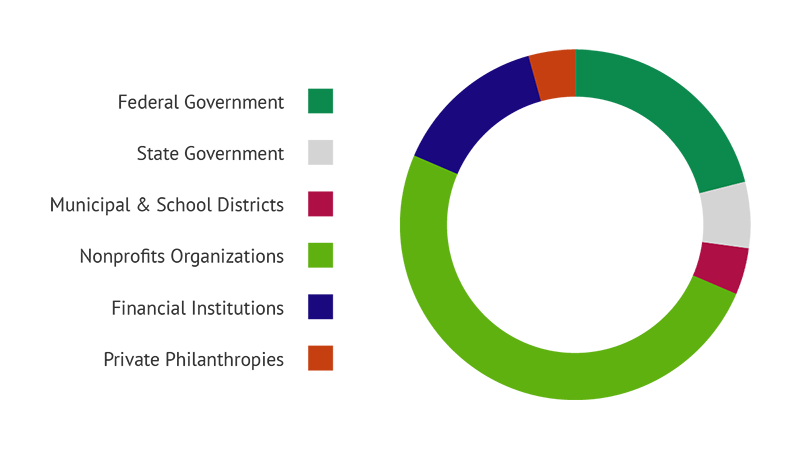 Organizational Objectives Banks & Credit Unions Seek
While making a positive impact in their communities is a main goal, banks and credit unions share common organizational objectives as well, including:
Client Acquisition

Develop Existing Clients & Cross-product Offerings

Reduce Marketing for Client Acquisition

Increase Awareness via Media & Social Channels
Meet CRA Requirements

Build Community Goodwill

Develop Unique Brand Recognition

Team Development & Recruitment Tools
Participation Options for Banks & Credit Unions: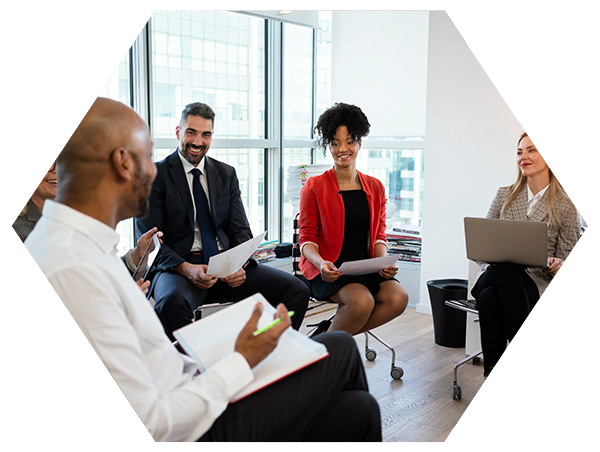 Lead Financial Education Programming
For those seeking to teach personal finance to groups, the NFEC provides turnkey solutions to your financial education programming needs. Receive the training, resources, and expertise that help you build a maximum-impact financial literacy program.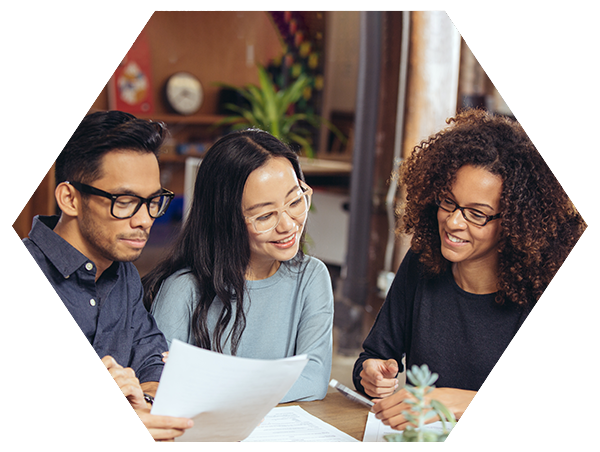 Lead Financial Coaching
If you are seeking to work one-on-one with individuals, the financial coaching program is best suited to your goals. We provide the training, resources, software, and business tools you need to help others.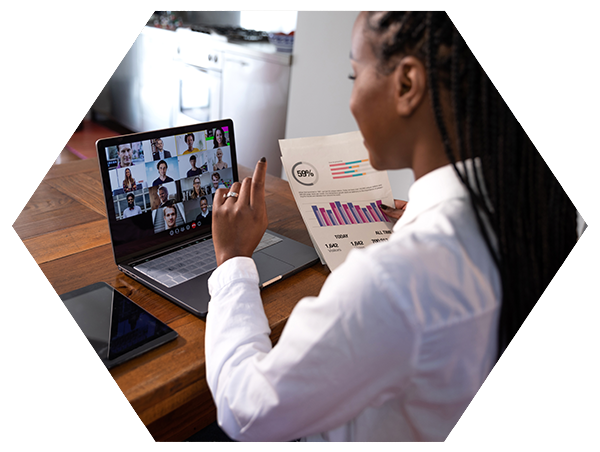 Outsource Financial Education & Coaching
For those looking to outsource financial education programming, the NFEC has a nationwide network of certified educators and coaches to develop, deploy, and manage your financial wellness initiative.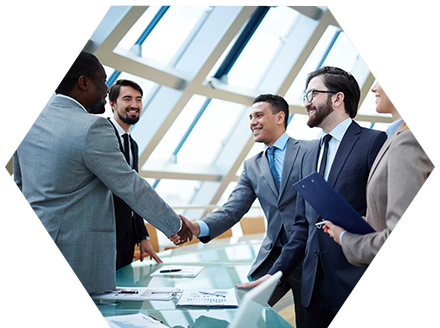 Sponsor Financial Education
For organizations looking to bring a financial education program to their communities while having choices regarding their level of involvement, the NFEC's Community Campaign sponsorship may fit.
Case Study: Old National Bank
Award-winning Old National Bank Exhibits Clear Commitment to Promoting Financial Wellness.
Strengthening communities and empowering citizens to manage their own financial futures form two cornerstones of the mission and vision of Old National Bank, subsidiary of Old National Corporation in Evansville, Indiana. In 2015 ONB's community education and outreach programs earned the bank well-deserved recognition – in the form of two first-place American Bankers Association Community Commitment Awards.
The first award was given to Old National's 12 Steps to Financial Success, a program designed to empower at-risk adults – specifically those incarcerated for non-violent offenses – to take control of their futures. This financial literacy program educates inmates with key money management tools that help them avoid re-incarceration and achieve financial success. A prime example of this program at work is the partnership between ONB and the Henderson County Detention Center's Substance Abuse Program, where more than 150 female inmates have completed the training so far.
The second recognition was given to ONB financial empowerment officer Ben Joergens, who was awarded the American Bankers Association George Bailey Distinguished Service Award – a distinction given to a non-CEO bank employee who shows outstanding initiative, commitment to the bank's customers and communities, and inspires others. Joergen's efforts have included financial education presentations reaching more than 5,000 adults and children in 2014 alone – through partnerships with 27 non-profits, schools, and universities.
In addition to the ABA awards, ONB demonstrates its commitment to empowering communities through its financial literacy education, volunteer and community engagement programs. In 2015, ONB associates taught over 900 total financial education sessions that reached 17,000 individuals. This Real Life Finance program was delivered in partnership with the National Financial Educators Council, with curricula designed to be custom-tailored to the needs of each individual or group being served.
ONB's volunteer program, called ONe Community, matches community needs with the engagement and development of bank associates. By giving bank associates 24 hours per year of volunteer flex time, ONB leverages skills-based, pro bono volunteering to help citizens in the community make positive changes toward secure futures. For example, Old National Internal Audit associates volunteer at the local YWCA.
In 2016, ONB launched the highly-successful Pay it Forward campaign, where Associate and Community Engagement teams in each of 14 regions took the lead in implementing creative ways to take $500 (donated by ONB) and "pay it forward." For example, associates put together care packages for cancer patients and the homeless, served law enforcement and fire personnel with lunches and care packages, collected books for children, and purchased groceries for families in need and food pantries.
The ABA awards, along with the successful volunteerism and corporate sponsorships, clearly demonstrate how Old National has made community empowerment a pillar of its identity. ONB will continue to maintain a strong commitment to financial literacy, not only because it's a natural industry fit, but because the organization recognizes the powerful positive impact financial education can have on individuals and communities alike.
Case Study: SunTrust Foundation Center at Wake Technical College
The NFEC designed, deployed and manage a campus wide campaign at Wake Technical Community College with the SunTrust Foundation as the sponsor since 2013. To meet the goal of raising financial literacy competencies among Wake Tech students, staff, and community members the NFEC developed the multimethod programming and developed the branding for the SunTrust Foundation Center for Financial Education at Wake Technical Community College.
Combining live events, financial education-based contests, an eLearning center, interactive experiences, and a personal finance mobile app, the NFEC built an authentic, dynamic learning experience while giving students access to practical financial education programming.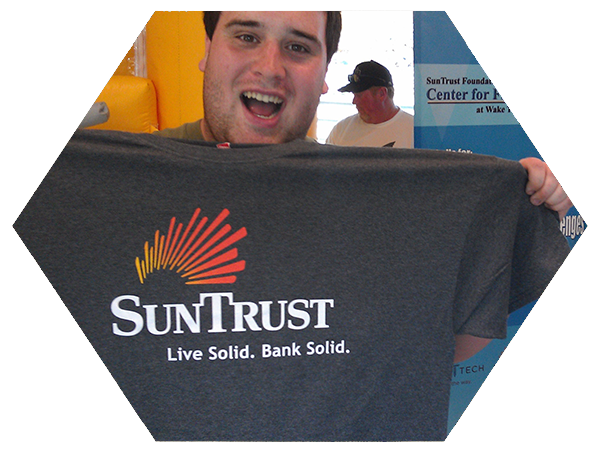 To date this initiative has included more than 150 live instructional events for students, parents, faculty and staff. In addition to live instruction, promotional events and contests encourage active participation while raising awareness about the program. Online and mobile learning also contribute to the educational mix. The NFEC's proprietary eLearning platform forms the backbone of the Center's online personal finance initiative.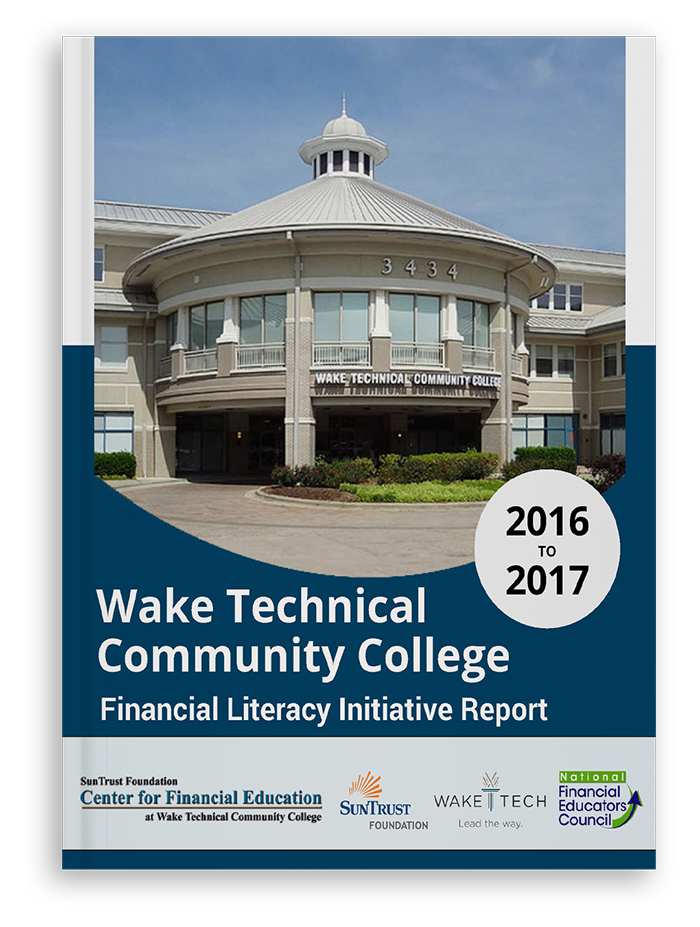 The campaign's focus on increasing the reach of the programming was achieved through a mixture of building new partnerships, campus-wide marketing, generating media coverage, building an online presence, word-of-mouth networking, and other collaborative efforts.
For Wake Tech College, the NFEC designed a comprehensive financial wellness program incorporating live events, media outreach and promotion, workshops, crash courses, and contests. This holistic effort was made possible by the sponsorship of the SunTrust Foundation.
The NFEC designed the Wake Tech campaign with the goal of raising financial competencies among the broadest possible group of students, parents, staff, and community members. The campaign had multiple components: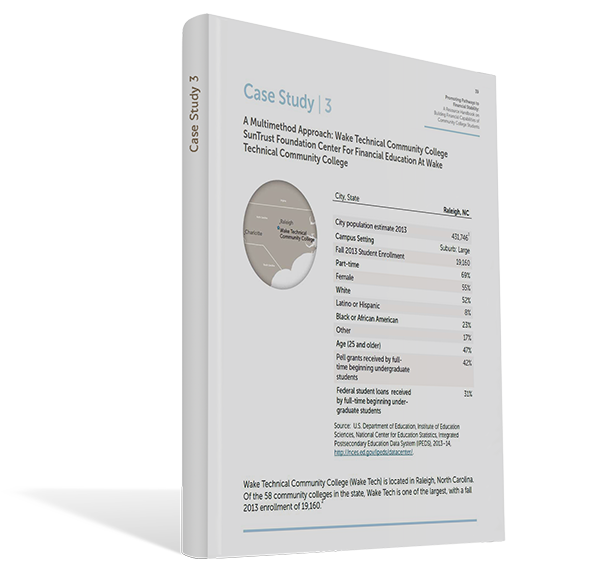 Center for Financial Education
At program outset, the NFEC helped Wake Tech and the SunTrust Foundation open the Center for Financial Education which serves students, faculty, and the whole community with financial education and resources.
Customized Instruction
The NFEC implements the Center's acclaimed Financial Empowerment Workshop series which takes place over four college class periods and covers lessons in credit, debt, savings, money management, and investment basics. Multimedia videos and real-world activities are featured to engage participants while they improve their financial foundation. Two 90-minute crash courses also have been created – one to help students reduce or eliminate debt, and one aimed particularly at helping educators and staff take action toward retirement planning.
Live Events
High-profile open house events showcase the NFEC's financial education opportunities at Wake Tech, including the College Family Finance event for students accompanied by parents and the Financial Empowerment event for students who attend alone. Each April the NFEC helps Wake Tech celebrate Financial Literacy Month with free access to online financial education, a booth at the Spring Fling, and other exciting activities.
The campaign also hosts an annual Financial Scavenger Hunt contest, a reality-based competition that helps people learn money management skills while getting a chance to win fun prizes. The contest includes activities that help build solid financial foundations, such as reviewing SunTrust's student checking account options and calculating compound interest.
Each Wake Tech semester ends with a Closing Ceremonies event wrapping up the financial education campaign activities with fun, food, and participant recognition.
Media Outreach
The NFEC supports Wake Tech to gain important media coverage, distribute flyers around campus, build presence online and in the social media, conduct word-of-mouth networking, and use the NFEC's email listserv to reach more than 20,000 people with information about the SunTrust and Wake Tech-sponsored financial literacy events.
Collaborative Partnerships
Part of the NFEC's financial literacy mission involves building collaborative partnerships to maximize the use of resources and extend program reach and support. At Wake Tech the NFEC has facilitated collaborations with a variety of community and campus organizations including Jack and Jill of America, the COSMO department, dental hygiene program, and Business 125 courses. These collaborations make it possible for the campaign to reach hundreds of students, staff, and community members with financial education courses each year.
With the support of the NFEC and SunTrust, the Wake Tech financial education initiative has achieved sustainability across campus and in the surrounding community. Demonstrating the sponsors' commitment to improving financial outcomes for students, staff, faculty, and community members alike, this program has been steadily expanding over the past three years and shows every indication of continuing to extend its reach and positive impact. This initiative epitomizes how successful collaboration between the college, organizations, and students can empower the whole community with financial knowledge.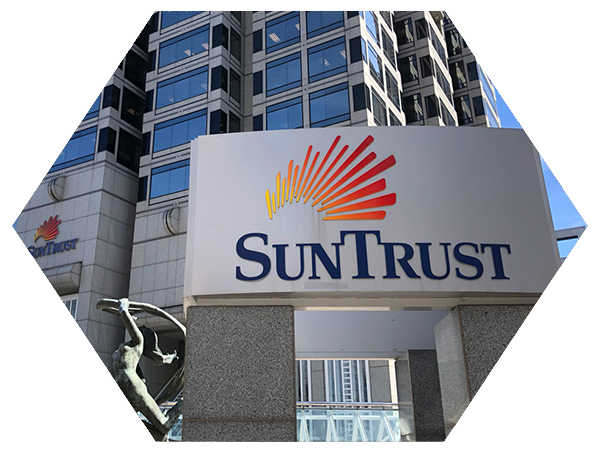 Case Study: Jeanne D'Arc Credit Union
Recently Jeanne D'Arc Credit Union called upon the NFEC to help them expand their financial education programming. Jeanne D'Arc wanted to ensure that their outreach team was trained, and also to host a high-profile event at one of the schools they served.
The NFEC sent an instructor to Lowell, MA to lead an in-person Certified Financial Education Instructor course for eight (8) employees. Online continued education was required, and all participants graduated with the necessary scores to earn the CFEI designation.
"We take financial education and our commitment to the community very seriously," said Mark S. Cochran, President and Chief Executive Officer of Jeanne D'Arc Credit Union. "I am proud of our employees for their dedication to our members. They realize that by enhancing their own financial education, they can improve their ability to help members of the community."
Next the NFEC teamed up with Brandon Lloyd, All-Pro NFL wide receiver for the New England Patriots, to host a Money XLive Community Outreach program. One of the top program goals was to expand community connections. The NFEC succeeded in lining up Yahoo Sports, Lowell High School, Waterhouse Sports & Entertainment, and the Sports Financial Advisor Association, and coordinated social media promotions with the New England Patriots.
Lloyd helped encourage students to work hard, follow their passions, and continue learning about personal finance topics. These Money XLive events are produced by the NFEC. The goal is to make financial literacy education exciting by enlisting the help of celebrity supporters, sports stars, live entertainment, and personal finance experts.
This event garnered front page coverage in Yahoo Financial News and a full segment in Outside the Game – raising awareness for the program and getting the youth participants excited about financial literacy.
The NFEC commends Jeanne D'Arc Credit Union and all its partners for their efforts in promoting and sustaining financial education programming.
Individuals
Banks and credit unions form the backbone of the financial literacy movement. The NFEC has built a nationwide infrastructure of financial educators who can give high-quality presentations that meet the needs of a wide range of organizations and groups. Members of the Personal Finance Speakers Association are working in communities across the country to promote financial wellness. Here are their stories: