Employee Financial Wellness Programs: Introduction & Purchase Options
The solution to helping people improve their personal finance knowledge might seem easy – just give them a solid educational base. But it's not that simple. Creating a trusted financial wellness program that has demonstrable outcomes on employee money knowledge, while simultaneously serving the company's goals, requires specialized proficiency.
The NFEC has worked with thousands of organizations over the past 10 years. In the process, we have identified systems that prove effective – including top-quality educational content, a vivid participant experience, and quantifiable results.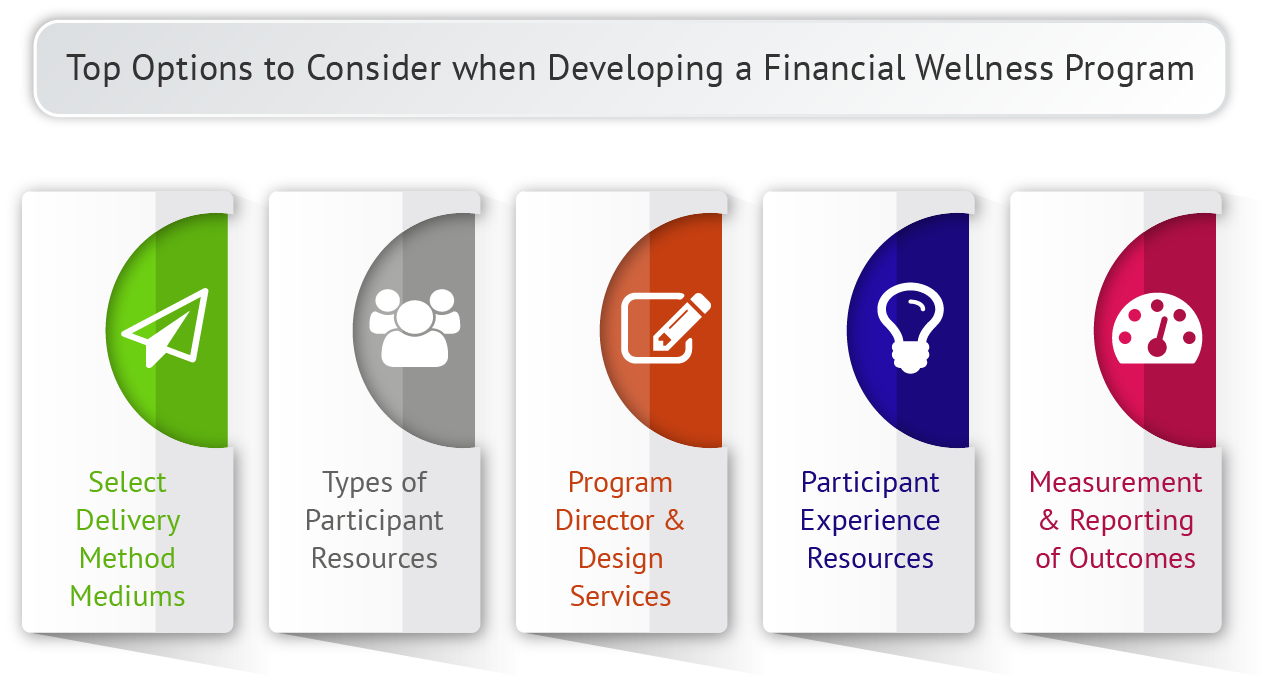 Choose Delivery Mode: Facilitators, Coaches
What Delivery Mode do you Prefer for Training?
The foundation underlying the top employee financial wellness programs is formed by the instructors – whether teachers, educators, or professional financial coaches. The greatest program impact can only be achieved by facilitators with the strongest credentials and experiential base.
Options for NFEC training delivery include live instruction, online learning, and hybrid combinations of the two. You will gain access to personnel with top skills in the field, including:
– Instructors, Trainers, & Classroom Educators
– Keynote & Popular Personal Finance Celebrities
– Professional Financial Coaches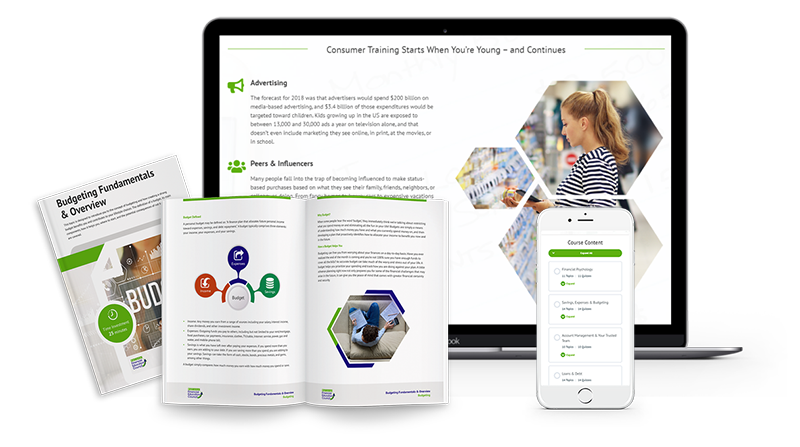 Select Employee Financial Wellness Program Resources : Handouts, Guides, & Online Tools
What Employee Financial Wellness Education Resources do You Need?
To build employer financial wellness programs in which you can feel pride, you need resources that meet top standards for educational quality, are founded in evidence-based pedagogical methods, and have true applicability to the participants' real-life decisions. The NFEC materials meet all those criteria. Our comprehensive resource bank includes:
– In-person Presentation Resources (Student Guides, Handouts, etc.)
– Continuing Follow-up Financial Education Resources
– Online Learning Center & Self-guided Education
– All Resources can be Custom Branded
Program Director, Design, & Support (Program Structure, Plan, & Personnel)
What is Your Desired Level of Support from an Employee Financial Wellness Program Director?
The best-designed employee financial wellness programs are purposefully built with the input of highly-trained program directors. The director is tasked to develop a comprehensive initiative with multiple participant benefits and a vibrant learning experience. All the details must be carefully organized so the program raises employee financial wellness while also meeting your organizational goals. Three levels of support are offered:
– Basic Programming Support (All Clients Receive a Consultation)
– Design, Development, & Deployment Support
– Full Program Management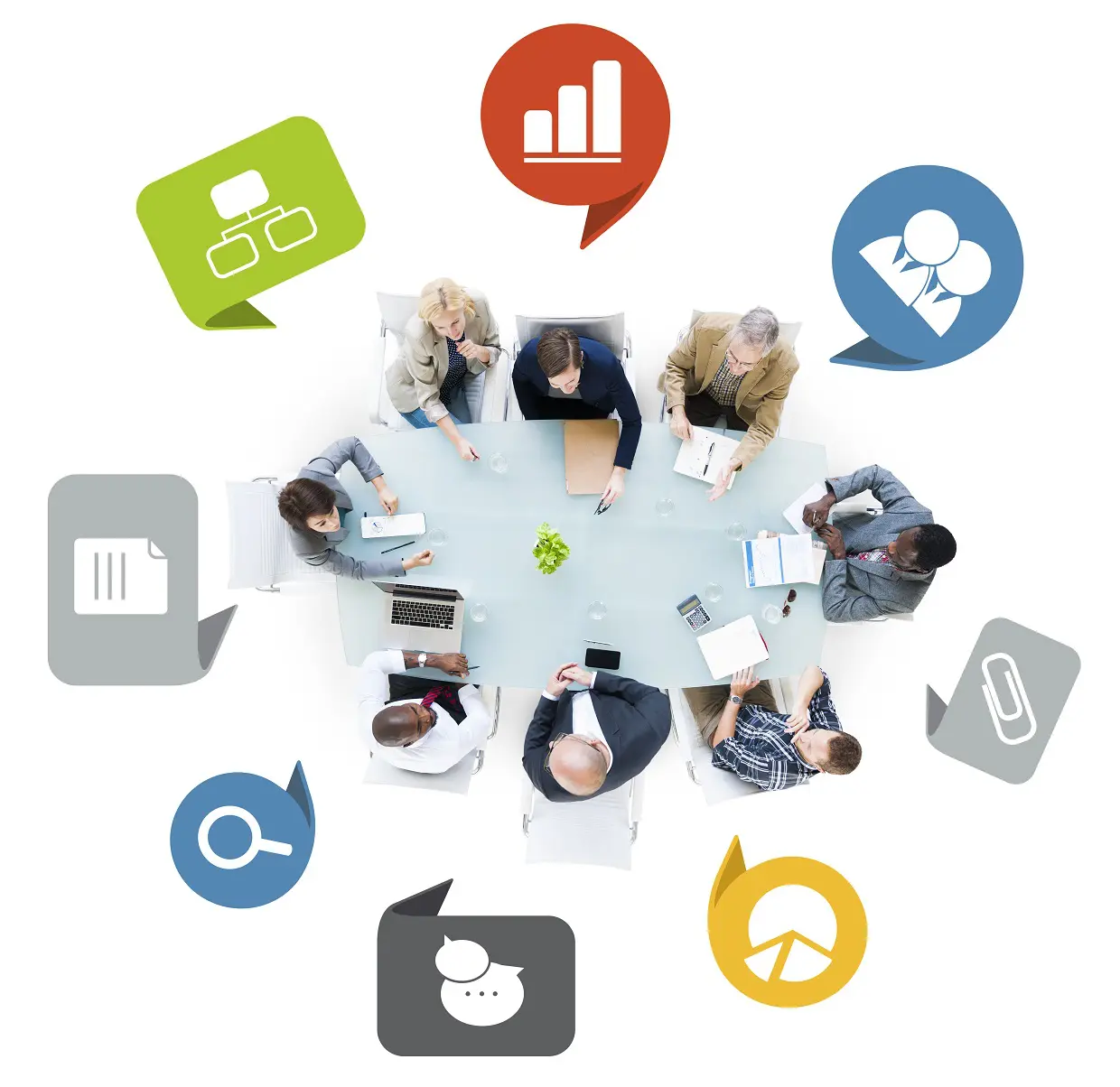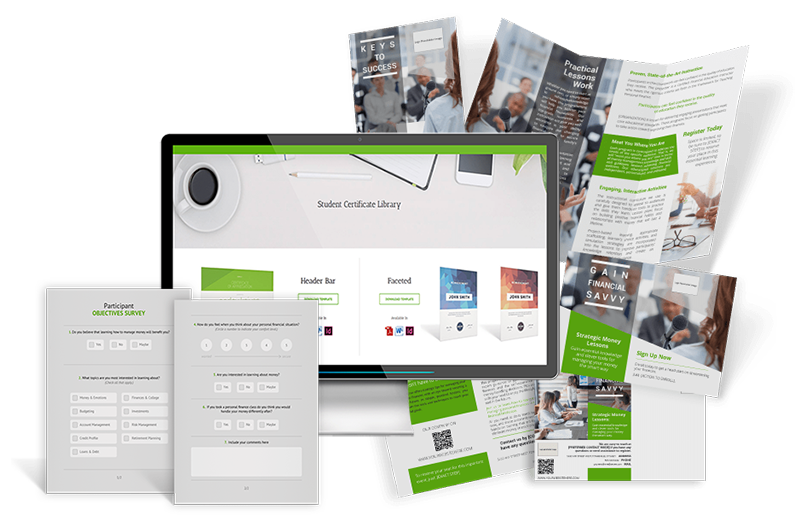 Participant Experience Resources (Marketing, Registration, Signage)
What Resources do You Need to Offer a Professional User Experience?
A successful employee financial wellness initiative begins with the very first communication, and ongoing follow-up should continue in perpetuity. When you look at the process holistically, it becomes clear that information flow and messaging are critical program components. From initial outreach to ongoing follow-up education, each touchpoint offers a chance to facilitate learner progress. The NFEC offers support at each of the three key stages in the timeline:
– Pre-programming (Marketing, Registration, & Communications)
– Program Implementation (Banners, Décor, Handouts)
– Post-Programming (Completion Letters, Certificates, Continuing Education)
Reporting & Measurement (Reporting Options to Measure Program)
Do You Request Support for Assessing & Reporting Program Results?
Empirical measures and well-put-together reports demonstrate and visualize your employee financial wellness program's impact. When you use professional measurement techniques and visually appealing reporting features, your program results highlight your success and expertise. the NFEC offers professional-grade reporting and evaluation tools:
– DIY: Survey & Testing Package (Pre- & Post-tests, Surveys)
– NFEC: Survey & Testing Report (Report Delivered via Excel Spreadsheet)
– NFEC: Survey & Testing Report (Fully Designed & Customized Report)
Providing an employee financial wellness program is a cornerstone of any workplace wellness program. Personal finance issues increase your employees' stress levels, impact their productivity and contribute the overall work environment. This is costing your company money.
Proactively addressing your employees' financial concerns can improve their sense of well-being and transform your work environment over time. A comprehensive employee financial education program also helps you comply with ERISA and DoL regulations.
Financial wellness programs can help your staff and improve the workplace. Some employees may feel an instant boost in their financial confidence; often an employee's stress can be resolved by answering just some simple financial questions. Other, more lasting results of an employee financial education program develop over time, as employees translate the lessons they learned into positive life action.
NFEC workplace financial education programs can deliver a measurable ROI, decrease potential liabilities and expenses, increase job satisfaction and productivity, and make a lasting difference in the lives of your employees.
Workplace Financial Wellness Program Options
Each employer has specific needs when it comes to providing their employees a financial education. The NFEC's programming is flexible and can meet your programming goals. There are 3 main categories of services the NFEC provides:
Employee Financial Wellness Program Design
Among the vast array of workplace financial education programs that have cropped up over the past decade, few – if any – can claim to draw upon solid empirical evidence indicating best practices for financial education. Much of these programs' failure is rooted in a lack of financial education expertise to guide initial program planning and design.
The NFEC's team has designed campaigns ranging from small classroom programs to nationwide efforts that serve more than a half million people. Our proves ensures employee financial wellness programming is in alignment with your educational and organizational objectives at every step.
Our financial education program development is a three-part process: Discovery, Define & Design.
Our team uncovers your unique goals during the 'discovery' phase. This discovery lays the foundation for clearly defined programming objectives and custom program design.
The 'define' phase provides the measures that will provide the overall blueprints for the campaign and barometers of the program's impact. The data gathered through these measurements provide empirical data by which program success can be judged.
Programs designed by qualified experts are built with purpose. All the campaign components work together to promote financial literacy and to further your business objectives. In well-designed programs, the flow of information and built-in promotional components lead to greater overall campaign results.
Launch Promotions

Events and promotions are a great way to generate momentum and encourage participation in your financial education program. The NFEC provides the materials and support needed to ensure you are confident as the launch date approaches and the event leaves participants excited about your initiative. Here are some poplar ways employers launch financial education programming:
Education Options
Online Employee Financial Education

eVolve is an engaging, interactive learning platform designed to improve employee financial wellness. The programming has been widely recognized for its ability to connect with participants and inspire them to take positive financial action.
The eLearning platform leverages best practices in online personal finance education, high-grade content, and vivid design to create a unique learning experience where participants start to take action toward building a sound financial foundation. The online personal finance lessons are interactive, practical and fun, yet also meet core educational standards.
eVolve's flexible design accommodates a variety of schedules and learning outcomes, and provides blended learning options. Organizations have used the platform to conduct workshops of various lengths, after-school programs, weekend seminars, camps, in-class training, lunch-and-learns, for-credit college classes, year-long courses and various other formats.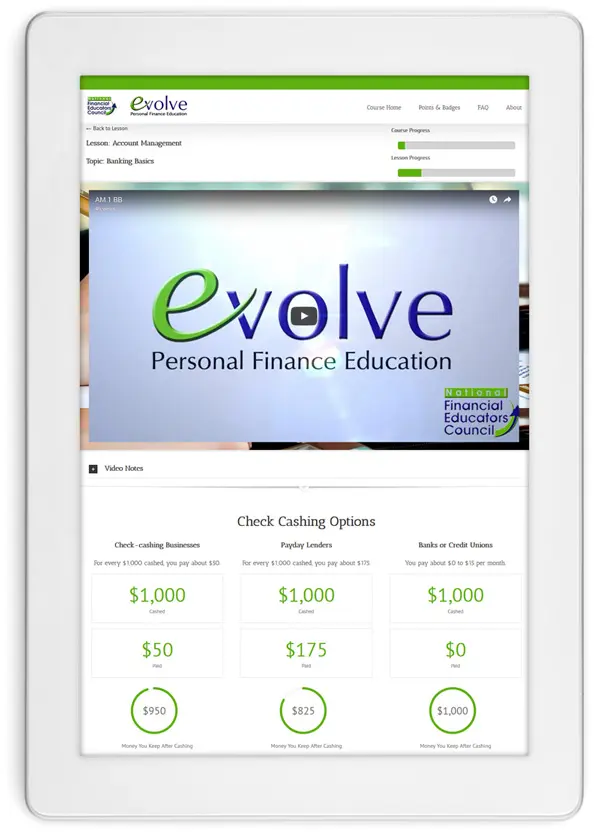 Standard Package Includes: Learner Platform & Student Licenses
The NFEC's proprietary eLearning platform presents an authentic, dynamic learning process. The platform's engaging content and vivid design create a unique user experience.
Designed around evidence-based best practices for online learning, this proprietary platform blends flexible pacing, adaptive pathing, gamification, and other proven eLearning techniques to maximize how well people assimilate and are able to implement the lessons they learn.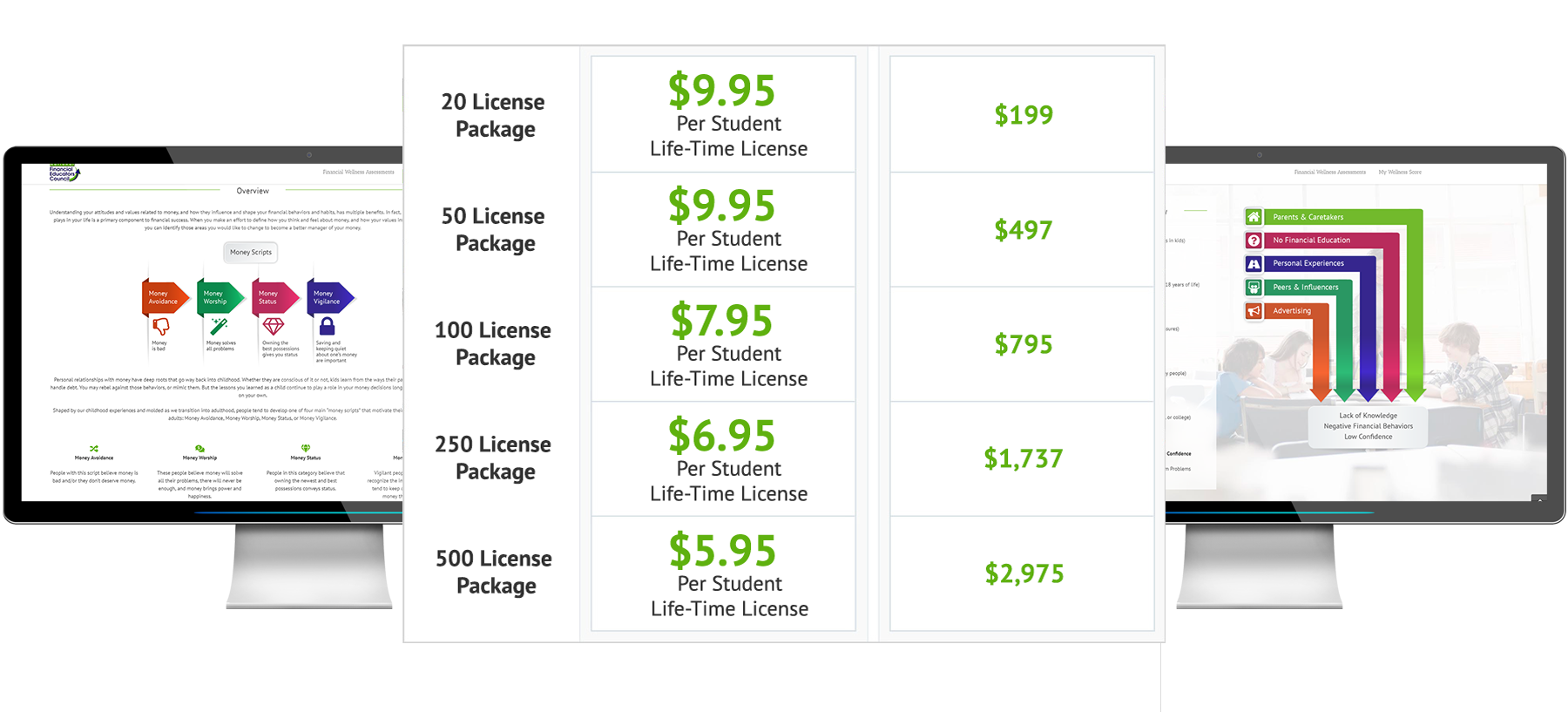 Optional Package Features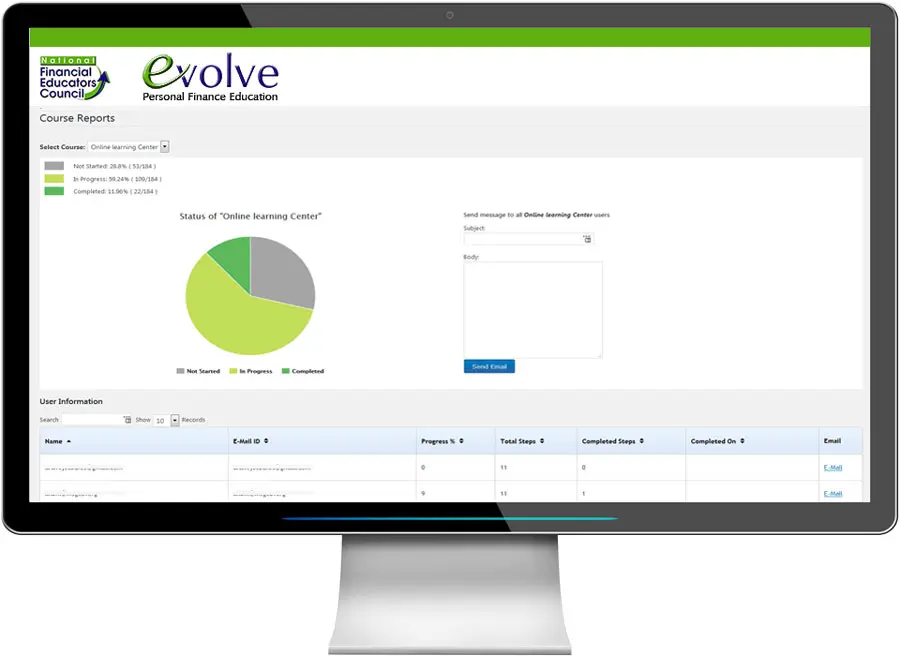 Option 1: Learning Management System – Central Dashboard
Optional. Investment $995 annually
The Central Dashboard provides rich data and offers you the freedom to set up a variety of engagement analytics and defined milestones. Enjoy real-time activity progress reports that demonstrate participants' activity completion, time spent on lessons, test and quiz results, video views, and any other customized data you desire to measure. The LMS Central Dashboard is needed to access any data of participants you enroll in the program.
Option 2: Branding
Optional. Investment Varies. Standard, NFEC Branding Included: $0

Live Presentations for In-person Training

The NFEC's employee financial wellness programs can include is organized to give you maximum flexibility in time and learning outcomes. Enjoy these options:
NFEC Led Training or Kickoff Events. Members of the NFEC's Personal Finance Speakers Association come from a variety of backgrounds; yet they share a common passion for teaching personal finance and have successfully passed the NFEC's Certified Financial Education Instructor coursework. Our graduates possess the knowledge and expertise to effectively deliver the workshops, keynote presentations, advocacy events and are skilled at creating a memorable participant experience.
Your Team Led Training. The NFEC can train your staff and provide all the tools needed to host live training events. We provide the resources for your team to host events: presentations, participant guides, testing materials and other resources. The professional development training for the person(s) teaching the materials will ensure the instructor is confident and qualified to teach personal finance.
Presentation Options
NFEC led and your staff led presentations are available. Combing live instruction with online learning creates a blended learning program that can accommodate the needs of your employees.
Promotional Resources
Receive a variety of marketing and promotional materials that will help you get the word out to your employees. Fliers, prewritten emails, event invitations and more are at your disposal.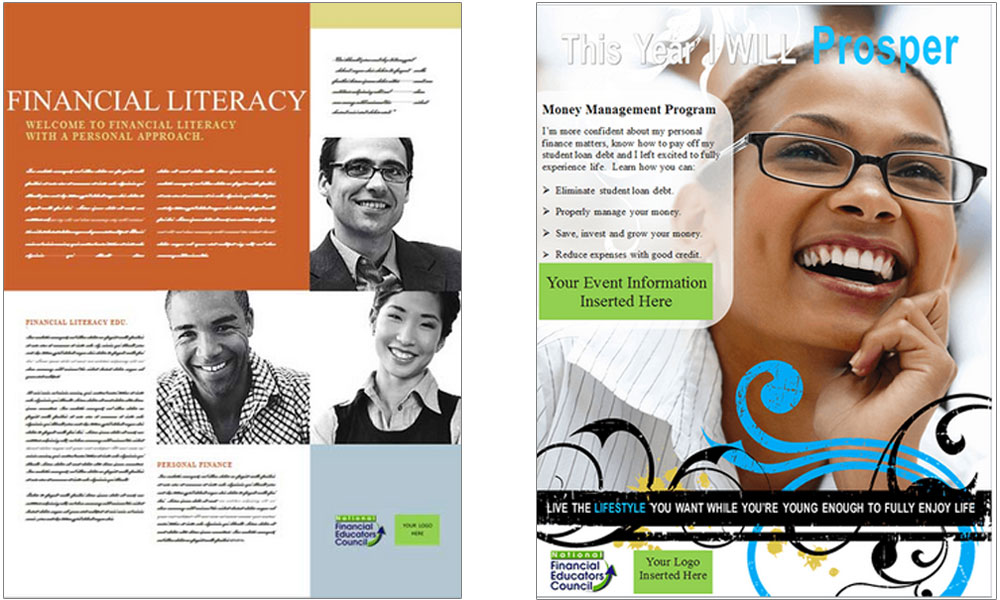 Professional Develop Course for Your Staff Trainer
For those that chose live presentations conducted by your staff – the Certified Financial Education Instructor program will help them gain the skills and confidence to teach personal finance.
$297
+ $97/yr Starting Year 2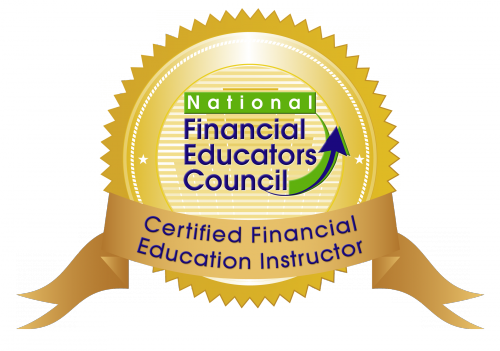 A Combination of Live Presentations & Online Learning


Combining live presentations with online learning can help employers maximize the participation and retention rates while reducing the time needed to deliver financial education programming. All the options listed previously on this webpage can be combined to deliver a unique learning experience that is customized to your employees.
Leveraging both live and online education components expands the educational options to include:
Blended Learning. Blended learning incorporates online learning with in-person classroom training methods. The blended learning approach gives participants some level of control over the time, place, and pace at which they learn the material, and offers both educators and students flexibility to choose specific lessons or learning pathways. The digital learning platform also gives opportunity to incorporate individualized testing and evaluation components, which offer immediate feedback to boost student outcomes.
Flipped Classrooms. The flipped classroom model is a new teaching method that literally turns traditional instruction on its head. In the traditional model – with which we're all familiar – students would attend lectures in class and then complete homework activities on their own. In the flipped model, students watch video "lectures" online at home and at their own pace. Then classroom time is spent applying what they learned to completing practical activities, with the instructor as a guide. Flipped classroom learning takes advantage of increasing student access to technology and the fact that a high percentage of the adult population now views videos online. This approach helps increase concept engagement by reinforcing knowledge with activity-based learning.
Blended and flipped learning package pricing vary as they combine elements from both live and online training. Contact us for a complimentary consultation.
Reporting

Financial Education Measures & Reporting
Data gathering and reporting are the backbone of a program, and yet this element is often ignored. We offer support to organizations committed to ensuring that their programs are truly making an impact and to continue improving their programming over time.
In well-constructed programs, measures are clearly defined to guide development and offer barometers of the program's impact. The data are gathered consistently to provide solid evidence by which the program can be judged.
Educational Measures & Reporting
Organizational Measures & Reporting
Graduation & Relaunching


Marketwatch on helping employees retire with more money.
Businesses allowed to use financial incentives for employees to join workplace wellness programs.