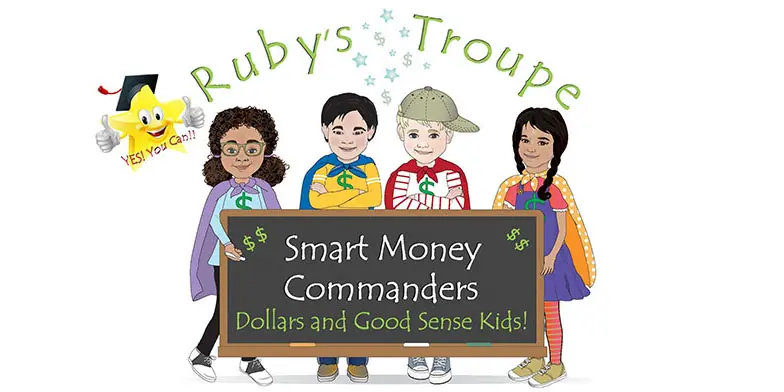 Organization Spotlight: Ruby's Troupe, Inc., SPC and Debbie Todd, CPA CTP, CGMA, CFEI
Goals
Ruby's Troupe aims to empower children to want to learn strong skills with their own money – with belly laughs and fun learning! Our mission is to positively impact 1 million children globally in the next 5 years. After nearly a year of work, we just launched our successful live local program online.
Motivation

As a licensed CPA for 20 years, I have seen first-hand the devastation that money problems cause. One of the biggest regrets I have heard from parents is that they wished they felt confident to teach their kids about money. We believe we have a fun, effective and affordable solution!
Ruby's Troupe

Ruby's Troupe is a wholesome and engaging theater troupe of over 80 puppets, their zany helpers and completely customized shows – with a purpose! Using innovative and creative online interactive theater, practical hands-on activities and step-by-step guidance by two zany grandmas, our goal is to positively impact 1 million children (age 3-10) all over the world with life-empowering "smart money commander skills."
Team Strengths

Our team consists of two amazing married couples who are grandparents, each with a heart for kids and a ministry spirit. Debbie (CPA) brings over 40,000 hours of professional money life skills to the table and Phyllis (theater creative) is just sheer magic when it comes to scripts, character flow and music. She thinks 7 year old and is just off-the-charts fun. They are the lead puppeteers. Deb and Phyllis design the shows and then perform each act. Their husbands Doug and Bob run the sound, lighting, video and set management. It's hard work, but seeing the joy on the kids' faces is sure worth it! One of the unexpected benefits of the program is seeing the "tall people" (aka the parents) laugh and learn right along with their kids! Our education medium lowers the barriers…for an often sensitive and embarrassing subject.
Challenges

Our biggest challenges were learning how to do video editing and navigating the online space. Website design, membership platform and social media knowledge were all areas we needed to get up to speed. It was an adventure!
Raising Awareness and Building a Sustainable Initiative

Primarily word of mouth, posting shows on YouTube and and now we are actively engaging on Facebook and Twitter. Our success stories are events with anywhere from 20 to 600 kids attending. We were looking to expand beyond where we can drive – so the online initiative began.
How can Readers Support Your Efforts?

The biggest support would be to spread the word to parents and grandparents. Share the link to our website and/or Teachable site. We'd also love to partner with foundations, daycare facilities, libraries or educational institutions to bring the magic of the puppets into preschools, elementary and home schools.
Social Enterprise

Another "smart money" benefit of supporting Ruby's Troupe is that our social purpose pledge is to donate 90% of our net profits to charities globally, including non-profits and foundations which promote financial literacy.