Place Trust in NFEC Personal Finance Experts
This website offers information to serve individuals and organizations who seek comprehensive financial literacy campaigns to be conducted entirely by the National Financial Educators Council (NFEC). To find turnkey programming that people or organizations can implement on their own, turn to the business program webpage. The NFEC has personal finance experts who will help you get your campaign off the ground.
Financial literacy is extremely important in today's complex and changing economic landscape. Promoting financial health has multiple benefits for individuals, their communities, and the entire nation. Further, anyone who feels strongly about making financial literacy a reality, whether an individual or an organization, has meaningful contributions to make to the movement.
The average financial education effort today lacks depth, scope, and cohesion. Programs rarely present information that can be applied in day-to-day life, and often fail to engage and relate with their audiences. In comparison, the NFEC's team of personal finance experts create initiatives built upon strong community support. Their campaigns are engaging and appealing to a wide range of target audiences, and employ best practices for educational methods to ensure practical applicability.
The NFEC's financial education consultation process approaches financial literacy from a collaborative standpoint, forming strategic partnerships to create full-scale programming with measurable ROI, optimal participant outcomes, and sustainable models. Host organizations enjoy a variety of advantages such as revenue generation, awareness-building, client acquisition, media coverage, community goodwill, and heightened relationships with their target markets.
The NFEC designs its comprehensive programs in four stages: planning, development, implementation, and sustainability.
Stage One: Planning
The NFEC's personal finance experts work in tandem with the host organization to ensure that the event is planned in a way that aligns with achieving the organization's program objectives. Thus each event is customized to the organizational goals.
Organizational Goals: the NFEC aligns the program with the organization's goals. For example, the host organization might seek to acquire new clients, introduce new products, enhance community relations, generate media coverage, or communicate with current clients. Aligning the financial education consultation with the organization's larger goals builds sustainability and impact.

Educational Goals: What learning outcomes does the organization seek for program participants? The NFEC clarifies the desired results and designs measures to quantify them.

Positioning: By providing financial education, the organization positions itself as a community leader and advocate.
Marketing: Promotional planning centers on the organization's key goals, which might be raising awareness, building community relations, getting media attention, attracting clients, or finding collaborative partners. The NFEC helps reach these goals by providing promotions, outreach, and media plans.

Sustainability: Financial education programs reach sustainability by delivering a strong ROI. Achieving organizational goals like media attention, cross-selling, and referral generation increase ROI and thus sustainability.

Measurement: Measuring key indicators ensures that your objectives are met. NFEC personal finance experts are skilled at tailoring assessments to evaluate your program's success.
Stage Two: Development
The comprehensive plan has been completed, and now development is the next priority. The NFEC's personal finance experts know how to build campaigns around the specific organizational goals that emerged during the planning phase.
Participant Experience: unlike the typical boring financial education programs, NFEC financial education consultation yields a client experience that engages participants, hosts, and partners alike – creating buzz that lasts long after the program ends.

Top-grade Education and Outreach: You can have the NFEC train and certify your staff, or select a personal finance expert from their Certified Financial Education Instructor team. The NFEC also has relationships with celebrities and sports stars who feel passionate about the financial literacy movement and can raise the profile of your event and outreach.

Educational Materials: The NFEC curriculum packages reach all ages and are designed for a mixture of delivery options – for example, they can be delivered live, online, through mobile apps, or as webinars. With gamification and practical, hands-on activities, the resources balance educational best practices with real-world applicability.

Full-scale Events: Full NFEC programs have high visibility and customizability, with branding options, launch events, and continuing education features.

Measures: The NFEC's personal finance experts will design custom measures so you can assess program impact, including pre- and post-tests, surveys, and long-term evaluation methods.

Promotions: Your custom package will include promotions aligned with your organization's goals, suitable for traditional, social media, and grassroots outreach.

Collaboration: Collaboration enhances both the reach and the frequency of your messages. The NFEC will help you build successful partnerships.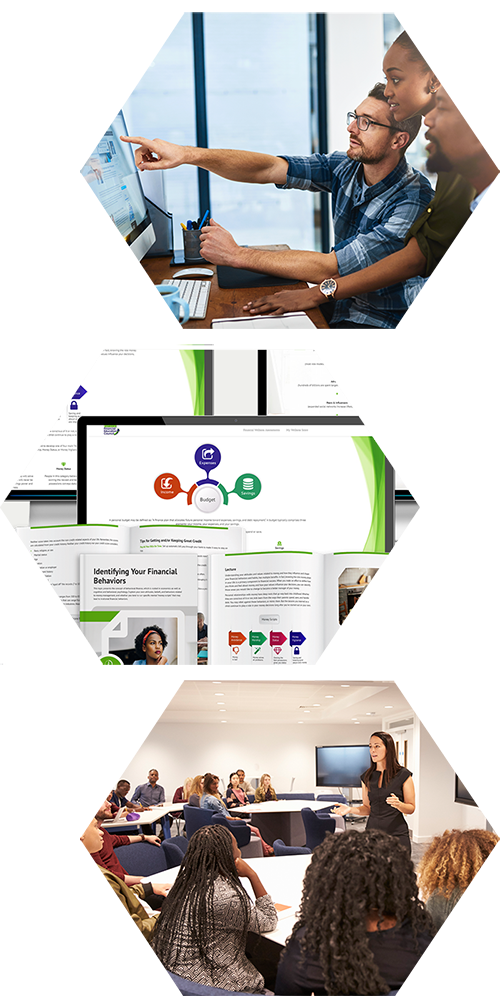 Stage Three: Implementation
Once the first two stages are done, the NFEC personal finance experts will turn to actual program implementation. Keeping the organizational goals in mind, the team will select the best resources and methods to ensure your success.
Event Production: From intimate workshops to full-scale events, the NFEC has the expertise to produce your singular event. NFEC's Money XLive program, for example, is the largest financial literacy event in the country.

Internal Coordination: The NFEC will appoint a professional project manager as liaison for your event planning. That person will direct operations, train staff, and handle campaign communications.

Partnerships: The NFEC will coordinate representatives of your community partners, arranging special appearances, community support, and sponsorships.

Launch Event: To ensure high visibility and impact, the NFEC will coordinate a professional launch that includes media coverage, speeches from community leaders, and involvement from the target audience.

Promotions Launch: Your programming will include low-cost marketing to create awareness and get people excited about the event, such as custom promotions, public relations, and PSAs.
Stage Four: Sustainability
The NFEC personal finance experts are skilled at bridging the gap between educational-grade financial literacy programs and creating revenue streams for the organization. Your initiative will deliver a strong ROI, which in turn builds sustainability.
Measures and Reports: Using critical assessment tools, the NFEC will help you measure and report ROI for your venture. Client acquisition, participation levels, cross-selling, and media attention will be among the measurements.

Training: Staff who come into direct contact with clients will receive training to ensure initiative success. Staff may follow up on client leads and/or track recruitment, for example.

Continuing Education: NFEC personal finance experts will include an ongoing education piece to increase sustainability and keep financial knowledge top-of-mind with the participants.

Referrals: With one successful program under your belt, you'll find that subsequent campaigns become that much easier. The NFEC encourages annualization with promotional materials and follow-up education.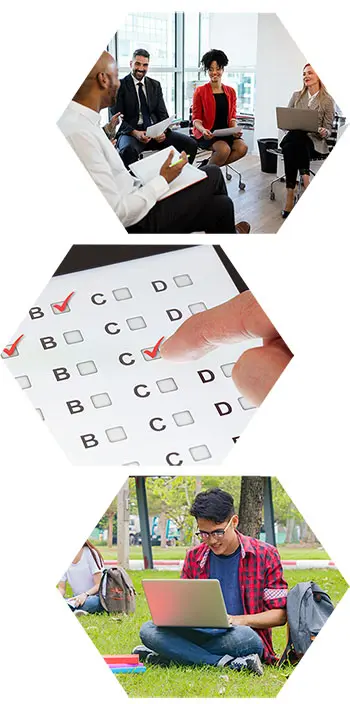 Building a successful, effective, and sustainable financial literacy program demands specialized expertise – and NFEC personal finance experts have a proven track record. The results of your custom event can have long-lasting, powerful impact.
We commend you for your commitment to bring high-quality financial education programming to your community members. We look forward to forming a partnership that helps your organization achieve its philanthropic, outreach, and business goals.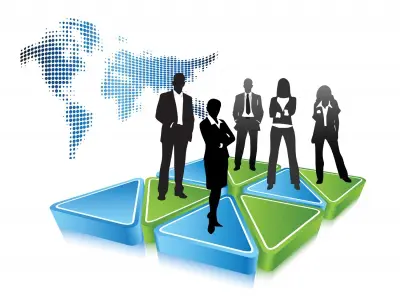 The National Financial Educators Council has developed, sponsored and provided resources for thousands of financial literacy programs and reached over a million individuals. As a financial education resource provider, over 80 financial literacy assets have been developed that are designed to provide a practical education, raise awareness and help to ensure the programs impact extends well into the future.
The NFEC helps various organizations to reduce the time, expense and personnel required in implementing a successful financial literacy initiative. Our team of personal finance experts and international team of Certified trainers give us access to qualified instructors that are capable of hosting events and promotions. As an independent organization, we deliver an unbiased financial education programming to serve our various clients.
The NFEC uniquely positioned to deliver best practices because its material is tested by organizations around the globe. The feedback, test results and surveys provide us the empirical data and information needed to fine-tune the programming. Our various financial literacy assets have been referred to as "groundbreaking", "effective" and "revolutionary". They employ multiple touch points, collaboration, and modern marketing techniques to maximize campaign benefits.
NFEC Campaign Approach
The NFEC's takes a holistic, campaign approach to teaching and promoting financial wellness. There are three essential components that our team of personal finance experts and Curriculum Advisory Board members have identified as cornerstones of successful financial education initiatives: Education, Awareness and Sustainability.
This campaign approach enables the NFEC to reach people and spark positive changes in participants' financial behavior, raise community awareness, and maintain a sustainable business model.
Scope
From community workshops, to full-production celebrity events, to a nationwide campaign that is currently being delivered to 500,000 individuals – the NFEC has the experience, team and passion to ensure your objectives are met.
Contact us today to learn how the NFEC can help you accomplish your organizational objectives while helping to further the financial literacy movement and empowering people with life-changing lessons.
Practical advice on money management.
Paying for college during a pandemic.