Personal Finance Calendar
Setting a regular schedule to review your financial situation is vitally important to your financial health and overall well-being. This Personal Finance Calendar suggests the kinds of financial review you should complete monthly and periodically, lays out a month-by-month schedule of significant financial events and documents to evaluate and update ongoing, and discusses reviews to undertake when major life events occur.
Regular Monthly Financial Tasks
To best manage your finances, there are regular monthly tasks required to ensure that you're working toward your financial goals and protecting your finances. The personal finance calendar outlines common monthly events to make a regular habit.
Review all account statements.

Securely dispose of or file account statements.

Assess whether on track toward financial goals and plan.

Reflect on ways to increase income & savings and decrease debt.

Address any new challenges or opportunities.

Dedicate time toward improving your financial knowledge.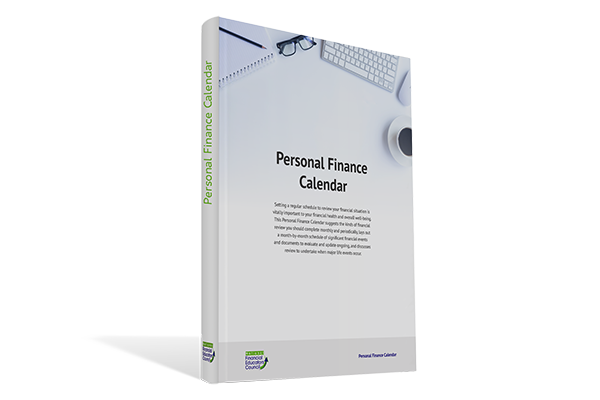 Birthday & Life Events
Familiarize yourself with milestone personal finance calendar events and consider which are meaningful for you. We lay out some "milestone" years in many people's financial lives. These life events may not all apply to you, but it's good to familiarize yourself with them and consider which have meaning to you.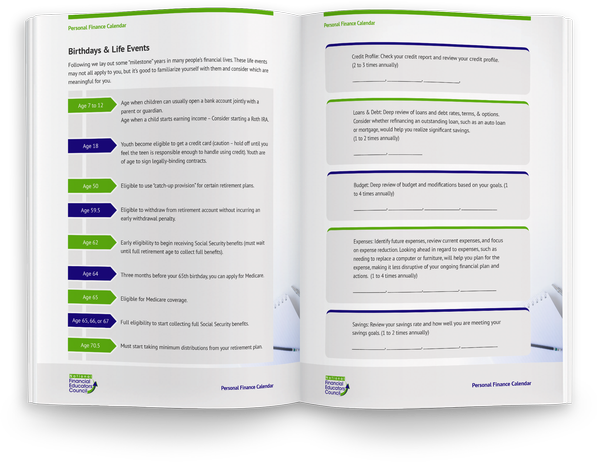 The National Financial Educators Council, a public benefits corporation, its owners, officers, directors, employees, subsidiaries, service providers, content providers, and agents (referred to as "NFEC") do not offer, recommend, or sell any financial products. The NFEC is a financial education company – all of the information is purely educational, this includes the Personal Finance Calendar. The NFEC is not a financial adviser or licensed to sell any financial products. The NFEC does not and is not licensed to sell securities, insurance, investments, or any financial products. None of the information provided is intended as investment, legal, tax, insurance, or financial advice. The NFEC does not endorse any financial service companies, offer or solicitation of an offer to buy or sell, or provide an endorsement of any company, security, fund, or other offering. Every financial decision carries risk and results of our educational services always vary. The content is provided 'as is' and without warranties, either expressed or implied. The NFEC does not promise or guarantee any financial outcome from your use of our education or coaching services. Under no circumstances will the NFEC be liable for any loss or damage caused by your reliance on the information contained herein. It is your responsibility to evaluate any information, opinion, advice, or other content. Please seek the advice of professionals, as appropriate, regarding the evaluation of any specific information, opinion, or other content.
Important Financial Dates to Keep Track of.