NFEC Funds Your Financial Education Program
To reward our clients who follow the best practices outlined for developing a quality financial education program, NFEC sponsorship opportunities are available. For over a decade, we have supported the efforts of individuals and organizations building financial education programs by offering resources and training; now, we also provide funding for approved programs.

Details
To help your program scale and impact more people, the NFEC supports you by providing sponsorship opportunities to help fund the promotion of your financial education programming. Funding ranges between $100 to $3,000 based on the package you purchased (Essential Package – eligible for $150; Advanced Package – eligible for $250; Professional Package – eligible for $750; Enterprise Package – eligible for $1,500; Custom Enterprise Solutions Package – eligible for $3,000). Funding is invested into the promotion of your program and highlighting your achievements. All clients in good standing who follow these steps are eligible to apply: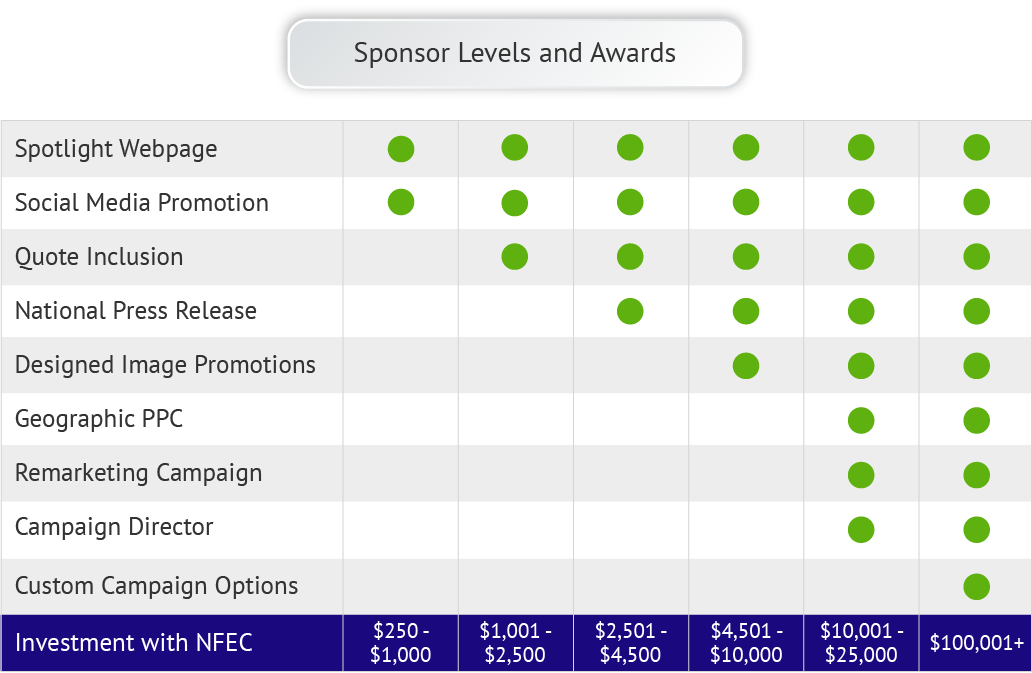 Update Bonus: Now

all levels

will receive inclusion and your program highlighted in a national press release. 
This is a one-time sponsorship opportunity that is guaranteed to all NFEC clients in good standing who complete the steps in accordance with the guidelines. Funding levels and eligibility vary depending on the package in which you invested. Additional sponsorship opportunities are available through the NFEC to select organizations that rank the highest among other reports.
Thanking Champions
We appreciate all your efforts to champion financial education programming in your community. It is our hope that this funding support will help leading-quality programs expand and help more people.
This is the first phase of our client funding program. Stay tuned for an expansion of this program with more funds becoming available soon.