Money has impact on our relationships. Whether romantic, parental, or with other people about whom we care deeply – our personal financial situations play a role in all our relationships. The ways in which money affects our relationships can be positive or negative and vary in intensity.
To raise awareness about the connection between love and money, the National Financial Educators Council launched Love & Money Month. Each year during the month of February we will provide new research, data, and promotions that help us better understand how money affects our relationships and provide resources and insight to help others improve their relationships through financial empowerment.
Data, Activities, & Resources Available for Each Type of Relationship
The NFEC founded Love & Money Month to raise awareness around how our finances can have impact on our loved ones and to give people resources that support them toward healthier relationships and financial situations.
Love & Money Month provides complimentary guides to support individuals in romantic relationships and raise awareness for the importance of communication about the topic of money. Enjoy these complimentary guides:
Cost of Love Life Events

Couples Money Talks – All Relationship Stages

How to be Financially Prepared for 8 Important Love Life Events
Part of the NFEC's Love & Money Month campaign is to help families prepare for this potential expense by raising awareness, encouraging discussion, and providing resources. Learn the strategies to open up the conversation with your aging parents about their finances so your family is better prepared. Complimentary guide:
Talking with Parents about Finances: Tip Sheet and Guide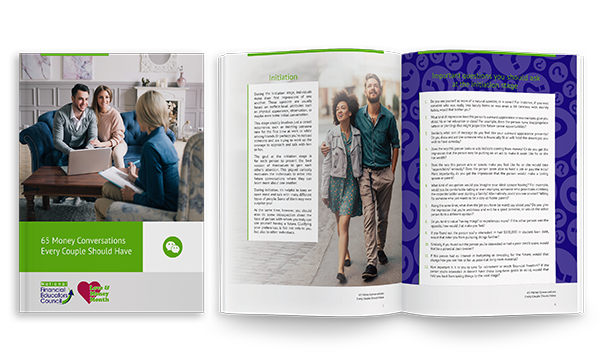 Love and Money Month will include providing resources and data for families with children. One of the aims of this campaign is to encourage families with children to take proactive measures toward raising self-sufficient children who are not only in position to cover their basic needs, but also on track to live rewarding and fulfilling lives. These guides will be available & complimentary:
Family Money Talks

Kids Financial Education Standards & Practical Tips to Teaching (Available April 2021 – complimentary)

Family Chore & Money Management Project (Available May 2021 – complimentary)