Want to Build a Financial Education Program?
Learn One Popular Model for Developing & Expanding a Financial Literacy Program in Your Community.
There are proven steps to help you build a top-quality financial education program. Having helped over thousands of organizations and individuals build financial literacy programs, we know what developing a successful program takes. This article will give you details about a popular model that many have used to build or expand their financial education programs.
Pilot Program & Reporting Model
The goal with the pilot program model is to conduct an initial financial education program and report the results. A pilot program is a smaller course that helps you test your financial education initiative.
Proving your program's impact by conducting an initial pilot program and reporting on the results should be the primary goal for anyone in the financial education industry. For people new to the industry or who have not reported their program results data – completing programming, taking comprehensive testing, and reporting on the data should be your primary goal.
Conducting an initial program and including details of the results in a case study report offers leaders of financial education programs many benefits. Internally, reviewing your program results will help you identify and improve your program. Externally, the reports will demonstrate your professionalism and program impact to expand your program and leverage funding opportunities.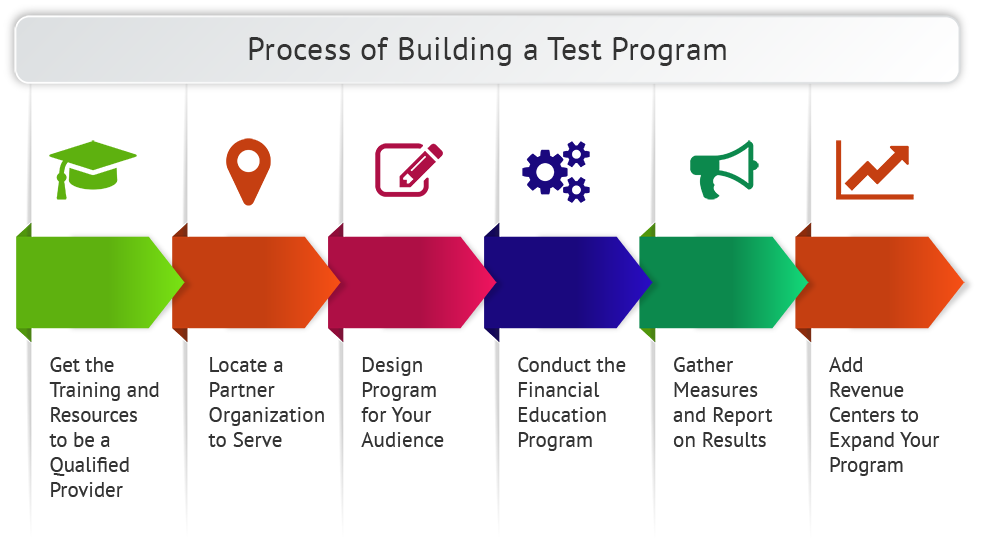 Step 1: Build a Foundation with Qualified Educator & Quality Resources
The foundation for a successful program starts with having a qualified educator delivering professional financial education resources. Follow these steps to build your foundation:

Step 2: Locate a Partner Organization

Finding a partner organization will provide you many benefits, including: they provide a venue so there are no venue costs; they get people to your event; and they provide other event support. Finding partner groups is easy if you have built a solid foundation. When you're starting out, the easiest groups to work with include nonprofits, faith-based groups, and community organizations because they are looking for people to provide a variety of programs. Here's what you should understand:
Step 3: Design Program to Meet Audience Needs & Deploy Programming
Without a program plan, items like user experience, program measures, ongoing training, and how they communicate can be easily overlooked. Programs that are properly designed are built with purpose to serve the unique needs of the target audience. Follow these tips when designing and deploying programming:
Step 4: Report the Results of Your Program
Proving your competencies as a top-quality provider of financial education programming that makes a measurable impact should be your first goal once you start to roll out your training. In our interviews with thousands of financial education providers, only a few routinely build out case study reports that demonstrate their impact. By building case studies of your programs, you can stand out among the crowd.
The process of building case study reports takes more effort on the first few, but it gets easier each time. The key is to have a clear plan regarding what information to gather and collecting that information at established points of your program. Once gathered, the information can easily be added to case study report templates and leveraged to help you expand your programming.
Step 5: Grow & Scale Programming
Building a sustainable financial education business model is key to addressing the financial illiteracy epidemic. Having clear business objectives, positioning yourself as an expert provider, and establishing a strong revenue model helps you serve more people with vital information.
Following the first 4 steps will help position your financial education program for funding and revenue opportunities. Accomplishing the primary objective of proving your program's results and reporting on the data will put you in a strong position to achieve future funding.
Wrap Up & NFEC Support
The NFEC provides everything needed to design, build, and implement a successful pilot program. From training and resources to fill-in-the-blank report templates and partner communications – everything is provided.
Besides all the resources, clients of all levels receive a personal phone consultation and ability to talk with our program designers on open calls that take place weekly. Our goal is to provide the resources and support to host your initial pilot program. After that, most people feel confident to duplicate the process; however, we remain here to support your program's growth.