Financial Literacy Materials Offer Variety, Dependability
When seeking the financial literacy materials with the broadest, most comprehensive scope and the most rigorous evidence base, you need look no farther than the National Financial Educators Council (NFEC) programming. Representing best practices in education and personal finance learning, these financial literacy training materials are designed to be tailored to audiences of any age and background, and to achieve maximum reach and sustainability.
This full bank of free financial literacy resources was developed with the input of a hand-picked team of qualified experts in education, finance, and personal finance education. For that reason, these resources have become recognized as best practices in the financial literacy space.
For Maximum Impact, NFEC Bases Financial Literacy Training Materials in Research Findings
Rigorous research evidence – drawn from both pedagogical theory and behavioral science – lies behind the NFEC's development process. The resulting financial literacy materials motivate and inspire learners to adopt positive financial behaviors, imparting not only content knowledge about personal finance, but also the systematization of financial habits to move them toward more secure personal finance situations.
Best practices in financial education allow the material to be scaffolded based on a student's learning style, prior knowledge base, and pre-existing financial habits. The instruction can be readily adapted to accommodate visual, social, or kinesthetic learning styles, and incorporates project-based learning activities to offer students chances for authentic and practical application of the concepts they're learning. Ongoing assessments across a variety of instructional dimensions are encouraged in order to appropriately scaffold and adapt the teaching based on the students' top priorities. These personal finance training products are modular in design and apply metacognition, identification of personal reasons for learning, and self-structured lessons to maximize positive behavioral outcomes.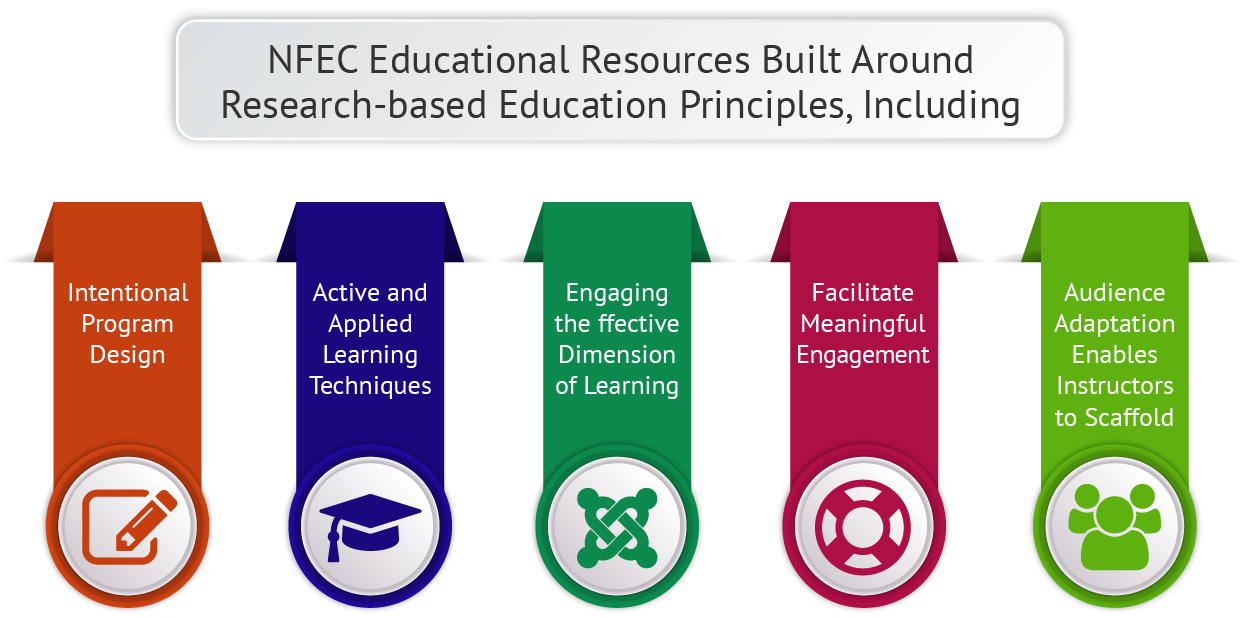 NFEC Financial Literacy Materials Delivered in Not Just One, but Multiple Ways
From the first impression to ongoing follow-up education, the NFEC's free financial literacy materials give students confidence in your abilities to deliver top-quality financial education that has true impact in their individual lives. The well-planned programming segues smoothly across three key phases: 1) Pre-programming, where you build interest and attract participation; 2) During programming, where you deliver the education through multiple touchpoints; and 3) Post-programming, which offers an excellent opportunity to extend learning impact by providing follow-up support and timely educational reminders.
Across all these touchpoints, NFEC financial literacy training materials are customizable to target specific audiences and anticipate learners' current and future educational needs. Compare the NFEC's offerings with this directory published by the US Department of the Treasury.
Featured by The Federal Reserve
According to the Federal Reserve, the NFEC's multimethod delivery options represent best practices for financial education at the college level.