Training, Certification, Standards & 8-Step Framework for Financial Coaches
Because each person has his or her own pre-existing financial habits, relationship with money, and current financial situation, working with people in a financial coach capacity requires specialized expertise. There are best practices that financial coaches can follow to help maximize their impact and become recognized as credible professionals.
To address each individual's unique situation, financial coaches must possess varied skill sets, including: 1) personal finance subject matter knowledge; 2) behavioral finance, psychology, and counseling strategies; 3) educational methodologies; 4) coaching and consultation techniques; and 6) an understanding of standards and ethical responsibilities.
Distinguished financial coaches possess the knowledge and skills that will help their clients best at each step of the coaching process, so they can support clients to work through the coaching program toward their goals. Training, practice, and reviewing data to discover areas for improvement are qualities all distinguished coaches have in common.
8 Steps in the Financial Coaching Process
1: Understanding Clients' Current Financial Situations. Financial coaching starts with gaining a deep understanding of each client's current situation.

2: Understanding Clients' Goals and Future Needs. Each client has different needs you must consider when helping people plan.

3: Diagnosing Areas to Best Help Clients Meet their Goals. Identifying the root causes of your clients' current situations is a skill set coaches must possess.

4: Establishing Goals & Outcomes. Working with your clients, help them establish short-, mid-, and long-term goals with reasonable timelines.

5: Prioritizing the Steps for Maximum Efficiency. Structured planning can reduce the time it takes for your clients to meet their goals.

6: Providing Education and Guidance to Support Clients' Action. Once clients are armed with a clear plan and steps to follow, a coach's role shifts to education and guidance.

7: Offering Support & Accountability. Along with education, coaches provide support and accountability to help clients complete the steps to reach their goals.

8: Review & Report on Progress. As a professional coach, it's important for you to measure, track progress, and celebrate your clients' accomplishments.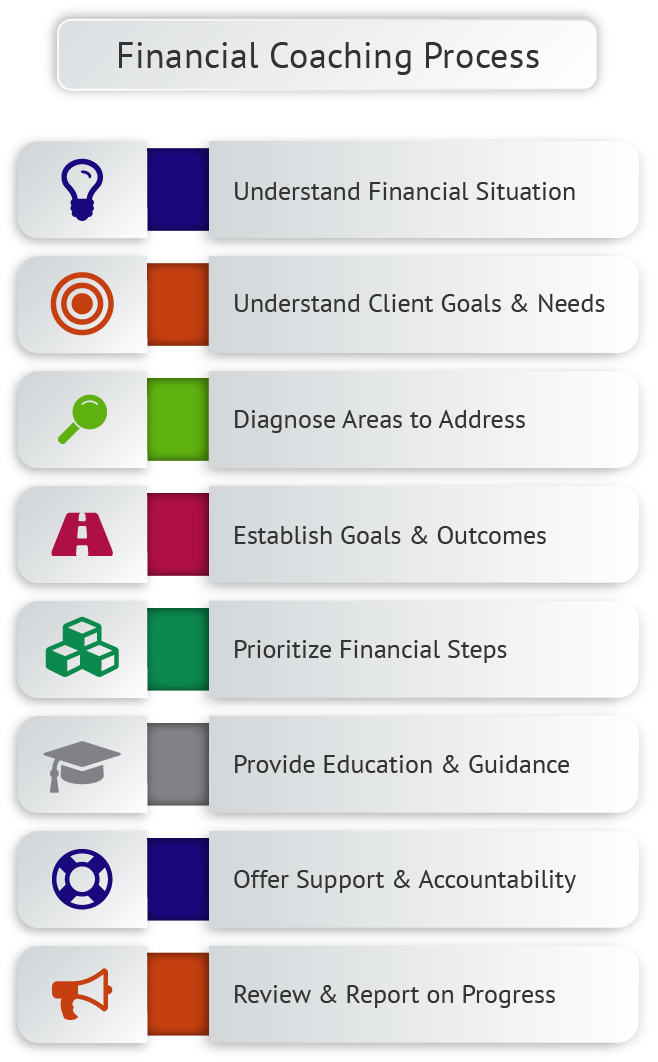 Sample Training Video from the NFEC Financial Coach Course

NFEC's Coaching Program Overview

To help you build the skills you need and gain coaching experience, the Certified Personal Finance Consultant program was developed to achieve better results among clients who participate in your coaching program.
The NFEC Financial Coach program helps individuals acquire the expertise, credibility, and self-assurance they need to be competent financial coaches. Graduation from the NFEC's certification program demonstrates that you are qualified, meet national financial coaching standards, and have credibility as a competent financial coach.
The NFEC Financial Coach course requires successful completion of a proctored exam after approximately 180 hours of training and practice (18 Continuing Education Units – CEU). You may test out of some parts of the training and the course is backed with a 1-year, 100% guarantee (learn more).
Preview Resources
Financial Coach Certification Training Table of Contents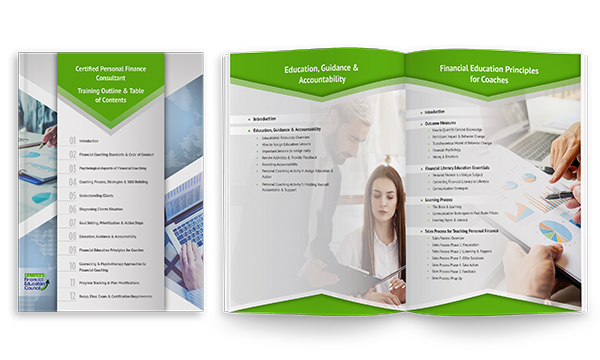 Financial Coaching Standards & Code of Conduct Overview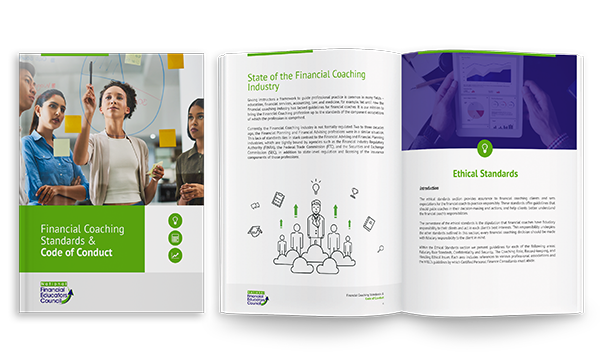 Financial Coach Certification Overview