Locate a Personal Finance Coach
If you are interested in locating a personal finance coach, the NFEC has available a national network of extremely well-qualified consultants who can help you identify and reach your individualized personal financial goals. Certified Personal Finance Consultants have met the highest standards for the industry; they are uniquely equipped with the knowledge and skills to help people work toward secure financial futures.
The main goal of a personal finance coach certified by the NFEC is to provide guidance and education to those individuals who seek to improve their financial situations. Enlist the help of a coach who has a vested interest in your success and helps you work toward financial wellness by providing personalized coaching and education. By conducting empirical analysis of your finances, the coach will uncover your needs and goals; define clear objectives and prioritized action steps; offer education and guidance, accountability and support to help you achieve a state of financial health and security.
Read More
Personal Finance Coach Qualifications and Standards
Anyone can refer to him or herself as a 'personal finance coach.' But NFEC coaches meet the highest standards for quality, excellence, and experience. NFEC Certified Personal Finance Consultants coaches have fiduciary obligation to you – that means they must act in your best interests. You may trust that they have passed rigorous background checks, undergone hundreds of educational hours, and passed difficult testing to receive certification. Not only did they pass these educational requirements, but they also successfully completed implementation and performance evaluations. This step required coaches to conduct coaching under supervision, recording and demonstrating client outcomes, prior to earning their NFEC Financial Coach designation.
The NFEC personal finance coach program standards were developed from the guidelines of the following industries: 1) financial and consumer protection; 2) psychology and counseling principles; 3) education, and financial education specifically; and 4) coaching and consulting tenets. Why were these industries consulted? Because a personal finance coach must help people with their finances, a highly emotionally-charged subject. The coach's challenge, within this emotional topic, is to discover clients' goals and needs, define clear objectives, and offer education, guidance, support, and accountability to guide them toward a state of financial security and wellness.
What an Average Personal Finance Coach Provides
Most personal finance coaches have limited offerings, usually just talk time. NFEC coaches – on the other hand – provide a comprehensive array of services designed to help you improve your financial situation. Recently we conducted research to compare the deliverables provided by NFEC-certified coaches with the average personal finance coach. We reviewed 137 websites that came up in the top 50 Google search results using the keywords 'financial coaching' and 'financial counseling.' Out of those 137, 26 offered up-front package and pricing information easily found on the site.
The most commonly offered service was direct coach contact (phone contact was most prevalent, although some offered email options). We found some who provided educational materials in any form (for example, courses, ongoing training, or published resources). Just a handful offered a custom-written Personal Finance Plan based on the client's individual situation, and only a couple had re-planning and reporting services (including both adjustments to the initial personal finance plan and separate reports showing new data). Please review the infographic below to compare the comprehensive process and deliverables that NFEC financial coaches provide.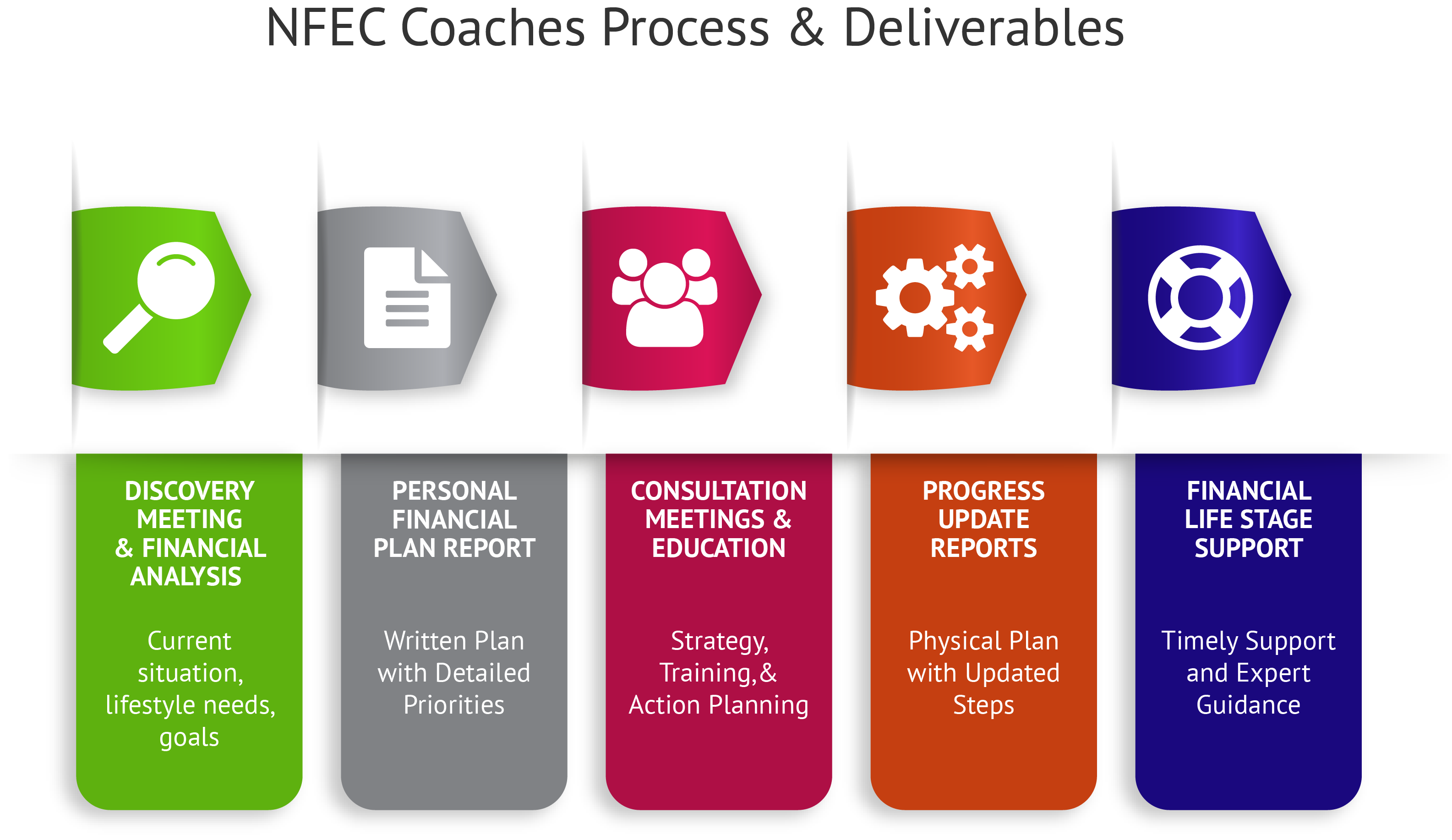 Phase 1 in the personal finance coaching process involves a discovery meeting and financial analysis to understand your full financial profile. This initial in-depth meeting will be the coach's opportunity to review all aspects of your current financial health – including income, assets/liabilities, credit/debt, insurance, and any other factors needed to prioritize and plan your financial objectives.
Our coaches strive to understand all aspects of your personal finances, including your current situation; your goals and lifestyle needs; and your prevailing sentiments toward money. Then the coach will prepare a detailed Personal Finance Plan Report based on your unique situation, with priorities and clear action steps identified. After delivery of your initial personal financial report, the coach will move into the next phase to provide guidance and support.
Now that your personal finance coach has clarified your financial position and goals, it's time for the intensive strategizing and action planning to begin. During Phase 2 you will meet with your
personal finance teacher
on a regularly-scheduled basis for educational, planning, resource, and training purposes. The underlying objectives are to strengthen your own capabilities to make informed financial judgments, give you support, and guide you through a custom-prioritized set of action steps to get you working toward financial security.
You will gain access to the highest quality of financial education resources and personal coaching to help you build the skills you need to reach your financial goals. Part of this process is continually updating your financial profile. Your coach will conduct regular financial assessments and provide you with written progress reports. These reports will indicate your achievement of important milestones and provide evidence for the coach to make data-driven determinations that shape your updated personal finance planning and recognize your goal achievements.
Support Your Specific Needs

Once your most immediate needs have been addressed and your coach has identified the key areas where you need improvement to build a strong financial foundation, Phase 3 involves the coach moving into more of a maintenance position. That is, once you've achieved your primary objectives, the coach can step aside and let you do the work – but staying available for ongoing support when you need it.
Your personal finance coach also will provide you with ongoing education and keep you updated on changes to the financial markets that may have key impact on your situation. The coach will offer personalized reminders of important dates and provide you with the resources you need to plan ahead. The coach is there for you during major life events related to your personal finances and will support you through the decision process. He or she will give you timely support and guidance at critical junctures in your financial life stage.
Connection with Niche Financial Industry Experts
Finally, at the next level, NFEC-certified consultants will work with you in the areas where they have specific expertise. Our coaches have access to a team of personal finance experts who specialize in certain areas related to personal finances and essential life decisions. Your personal finance coach can connect you with an NFEC team member who will support you in the development of your financial foundation. These experts have 30 years and more of industry experience. For instance, you may need additional expertise when you consider purchasing a home or selecting a retirement plan. We will supply an industry expert to help. And every member of our expert team is completely, 100% independent – so you can be assured that no financial products are ever sold or marketed when you entrust an NFEC expert to answer your questions.