Certified Personal Finance Consultant
Do you have a desire to help people work toward a secure financial future? For those who are passionate about supporting others down the path toward financial wellness, there is now a system.
Those financial coaches that earn their credentials via the NFEC – Certified Personal Finance Consultant – take their place among the most highly-qualified financial coaches in the nation. Graduates of the Certification program meet national standards set for financial coaching professionals and have demonstrated the competency on the processes of coaching, knowledge of topics and coaching methods, and have passed background checks and have agreed to standards of practice that puts clients' needs first.
Certified Personal Finance Consultants do more than the average financial coach. They have demonstrated their competencies and have the systems to support their clients' efforts to strengthen their financial situation. Graduates of this program can participate in a variety of activities that help move people and their overall communities toward financial wellness, including:
NFEC Certified Personal Finance Consultant: Requirements
NFEC Certified Personal Finance Consultants are among the most highly qualified individuals to conduct personal financial coaching and lead group programs. The NFEC Financial Coach course requires 180 hours (Professional Development Hours – PDH) of training and implementation. (18 Continuing Education Units – CEU)
Risk of Unqualified Financial Coaches 
Unfortunately, many financial coaches today lack solid educator credentials and/or knowledge about the subject matter, process and regulations involved with offering financial coaching services. Beyond academic qualifications, studies also show that an coaches passion, enthusiasm, and commitment play critical roles in successful student development, and a correlation certainly exists between an coach's level of personal commitment and clients' financial futures.
Under-qualified or poorly-performing financial coaches may bring future economic disaster. The effects of poor personal financial guidance can continue to affect clients' lives for many years after coaching ends.
Qualified financial coaches understand that "one-size-fits-all" methods does not work. The NFEC believes that financial coaches are not simply dispensers of knowledge; they are learning facilitators who can mold or modify participants' behavior to help them achieve financial wellness.
Hire Only Certified Personal Finance Consultants as Financial Coaches
Personal finance impacts many areas of peoples lives and requires specialized expertise to implement proper financial coaching procedures. The financial coach directly influences both short-term student outcomes and long-term impact on their financial wellbeing. The NFEC's Certified Personal Finance Consultants possess the skills and financial coaching certification credentials that help them motivate, engage, educate, and move participants of all ages to take positive financial action. The graduates have passed a comprehensive financial coaching certification program administered by the NFEC.
Your NFEC Financial Coach Follow These Standards and Code of Conduct
NFEC Certified financial coaches are required to follow these practice guidelines. The overarching theme of these guidelines is financial coaches have a fiduciary responsibility to their clients and must act in their best interest.
Financial Coaching Standards & Code of Conduct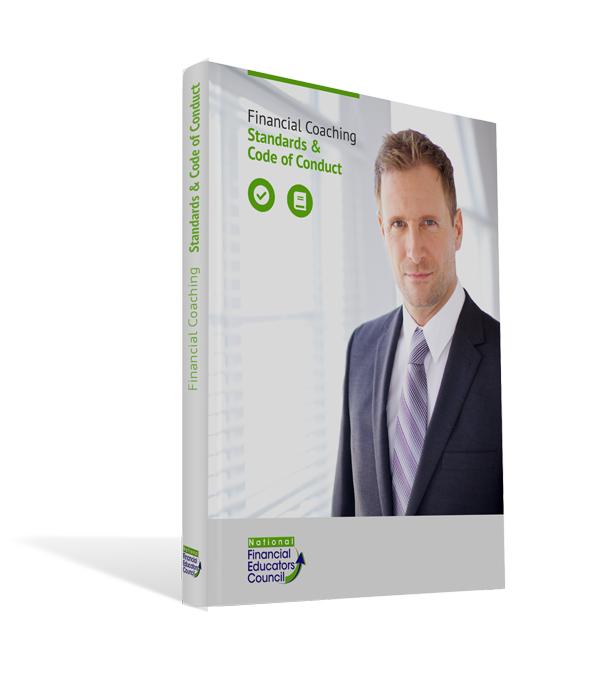 What's Provided in The Training
Program Resources & Enrollment Information
NFEC Certified Consultants are among the most highly qualified educators in the financial education space. They meet the highest industry standards and serve their community by presenting initiatives that improve people's financial capabilities.
Because the financial counselor Certification require personal support and guidance, the NFEC is limiting enrollment.
Reference: Federal Trade Commission, Choosing a Credit Counselor