Financial Counselor Training Provides Certification and Systems
Looking for a chance to gain the expertise, credibility, self-confidence, and systems to help others get a better handle on their finances and secure their financial futures? The NFEC (National Financial Educators Council) offers options for financial counselor training that result in certification (Certified Personal Finance Consultant) and access to high-quality client management systems. The NFEC financial coach counselor training gives you skills and techniques for motivating and engaging participants, moving clients of all backgrounds to take positive money action.
Process to Completing Financial Coach Counselor Training

Counselors who graduate from the NFEC's Certified Personal Finance Consultant (CPFC) program stand among the top-qualified individuals to conduct personal finance counseling. The CPFC financial counselor training requires enrollees to complete 320 Professional Development Hours (PDH) of education, implementation, and leadership demonstration. The required segments include coursework (80 PDH), consulting documentation and results submission (160 PDH), and content creation/strategic development training (80 PDH). Those who earn financial coach certification have passed all these components with a score of 80% or better.
Financial Coach Counselor Training Standards
How can clients trust that an NFEC financial counselor has fiduciary responsibility to them? Because the NFEC Financial Coach Counselor Training follows a strict set of standards called the Financial Coaching Standards & Code of Ethics. These criteria offer public assurance that CFPCs are held to the utmost standards of practice before they
become a financial counselor
. Over 12 industry regulatory authorities were consulted to develop these standards and ethics, including FINRA (Financial Industry Regulatory Authority), the Department of Labor, the Securities and Exchange Commission, and the Federal Trade Commission.
Whereas financial counseling is not regulated at this time, the NFEC took a proactive approach and developed standards to protect counselors and the public they serve. Their standards cover a teaching framework to assure quality and impact; performance criteria for evaluating counselors; tools for teacher preparation and self-assessment; and awareness tools to highlight the importance of choosing counselors with the best skills.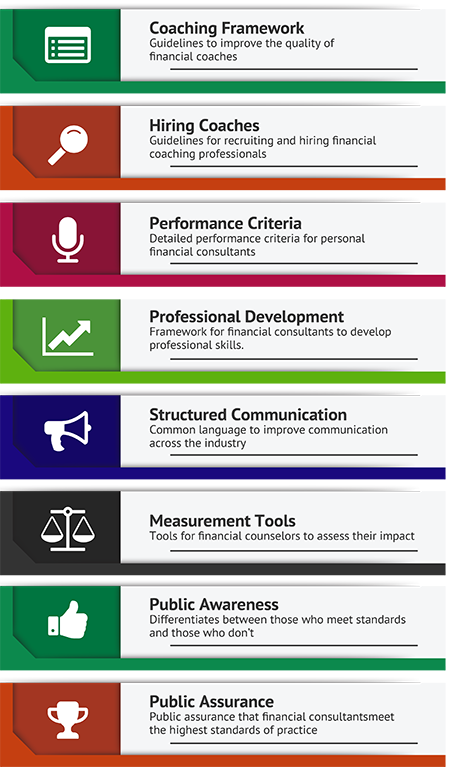 As a graduate of the financial counselor training, you may immediately begin using the NFEC's data gathering tools and proprietary reporting software. These technologies form comprehensive client management systems that enable you to gather the data that clarify a client's complete financial situation, including credit scores, interest rates, assets, liabilities, income, and more. Once you know the full client profile, the software generates ratios and analyses that allow you to give them personalized financial plans and updated progress reports to guide their accomplishments.  These systems can be used if you land a job as a financial counselor or can be used to contribute to a financial counselors salary.
Educational Resources for Financial Counseling

The Financial Coach Counselor Training also offers you access to the highest-grade curriculum in the financial education space. Developed in partnership with a professional Curriculum Advisory Board, these 400+ hours of curriculum, workshops, and presentations have been tested by thousands of organizations and gone through multiple iterations to yield a product that represents the state of the art in personal finance counseling.
The curriculum is 100% independent and purely educational. Aligned with personal finance and educational standards, the lessons are practical in nature to inspire students to take real-world action toward financial health. Topics are covered through engaging, interactive activities. An online learning platform – the eVolve eLearning system – is also available, based on best practices in online education (as specified by the World Wide Web Consortium) and offering high-grade content and vivid design for a unique learner experience.
Undergoing the certified financial counselor study will make you an expert in personal finance consultation, but not in every financial subject – such mastery might take ten years or more of hands-on effort. But your clients may have questions right away that you can't answer. That's okay because, as a CPFC, you have access to a group of experts – licensed in their respective niche spaces – whose only goal is to help you serve your clients' needs in the best possible way. Each member of this team is also a CPFC who has passed a background check and will never attempt to solicit or sell financial products.
Who is served by the Financial Coach Counselor Training? There are 3 separate groups who benefit from these services: organizations, entrepreneurs, and job-seekers. For organizations, professional development and training for staff are provided. Specific to entrepreneurs, resources and training to launch and/or build a counseling business is available. For individuals who want to become employed as financial counselors, the program provides needed credentials to showcase one's qualifications.
The financial counselor training places you well above the average. You will have demonstrated your competence and organizational ability to help clients improve their personal finance situation. The various activities you will be prepared to lead include:
Personal Financial Counseling – clients receive personalized coaching, education, and accountability.

Learner Certification Programs – Training and standards-based assessments that demonstrate when clients reach set outcomes.

Accountability Programs – For groups of family members, friends, or colleagues.

Group Financial Education – Workshops and courses to groups of various sizes.