Financial Coaching Software: Reporting & Coaching System
All most financial coaches do is talk – they do not provide clients any reports or full assessments of their finances. Stand out above the average financial coach and highlight your competencies as a true coaching professional by providing detailed reporting using top-quality financial coaching software.
Giving your client a detailed report enhances your reputation, highlights your competencies, and makes the process run smoothly. Know what questions to ask, diagnose the root cause or financial challenges with greater ease, measure your clients' progress, and generate another revenue center.
Features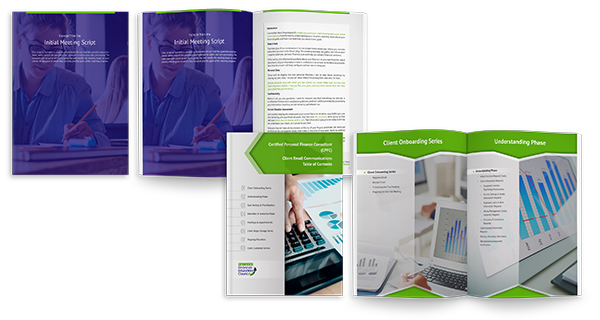 Easy to Use – Includes Full Scripting
The financial coaching software reporting system provides a complete presentation and scripting that allows you to educate your client and get you the answers you need to effectively coach each individual. This feature also outlines clear processes on how to input the data and deliver the reports. All ratios and assessments are calculated automatically for you.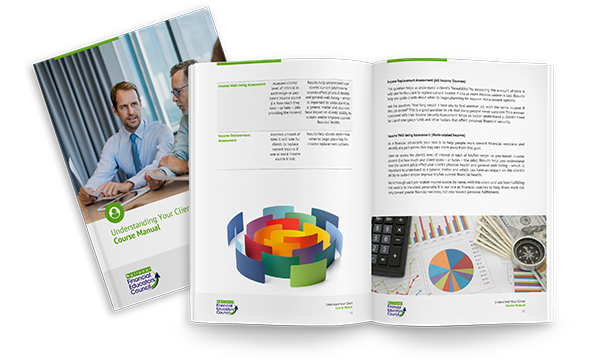 Diagnoses Root Causes
Prebuilt with 31 indicators of financial wellness to help you view clients' big financial picture and easily identify the root causes of their financial problems. If you're a seasoned financial coach, you can add and customize these 31 indicators to match your style of coaching.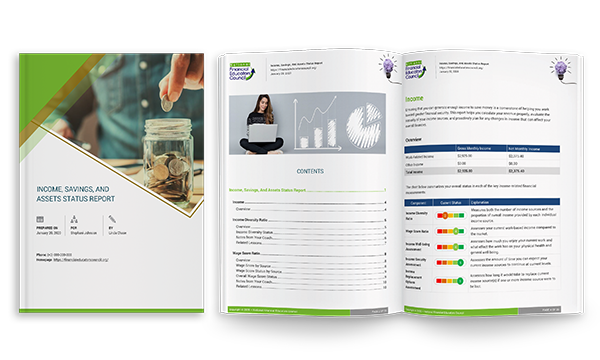 Measures Progress
Easily monitor client progress and give them updated reports to help them focus on the most pressing matters. As they improve in a given area, simply update the reports. The program allows you to measure both short- and long-term progress.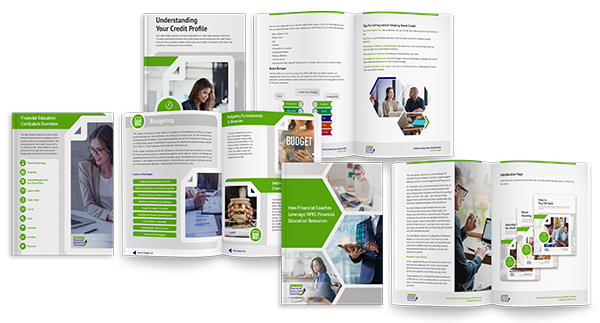 Full Integration with Educational Resources
The reporting program has been built to fully integrate with our Educational Resources. Each area includes lessons to which you can direct participants in the eLearning Center and Student Guides to help you best educate your clients.
Guarantee
We guarantee that this is the most comprehensive reporting system specifically built for financial coaches. This claim is backed by a 100% money back guarantee on your last 3 months of software licensing dues. If you find a more comprehensive, higher-quality software program built specifically for financial coaches and we agree, you will receive a refund for the last 3 months you paid in software licensing dues. You must be current on your dues and in good standing with the program to qualify.
Everyone who earns their financial coach certification through the NFEC's Certified Personal Finance Consultant coursework automatically obtains access to financial coaching website & marketing systems that empowers client profile review, data-gathering, and reporting.
Financial Coaching Software and Client Systems
First, reviewing a client's full financial situation in the current moment allows a coach to show clients where they stand now, and prioritize actions that will guide them toward greater financial wellness in the future. The financial coaching software enables the coach to gather such crucial client data points as credit, debt, income, liabilities, interest rates, insurance coverage, and account management – all the indicators of financial health. The financial coach then enters these data into the reporting software, which in turn delivers ratios and other data that guide a personalized financial plan for each unique client.
Opt-in Forms and Giveaways: Visitors to the site are encouraged to provide their names and email addresses in order to receive valuable information.

Follow-up Emails: These tools enable automatic communication with potential clients so they are led directly to your services.

Specialized Landing and Offer Pages: Site visitors can retrieve complimentary resources on landing pages, where they're directed to schedule appointments on a built-in appointment calendar.
Stand Out Above the Crowd
We recently reviewed 137 financial coaching websites that came up in the top 50 Google search results using the keywords 'financial coaching' and 'financial counseling.' Among these 137 pages, 26 listed easily available package and pricing information on their websites. We examined pricing data on these 26 sites to learn what the average financial coach provides.
We learned that most ordinary coaches are just talk – that is, talk time is all they offer. In contrast, NFEC coaches give professional-grade personal financial coaching programming and services that help clients improve their financial wellbeing. These services make you much more competitive in the space. The financial coaching software lets you generate client reports that show client progress, make databased adjustments to their plans, and visually depict areas of priority so clients can easily grasp the concepts and become motivated to follow through.
Comprehensive Planning and Progress Reports
Those providing financial coaching services should offer more than just conversation – that's our firm commitment. The proprietary financial coaching software supports you to develop customized financial plans, showing clients' current situations and prioritizing action steps. The software comes equipped with easy-to-update progress reporting features and ticklers to maintain regular client contact so they can track their achievements and stay on course. Learn more here.
More Financial Coaching Tools: Software
In addition to website development, graduates of the Certified Personal Finance Consultant course also gain access to comprehensive financial coaching tools in the form of software and assessments. CFPCs can use these tools to gather and review client information to track progress and enable you to make data-driven adjustments to their individual plans. Key data – including client credit profile, assets/ income, liabilities, insurance, etc. – provide financial health indicators that you can plug into each client's personalized financial plan report. Whether they are running their own coaching business or have a job as a financial counselor, having comprehensive software helps them improve the impact and results.
These data-gathering systems and reporting processes help you stand out from the average financial coach. While most financial coaches just give people someone to talk with, the NFEC's financial coaching tools allow you to provide competitive personal finance planning and services that truly help clients improve their financial situations. This focus on delivering measurable results is what a financial coach does.
Your ability to understand your client's full financial position lies at the heart of your lucrative financial coaching program. You'll be able to offer far more than just talk time – you can leverage these financial coaching tools to professionally delineate a client's current situation, priority action steps, and progress. Regular client contact will enable clients to track how their efforts affect their financial picture over time.