Financial Coaching Available
Do you desire financial coaching services? This is the right place to look. The NFEC offers financial coaching services through its team of certified coaches. Certified Personal Finance Consultants have met the highest industry standards and are passionate about supporting you down the road toward financial health. NFEC financial coaching involves education and guidance, personalized training and accountability, all with a vested interest in promoting your financial success.
Read More
Financial Coaching Qualifications and Standards
There is no regulation – anyone can provide financial coaching. But NFEC-certified coaches meet the highest grade of industry criteria for outstanding service. Each coach must pass a background check, complete hundreds of educational hours, and achieve high test scores. Not only must they pass these rigorous requirements, but they also must conduct supervised coaching practice, documenting their hours and results to demonstrate their compliance with performance and implementation standards. The NFEC criteria were written with input from four industries – consumer protection, counseling psychology, education, and consulting – because financial coaching deals with the highly-emotional and complex topic of personal finances.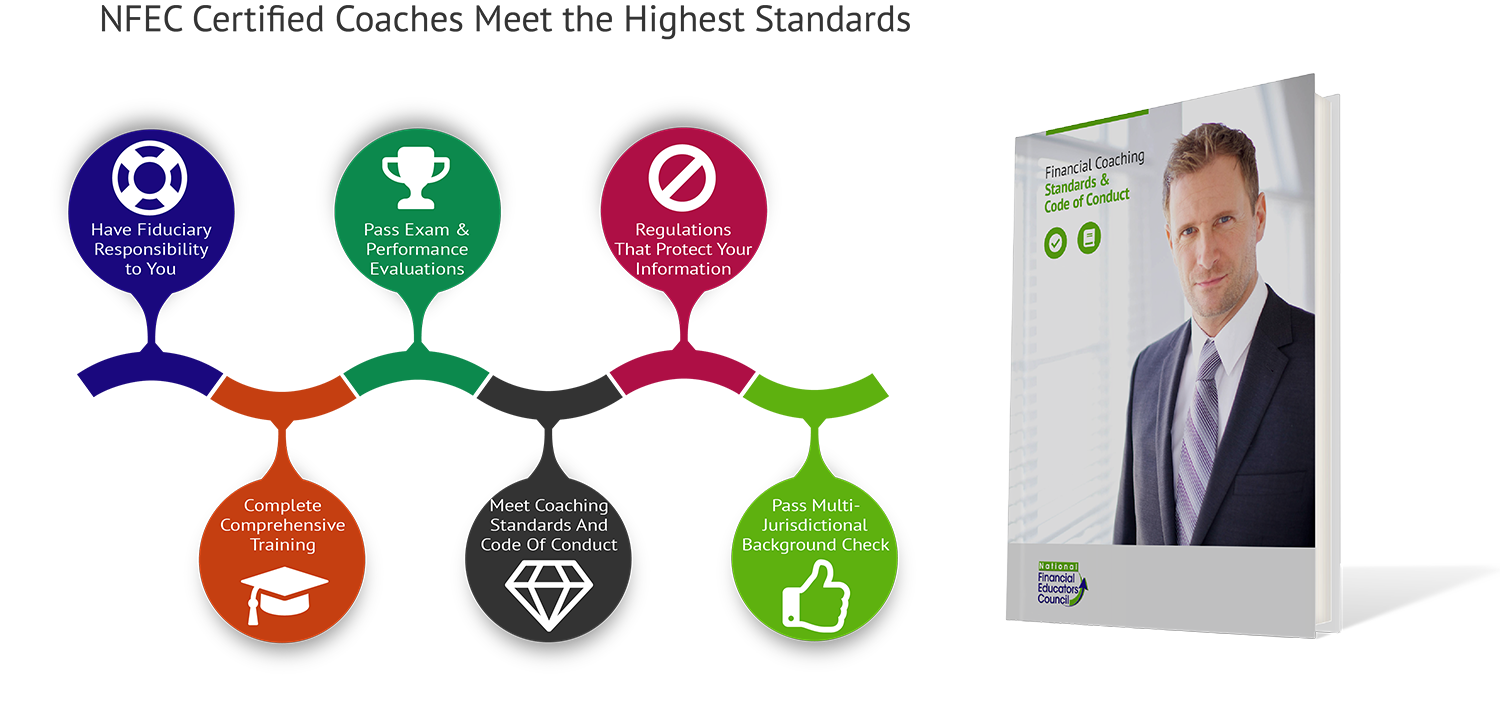 What Does the Average Financial Coaching Service Provide?
Most financial coaching services simply offer a sounding board – someone to talk with. Yet NFEC financial coaching involves a wide array of services aimed at helping people improve their financial wellness. Recent research turned up 137 'financial coaching' or 'financial counseling' webpages on the first 50 Google search results pages. Of those 137, 26 showed clear package and pricing information. Those 26 all offered direct contact with the coach (by phone mostly; some with email options). Several had educational materials, and a handful provided clients with personal finance plans. Read on to understand the comprehensive financial coaching services available through the NFEC.
Step 1: Understanding & Planning
Take a look at William's situation to illuminate the first phase of financial coaching. The financial coach used the first meeting to completely understand William's full financial profile – credit, assets, debt, accounts, insurance, and income – and then generated a detailed Personal Financial Plan Report with milestones and action steps listed in priority order. William came out of the meeting knowing his goals and having a clear plan toward financial security.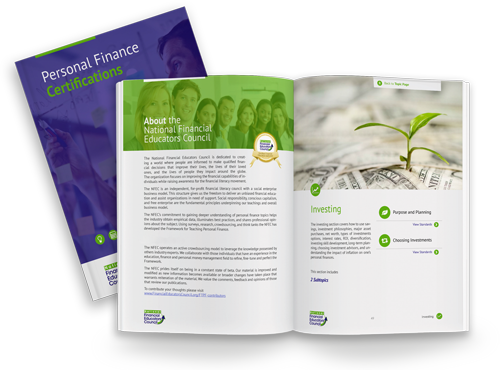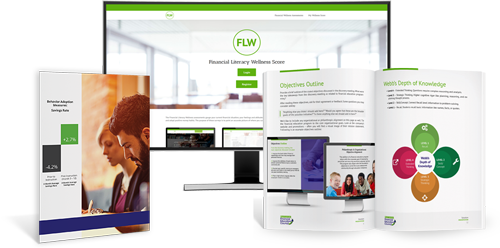 Step 2: Guidance & Education
Once William had a strategy and action plan, the next phase of financial coaching involved meeting with his coach on a regular schedule. William was given access to high-quality educational resources and personal training, so he could boost his own capabilities to make informed financial decisions. The coach also conducted continuing assessments to give William reports on his progress and achievements, shaping his action plan over time.
Step 3: Maintenance & Support
William had addressed his most pressing needs and had a clear plan to improve his financial health. The next financial coaching phase was where the coach could transition into providing maintenance and support. William would get education and support on an as-needed basis, while the coach would keep him apprised of important dates and any updates in the financial markets.
Connection with Niche Financial Industry Experts
When important life events occur, NFEC financial coaching offers access to niche experts in critical financial industry areas. That is, your coach has access to a team of consultants with specialized expertise and can connect you with the one who can best guide your specific decision. All these niche industry experts are 100% independent, so you know you'll never be subjected to marketing or sales pitches.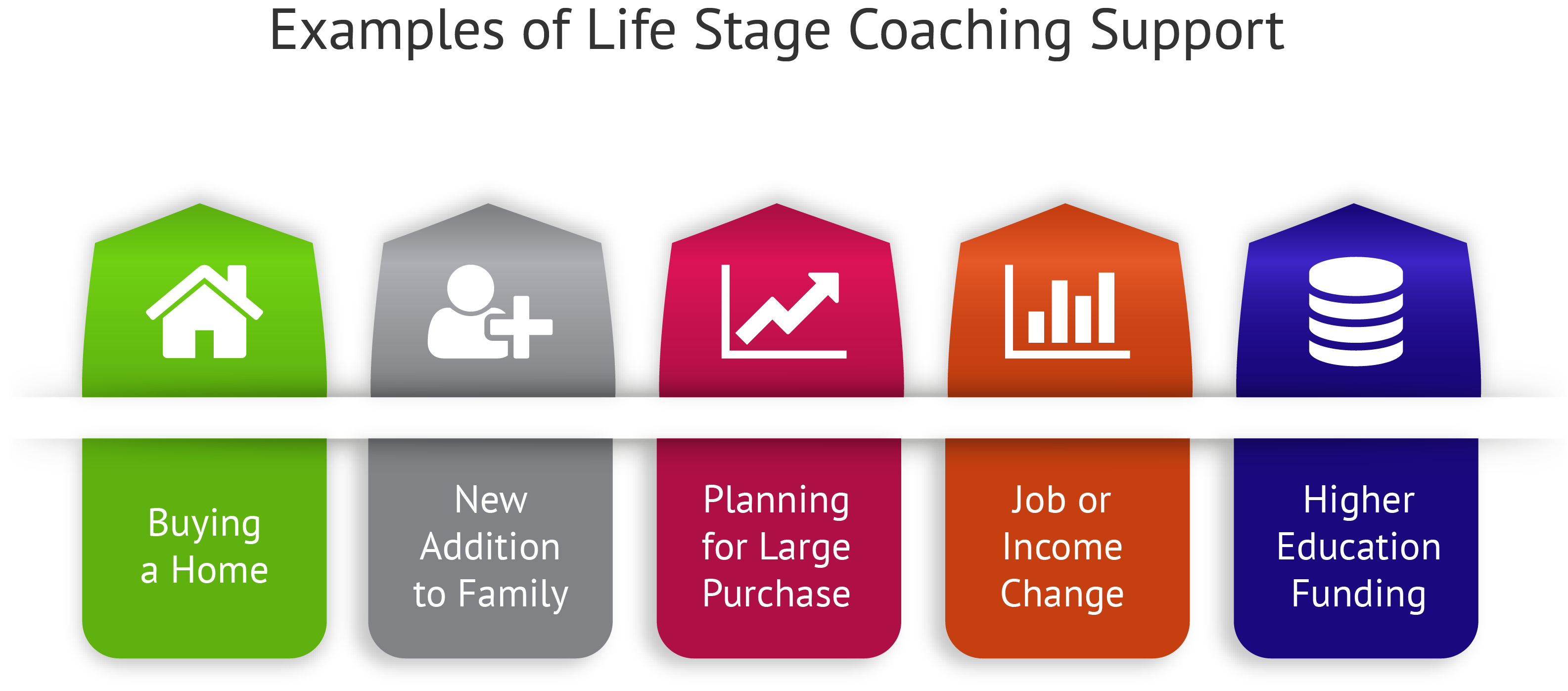 The program developed for Certified Personal Finance Consultants is more than just the average financial coaching program. Our graduates are able to participate in a variety of activities that help move people and their overall community toward financial wellness.
Graduates can serve: individuals one-on-one as a counselor or coach, lead family and groups accountability programs and instruct people via live groups settings or webinars. Have all the tools needed to serve clients: Client Management Platform, automated communication system, planning software and website resources. Marketing, promotional materials, and training that help you build a business helping people work toward financial wellness.
NFEC Financial Coaches are dedicated to providing you the expert advice and the financial education you need to feel confident in your financial plans. Listed below are a few of the areas that financial coaching professionals can help you:
Big Picture – Financial coaches focus their initial efforts on getting a deep understanding of your current situation, future plans and prepare a comprehensive report. Unlike other financial professionals who give you advice in one specific area, financial coaches take a holistic approach to your financial wellness. They lay out your overall plan and can act as the point of contact for your CPA, Realtor, financial planner and other advisors so everyone stays on track with your goals.
Unbiased Advice. Financial coaching programs are not bound by heavy regulation requirements, and the coaches do not get paid from selling investment products. This gives them the freedom to recommend what they feel will best help you accomplish your goals.
Financial Education. The NFEC financial coaching program provides financial education through the process. The more knowledge you have, the more secure you feel in your decisions – and a timely financial education will give you that assurance.
Support. Coaching professionals understand the emotional ties with making financial decisions. They help you get beyond the emotions and help you make the decisions that are best aligned with your personal objectives. They provide you the financial education and guidance necessary to feel confident in your decision making.
What Topics do Financial Coaching Programs Address?
NFEC Financial Coaches have a vested interest in the successful accomplishment of your financial plan; and are they there to support your efforts. Financial coaching programs can address a broad range of personal finance topics. These topics have been broken down into common categories below; however, each plan is customized for the clients' goals
Long-Term and Retirement Planning – Studies show the vast majority of people do not know how much they need to retire. When you complete the NFEC coaching you will know how much you need to achieve your retirement goals and have a step-by-step strategy to get there.

Foundation Financial Coaching – Our coaches can help you pick up basic money management lessons, and provide you financial education training along the way. This can include topics such as: establishing a saving plan, automating your finances, emergency preparedness, overcoming debt, building good personal financial habits, and development of an overall financial plan.

Specific Questions. Coaches are there for any specific financial needs you may have. They can even review mortgage loans, investment options and other documents – this gives you confidence in the decisions you make.

Debt Coaching – NFEC financial coaches can help you pay off your debt faster. By automating your payments so the highest rate credit cards get paid first, your debt can be paid off many years earlier saving you money

Lifestyle planning – A move to an exotic location, three day weekends or simply taking an extended family vacation – proper planning can make your lifestyle dreams a reality.

Change of Life Financial Coaching – Marriage, college, divorce and new additions to the family all impact our finances. Financial coaches help you adjust your plan and provide you the financial education necessary so you stay on track for long-term success.
Get a head start on the course by enrolling in the Certified Financial Education Instructor Program. All our NFEC Financial Coaches are required to complete the CFEI program. You will gain the skill sets needed to teach groups – a key way our consultants build their coaching practice. Click here to learn more about the Certified Financial Education Instructor program.
Financial Coaching
The National Financial Educators Council provides a variety of financial education services and serves all stages of financial literacy programs. Having served organizations with varied budgets and goals, the NFEC is able to provide your organization the solution that will best meet your objectives.
Studies show that most people have never received basic money management training; and are making important decisions by talking to unqualified individuals or by getting advice from people who are selling them financial products. On the other hand, coaches do not sell anything and have a vested interest in their client's success.
For those interested in the NFEC's Certification program – click here to become a Certified Financial Education Instructor.
The NFECs' Financial Coaching Professionals are experts in personal finance and are focused on helping you reach your financial goals. All graduate have completed over 240 hours of training and hands on experience; making them experts in the field of personal finance. They have a deep understanding of basic money management matters, provide accountability, and help you develop money management systems.
Those were just samples of what a financial coach can do for you. Take the next step toward your financial wellness and complete the information below to receive a complimentary 20 minute call with a Certified Financial Coaching Professional.
We thank you for your interest in assuring yourself a well-planned and secure future. A NFEC Certified Financial Coaching Professional will be in contact within 48 hours.
Article: Do I need a Financial Coaching Program?
by Nick Hager
If you are like most people, you never received a financial education in school, and financial literacy wasn't a topic at dinner. Most of us learned about money the 'old fashioned fashion way' by picking up pieces of information along the way and learning through trial and error.With the fast moving economy, it is important that people minimize financial pitfalls and start working immediately toward their financial goals. Because the topic of money is increasingly complicated, there is a new trend of people working with financial coaches to ensure they have a long-term plan in place.
Today, most people choose their retirement investments based on what the person a few cubicles are doing or by viewing the past performance of a mutual fund is. Decisions made like this can be extremely dangerous and can lead to serious financial circumstances.
Financial coaching programs are helping people plan out their future and help them clean up any financial mistakes they made along the way. Coaches are financial education experts and help their clients pick up personal finance skills as they are working toward a more secure future.
There are financial education programs and financial literacy workshops you could use to educate yourself of money management matters. Once you reach the expert level of study – you may not need a financial coach, but until then it is strongly advised that you work with one.
Financial coaches can also act as a hub for information between other professional advisors. NFEC certified coaches have a broad range of expertise in the financial world and help to keep all the advisors and other professionals on track with your personal goals. Your Realtor gives real estate advice, financial advisors help you with the stock market and your tax planner is helping with your taxes – the financial coach monitors all these activities to ensure they are aligned with your short-term and long-term objectives.

Financial education is a critical component of the coaching process. Although some clients just want their coach to make the decisions for them other prefer to pick up the financial education knowledge along the way. Many clients report that having the knowledge themselves helps them feel more secure and confident with the direction they are heading.
These coaching programs can cover a broad range of topics – from investment strategies to paying off debt and improving credit ratings. A CFPC will assess your specific financial situation and design a plan and the actions steps that are necessary for you to follow.
Coaching can be a great resource for those going through financial challenges such as bankruptcy, foreclosure or debt problems. Furthermore, if you are ever getting a mortgage, car loan or deciding on a college plan a financial coach can help guide you through the process.
NFEC Certified Financial Coaching Professionals are not paid of their investment suggestions. Most financial professionals get paid based off what they recommend; and some will only offer products they get paid on. CFCPs' are fee based coaches. This gives them unbiased loyalty is to their clients. They can refer you to prescreen experts, or they can collaborate with the team of people you currently have in place.
The process is straightforward, and you are in the loop throughout. A CFCP will have you complete an initial questionnaire and schedule a brief introductory call to understand your objectives. From there, they prepare your overall plan and fine tune that with your guidance.
After the plan is developed, the focus then turns to creating a step-by-step action plan for you to follow. They help and guide you through the process and can even act as accountability partners for those that need an extra nudge.
The main goal of starting a financial coaching program is to provide the guidance and financial education needed to ensure you will be able to do those things you dream of. CFCPs' have a vested interest in your success and will help you stay on course with your overall plan.