Youth Financial Literacy Statistics
While today's youth struggles with their finances and dig themselves into monetary holes that might affect their entire lives, we are in desperate need of a quick, effective solution. Youth financial literacy statistics highlight the problem and point to solutions. Parents need to talk more openly with their kids about money and schools need to make financial education part of their curriculum. Teachers need to become more confident in teaching finances to kids and stakeholders in public financial literacy programs for today's youth need to be accountable for the results they get. Only then will we be on the way to financial security.
Today's Youth are not Schooled in Financial Literacy
Youth financial literacy statistics in particular describe the poor financial knowledge foundations that our youth are being equipped with. These inadequate financial literacy skills are reflected in the youth financial literacy statistics which expose the struggle that our youth endure once they graduate from high school or college. Many schools do little or nothing to prepare students to deal with their finances, setting them up for academic success and financial failure. A much more astute idea, and one that some schools are beginning to adopt, is to integrate a basic personal financial literacy course into the school curriculum or purchase a program designed by a financial literacy initiative.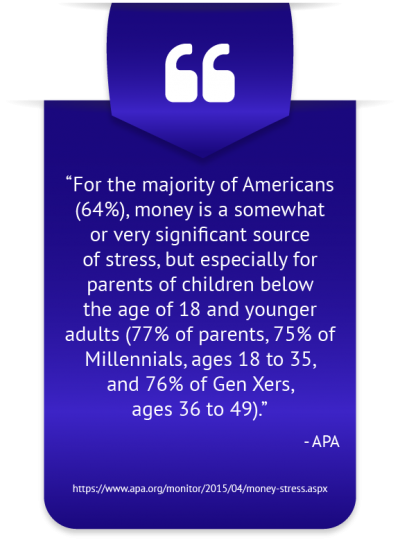 Statistics Show Lack of Financial Responsibility in Today's Youth
11.5% of 2014 college graduates have loans in default (US Dept of Education, Federal Student Aid). https://www2.ed.gov/offices/OSFAP/defaultmanagement/cdr.html
42% of millennials took out an alternative financial service (PwC). https://www.pwc.com/us/en/about-us/corporate-responsibility/assets/pwc-millennials-and-financial-literacy.pdf
40.2% of those with low levels of financial literacy relied on parents, friends, and acquaintances as their most important source of financial knowledge, compared to 20.8% of those with the highest levels of financial literacy (National Bureau of Economic Research). http://www.nber.org/papers/w13565.pdf
Only 23% of kids surveyed indicated that they talk to their parents frequently about money (Money Confident Kids). http://www.moneyconfidentkids.com/content/dam/money-confident-kids/PDFs/PKM-Surveys/2017_PKM_Results.pdf
Financially Educated Youth Become More Financially Involved
Less than one in ten (7%) understand that small company stock funds have a higher return over time than large company stock funds, dividend paying stock funds, or high yield bond funds (The American College). http://retirement.theamericancollege.edu/sites/retirement/files/2017_Retirement_Income_Literacy_Report.pdf
Households that scored higher on a specially constructed investment knowledge index were found to be more likely to have a diversified portfolio and have a 401(k) account (Federal Reserve). https://www.federalreserve.gov/pubs/bulletin/2003/0703lead.pdf
Households that scored higher on a specially constructed savings index were found to be more likely to own a checking account and have an emergency fund (Federal Reserve). https://www.federalreserve.gov/pubs/bulletin/2003/0703lead.pdf
One team of researchers decided to analyze the efficacy of simulations in producing behavioral change in students. Students who took Junior Achievement's Finance park, a simulation for middle school students that sees students assume family and income scenarios, were split up into two groups after going through the park the first time. One group underwent financial education training while the other group did not. After 12 weeks, all the students went through the park for a second time. Over half the students in the group that received training were able to successfully construct a budget, a statistically significant amount over the only 1 student who was able to do so before the training (National Bureau of Economic Research).
http://www.nber.org/papers/w16271.pdf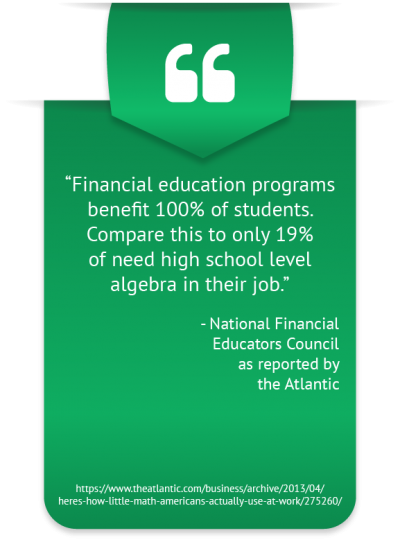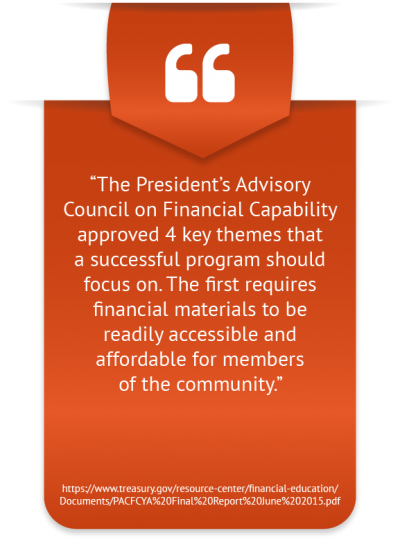 Financial Literacy in Our Youth Starts with Confident, Accountable Teachers and Stakeholders
The Financial Services Authority (FSA) of the United Kingdom delineates that the structure of the initiative should involve creating working groups that yield considerable responsibility for each individual project. Working groups should work closely with partners and stakeholders to craft the curriculum (Financial Conduct Authority). http://www.fsa.gov.uk
Champlain college suggests teachers should receive special training in order to build their confidence and competence so they can impart knowledge on their students smoothly. Adequate funding is a necessity to ensure that all high schools are able to offer this class (Champlain College). https://www.champlain.edu/Documents/Centers-of-Excellence/Center-for-Financial-Literacy/National-Report-Card-Champlain-College-CFL.pdf
The states of Georgia, Idaho, and Texas began mandating financial education starting in 2000. The improvement in credit scores after going through the program for each of these states is compared against the improvement in credit scores to a nearby state without state-mandated financial education. The credit scores are recorded on a 280-850 scale. For students participating in the programs' 3rd year of implementation, credit scores increased 10.89 in Georgia, 16.19 in Idaho, and 31.71 in Texas (Financial Industry Regulatory Authority). http://www.finra.org
Today's Youth Need Financial Education – Statistics Point to Solutions
Youth financial literacy statistics paint a picture of recent graduates struggling to navigate the financial world: drowning in debt, late on payments, losing money on investments. Most of these hardships are due to a lack of education in his or her earlier years. Such a bleak image can be mended by employing youth financial literacy statistics to both raise awareness of the universal need for financial competency and to help guide the construction of effective financial education programs.
Money is a fact of everyday life, and learning to manage money well is critical to achieving freedom, independence, and success. Yet most young adults receive no financial education before they enter the work force. This fact is just one in a set of youth financial literacy statistics that may indicate we're in for some real problems:
57% of college graduates plan to move back in with their parents (MonsterTrak).
62% of college graduates expect to leave school with an average $27,236 in student debt (The Student Monitor).
39% of American adults have ZERO non-retirement savings (National Foundation for Credit Counseling[NFCC]).
More than 19% of American households have college debt (Pew Research Center).
More than half of adults (56%) do not have a budget (NFCC).
76% of college students wish they had more help to prepare for their financial futures (KeyBank).
Clearly today's young people face some financial difficulties, even those who have a college education. But research has shown that programs to teach financial literacy for youth make a real difference. According to the U.S. Department of the Treasury, individuals who receive personal finance education have higher rates of savings, make bigger contributions to their retirement accounts, and have a higher net worth.
Thus while financial literacy statistics may paint a grim picture, there is hope for young adults. The National Financial Educators Council (NFEC) believes it is more important than ever that youth get the knowledge they need to survive in the financial real world. The NFEC says the key lessons a financial literacy for teens and young adults programs must cover include budgeting, credit and debt, savings, financial psychology, skill development, income, risk management, investing, and long-term planning.
Collecting data and reporting statistics is just one step toward improving the lives of young people. These statistics point up the need for youth financial literacy programs that offer practical, applicable tools to give young adults a jump start on life.
Youth Financial Literacy Statistics Underscore Need for Education
The latest youth financial literacy statistics provide clear evidence of the growing need to raise awareness about personal finance topics in the U.S. and around the world. The NFEC is the leading industry provider of evidence-based financial education solutions. This organization offers not only state-of-the-art curriculum and instructor training based in sound empirical research and nationally established educational standards. They also have developed top-quality measurement systems to assess audience needs, motivation, and challenges and quantify program success.
In an online exam conducted in 2012-13, among 1,309 young people aged 15-18 only 357 (27.2%) achieved a score above 70%, and the average score was just 58%. These personal finance statistics only serve to underscore how much today's youth are lacking in education about practical financial subjects.
But simply presenting young adults with a financial literacy class is not enough. According to the NFEC, critical measures are needed to a) customize the coursework to the individual audience; b) measure program impact on audience knowledge, motivation, and intentions to act; and c) characterize the effects of the coursework on individuals' lives. Financial literacy research not only forms the backbone of effective instruction, but also contributes to personal stories that lend credibility to the financial literacy movement.
The NFEC open sources its empirical data collection to promote best practices and industry standards in the financial literacy arena. Financial literacy statistics can provide fuel for attracting media attention and creating sponsorship opportunities to promote this critically important movement.
For anyone considering putting on a financial literacy initiative, the NFEC offers a wide range of products, consultation, and services to support evidence-based programs. This independent social enterprise organization has developed measurement tools to assess all the key areas that define a successful personal finance education program. The NFEC expert team of professionals is available to help design custom surveys, interpret the data, and analyze the results.