Turnkey Financial Education Package Details
Without the NFEC's Support, Developing a High-quality Financial Program Requires Substantial Money, Time, and Personnel with Specialized Experience.
We Make It Easier, Faster, and Cheaper for Individuals and Organizations to Bring a High-quality Financial Education Program that Makes a Meaningful Difference to their Community.
Our mission is to make top-quality financial education programming more accessible. We do so by providing all the resources individuals and organizations need to develop, deploy, and scale comprehensive financial education programming.
We provide you the training, resources, and expertise to build an effective financial literacy program that makes a meaningful difference in the lives of the people you teach; while reducing the cost, time, and personnel required to build an effective, scalable financial education program.
Financial Education Programming Challenges
To address the epidemic of widespread personal financial problems, financial literacy programs are sprouting up in communities across the country. Passionate individuals and organizations are dedicating their efforts to helping others; but are encountering substantial challenges to create a program that makes a measurable difference.
The problem is, developing a program costs hundreds of thousands of dollars. Even just creating one simple marketing piece can run a few hundred dollars. Besides the large cost of developing a program, it takes many years to have something ready to roll out. And even then, it will take more years of testing and revision to deliver results.
That's where the NFEC comes in – we have done the work for you. We can provide turnkey solutions for anyone looking for a high-quality financial education program.

Development Time & Cost to Build an 'Average' Financial Education Program 
versus 
NFEC Turnkey Financial Education Program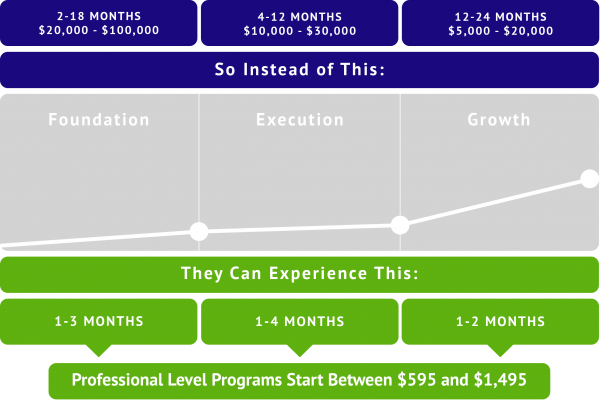 Without

NFEC Support: What You Would Need to Develop & Steps Necessary

Phase 1: Foundation
Hire or Train Financial Education Instructors & Program Directors
Build Research-based Resources that Align with Your Audience
Hire or Train People to Build a Financial Education Program Plan
Phase 2: Execution
Develop User Experience Resources, Marketing, Signage, Registration Site
Build Ongoing Education Resources & Participant Recognition Program
Develop Measurement Tools & How to Report Results
Phase 3: Growth
Create a Clear Business & Funding Model to Obtain Resources
Build Business Aspects of Programming Systems & Infrastructure
Design Revenue & Funding Proposals, Invoices, & Communications
The NFEC Provides You All the Financial Education Resources You Need to Build a Quality Program.  This Save You Time, Money and Help You Build a Positive Reputation.
No matter the size or scope, the NFEC supports your efforts with scalable financial education programming. From single workshops to large ongoing initiatives, we provide turnkey financial education program resources, training and support that are proven to deliver results.  These tools are available to any individual or organization that desires high-quality financial education programming.
The NFEC is an IRS-recognized Benefits Corporation that has supported the development of 2,500+ programs over the last decade. We help individuals and organizations reduce the cost and time needed to develop programming, while providing the tools and training that increase program impact. Our resources and programming processes have been used by tens of thousands of organizations, including:

Turnkey Financial Literacy Packages, Pricing & Purchasing Options

The NFEC helps organizations reach more people with financial education programming and deliver better results. How? By reducing the cost, time, and personnel required to build an effective, scalable financial education program.
By now you understand that it takes more than just someone reading curriculum to lead financial literacy programs. We empower you with the systems, resources, and expertise that optimize financial education program development and reduce barriers to entry – lowering the cost per impact and increasing the ability for programs to scale.
The NFEC offers resources a-la-carte or as a full turnkey package that includes all the materials, training and systems to deliver quality financial literacy programming.
*Save 30% to 54% off a-la-cart pricing. Scroll to bottom for pricing.
A la Carte Options
Essential Package
Advanced Package
Professional Package
Enterprise Package
Training & Professional Development
Certified Financial Education Instructor Training (CFEI)
$297
1 Person
2 People
4 People
8 People
Program Director Training (CFEC)
$1,995
1 Person Trained as Director
1 Person Trained as Director
Certified Personal Finance Coach Training (CPFC)
$1,995
1 Person Trained as Coach
Support Personnel Training
$149
1 Person
5 Person
10 Person
Financial Education Resources
Currciulum & Presentations
$495
1 Age Group / 150 Student Licenses
2 Age Groups / 500 Student Licenses
All 3 Age Groups / 750 Student Licenses
All 3 Age Groups / 1000 Student Licenses
Online Learning Program
$4.95 to $9.95 each depending on volume
25 Student Licenses
100 Student Licenses
200 Student Licenses
500 Student Licenses
Online Learning Management System
$995 Annually

✔

✔

Ongoing Education System
$995 Annually
250 Student Licenses
500 Student Licenses
750 Student Licenses
1000 Student Licenses
Automated Ongoing Education Distribution
Available in Packages Only

✔

✔

Mobile Learning Access
Available in Packages Only

✔

✔

Social Media Education Campaign
$995 Annually
4 Posts Annually
24 Posts Annually
52 Posts Annually
104 Posts Annually
Program Design & Approval
Discovery Resources
Basic Discovery Training
Available to All Clients

✔

✔

✔

✔

Full Program Discovery Training & Communications
Available in Packages Only

✔

✔

✔

Program Exploration Presentation & Script
Available in Packages Only

✔

✔

Defining Program Outcomes
Basic Define Outcome Training & Measurement Tools
Available to All Clients

✔

✔

✔

✔

Full Program Development Training
Available in Packages Only

✔

✔

✔

Online Data Gathering System
Available in Packages Only

✔

✔

Design Resources
Basic Design Training
Available to All Clients

✔

✔

✔

✔

Education Standards Guide
Available to All Clients

✔

✔

✔

✔

Full Program Development & Budget Training
Available in Packages Only

✔

✔

✔

Solution Presentation & Script
Available in Packages Only

✔

✔

User Experience Resources
Pre-programming Package
Basic Pre-programming Training & Marketing Resources
Available in Packages Only

✔

✔

✔

✔

Full Pre-programming Training
Available in Packages Only

✔

✔

✔

Full Marketing & Partner Activation Resources
Available in Packages Only

✔

✔

Implementation Resources
Basic Décor Package & Event Checklist
Available in Packages Only

✔

✔

✔

✔

Full Décor Package
Available in Packages Only

✔

✔

Educational Handouts
Available in Packages Only

✔

✔

✔

Post-programming Resources
Certification Templates & Communications
$995
1 Design
2 Design
Full Certificate Library
Full Certificate Library
Measurement & Reporting Package
Learner Measurement Tools
Testing & Survey Bank
Included in Any Curricula

✔

✔

✔

✔

Long-term Outcome Surveys
Available in Packages Only

✔

✔

✔

Online Data Gathering System
Available in Packages Only

✔

✔

Organization Measurement Resources
Organization Measure Training
Available in Packages Only

✔

✔

✔

Organization Measurement Tools
Available in Packages Only

✔

✔

Case Study Reporting
Report Development Training & Basic Template
Available to All Clients

✔

✔

✔

✔

Complete Report Template
Available in Packages Only

✔

✔

✔

Report Delivery Communications
Available in Packages Only

✔

✔

Business & Funding Resources
Mission, Brand & Target Market
Basic Brand & Target Market Training
Available in Packages Only

✔

✔

✔

✔

Positioning Resources
Available in Packages Only

✔

✔

Marketing & Promotions
$995
1 Design
4 Designs
Full Template Library
Full Template Library
Online Presence
Speaker's Webpage
Available in Packages Only

✔

✔

✔

✔

Organization Spotlight Webpage
Available in Packages Only

✔

✔

✔

Online Promotion Participation
Available in Packages Only

✔

✔

Funding Foundation & Execution
Basic Funding Training
Available in Packages Only

✔

✔

✔

✔

Full Funding Training & Sponsorship Forms
Available in Packages Only

✔

✔

✔

Pricing & Invoicing System
Available in Packages Only

✔

✔

NFEC Support
Personal Phone Consultations
Available to All Clients
30 Minute Call via Appointment After Training
4 - 30 Minute Calls via Appointment
3 Hours Total Calls via Appointment
6 Hours Total Calls via Appointment
Program Review & Guidance
Available in Packages Only
30 Minute Program Review or Design Support
2 Hours Program Review or Design Support
3 Hours Program Review or Design Support
Resource Updates
Available to All Clients
Included
Included
Priority Updates
Priority Updates
Resource Branding Options
Curriculum Branding
$495 / $1,995
Basic Branding
Full Branding
OLC & Online Measurement Branding
$1,995 / $4,995
Basic Branding
Full Branding
Marketing, Promotions, & Other Resource Branding
Available in Packages Only
DIY - Add your logo
DIY - Add your logo
Full Branding

$595

$1,495

$4,995

$12,995

Annual Renewal Starting Year Two: $197
Annual Renewal Starting Year Two: $495
Annual Renewal Starting Year Two: $1,495
Annual Renewal Starting Year Two: $3,995