Military Financial Statistics
Many of the military financial statistics presented highlight military financial hardships representative of the average person across the U.S. (review the NFEC's financial literacy statistics). Unlike civilians, men and women in uniform have added pressure to maintain strong financial positions. Military financial surveys highlight high debt and financial issues may impede servicemembers' promotability and flag them as security risks.
The NFEC supports the financial education of enlisted personnel, reservists, and veterans through the American Dream Movement, giving complimentary resources to organizations serving the individuals who serve our country. In addition to complimentary materials and military financial statistics, the NFEC also make available more comprehensive military personal finance packages that include financial education instructor and military financial counselor training, with lesson plans built around military financial literacy training requirements (Sec. 992).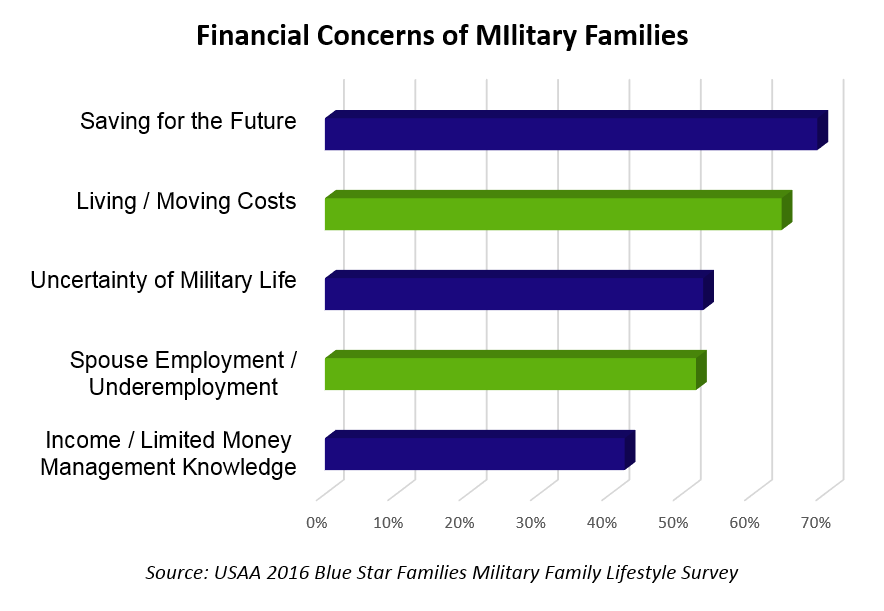 Statistics Demonstrate Military Financial Hardships, Financial Sentiment
According to a 2016 Zebit survey, 44% of military respondents had credit card debt; 29% carried $5,000 in credit card debt or higher; military personnel have significantly more debt and fewer assets than civilians. In a survey conducted by USAA and Blue Star Families in spring 2016, the top financial obstacles among military respondents were saving for the future (69%); living/moving costs (64%); spouse unemployment/underemployment (52%); uncertainty of military life (53%); and low income or limited knowledge of money management (42%).
In the USAA/Blue Star Families survey, 63% of respondents were experiencing stress due to their current financial situations and 37% of respondents felt insecure about their financial futures.
Military Financial Survey of Support System
According to USAA/Blue Star Families, 21% of active-duty spouses who are unemployed had actively sought work within four weeks of taking the survey. The military spouse unemployment rate is 16%, four times the rate for all adult women.
Military financial hardships also extend to financial behaviors. If respondents had access to $1,000 interest-free credit, 45% said they would use it for big or unexpected purchases; 12% would use it for gifts for the holidays, family birthdays, weddings and events. Servicemembers filed complaints about debt collections almost twice as often in 2015 as the general population did (46% vs. 26%), says the Consumer Financial Protection Bureau. About 44% of CFPB's debt collection complaints from servicemembers involved attempts to collect debt that the servicemembers believed they didn't owe.
Military Financial Statistics

Most active-duty respondents (88%) feel that financial readiness training should be more personalized to the specific needs of each family, and 81% of them feel that spouses should be included in unit-level financial readiness training, according to USAA/Blue Star Families. Financial readiness is critical to mission readiness because financial stress can distract servicemembers, distress family members, and harm retention.
The military financial survey conducted by the NFEC and other organizations that gather data presented highlight financial literacy statistics shared by people across the country. Thankfully current active duty personnel have access to mandated financial education training programs through the Office of Financial Readiness.