Leverage Black Friday to Deliver Financial Education Lessons
Most of us wish we'd learned more about managing our money when we were kids. And today's children encounter far more temptations to spend than previous generations did. Financial habits form early, so it's essential to teach kids about money when they're young. This guide offers five activities parents can use to give their children financial skills that will last them a lifetime. Through practical actions like reviewing utility bills, supermarket shopping, evaluating commercials, meeting financial professionals, and a scavenger hunt, this guide shows parents how to take advantage of natural teachable moments to interact with kids about key money and life skills.
Budgeting Before Shopping
Family Money Talks
5 Project-based Learning Activities to Teach Kids About Money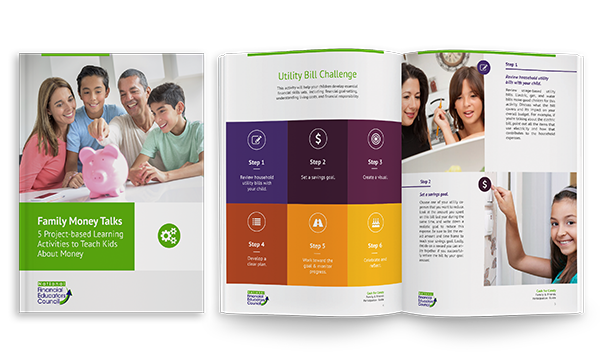 These tips are meant to break the ice to open up lines of communication with your kids on the topic of money. Sharing simple strategies with kids can motivate them to save money, build good credit, avoid debt, start investing young, and achieve a state of financial independence. The NFEC has a complimentary guide available to help you in your efforts: Family Money Talks – Ten Talks You Must Have with Your Children.
Providing financial literacy lessons can give you an instant confidence boost that your children are prepared for the financial real world. Black Friday and other events serve as teachable moments we can leverage to teach kids about money. And financial literacy conversations can produce longer-lasting results over time, as kids translate the lessons they learned into their daily lives.