Impact of Financial Literacy
Empowering individuals with the knowledge of financial literacy will have a dramatic impact on societies and entire nations. The impact of financial literacy can no longer be ignored. It is up to policy makers, educators and people with sufficient private equity, to make financial literacy a priority in our society. As awareness spreads and people make their voices heard, the impact of this skillset will no longer be overlooked. Education in financial literacy will become ubiquitous and these critical life skills will become the norm. The positive impact of financial literacy is undeniable and the sooner this movement spreads, the better off everyone will be.
Financial Literacy Changes Lives
The impact of financial literacy involves real behavior changes regarding financial matters that set people up for financially stable and secure lives. Why is financial literacy important? There are abundant studies that illustrate the very real impact of financial literacy: improved rates of savings, lower levels of debt, increased rates of asset accumulation, just to name a few. It is unfortunate, given these notable impacts of financial competency, that the public education system places little to no emphasis on developing basic financial literacy skills.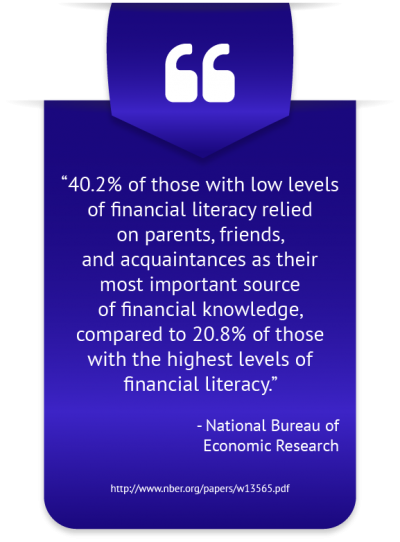 Financial Literacy Has an Undeniable Positive Impact
Attending a employer-sponsored retirement seminar saw net worth increase by nearly 27% for those who were in the lowest income bracket and had not received a high school diploma (Dartmouth). http://www.dartmouth.edu/~alusardi/Papers/Financial_Education_2004.pdf
A team of researchers surveyed students at 15 geographically diverse colleges to assess financial knowledge and behavior. Student responses were organized into 1 of 6 categories based on the type of financial education policy a student's home state had for high school. The categories ranged from a state with no standards at all to states that required a financial literacy course and assessment in high school.
Students whose home states required financial education courses were found to be more likely to save, less likely to make late credit card payments, and more likely to take on a healthy amount of financial risk. While 1.3% of those with no state standards 'maxed out' their credit cards, only 0.7% of those with a required course and corresponding assessment 'maxed out' their credit cards. When asked if used a budget, 46.7% of those with no state standards replied yes while 52.9% of those with a course and assessment replied yes (National Endowment for Financial Education). https://www.nefe.org/Portals/0/WhatWeProvide/PrimaryResearch/PDF/Gutter_FinMgtPracticesofCollegeStudents_Final.pdf
The results from a nationwide telephone survey asking whether the individual had taken an economics or business course at high school and whether they were banked found a statistically significant association between level of high school financial education and being banked (Wiley). https://onlinelibrary.wiley.com/doi/pdf/10.1111/j.1745-6606.2010.01171.x
Financial Literacy Will Impact Behavior
65% of adults in the United States report using a saving account (National Foundation of Credit Counseling). https://www.nfcc.org/wp-content/uploads/2017/03/NFCC_BECU_2017-FLS_datasheet-with-key-findings.pdf
44% of Americans aged 22-26 do their own taxes (Bank of America). https://about.bankofamerica.com/assets/pdf/BOA_BMH_2016-REPORT-v5.pdf
85% claimed they were 'somewhat' or 'very' unlikely to discuss their amount of credit card debt with strangers, more than the percentage of respondents who would avoid divulging details about their love life (CreditCards.com). https://www.creditcards.com/credit-card-news/poll-credit-card-taboo-subject-2013-1276.php
46% of those with low financial literacy index scores reported learning from personal experience, while 73% of those with high literacy scores claimed to learn from personal experience (Federal Reserve). https://www.federalreserve.gov/pubs/bulletin/2003/0703lead.pdf
Parents who have three or more types of savings are more likely to have kids who discuss money with them (83% vs. 66%) and less likely to have kids who spend money as soon as they get it (40% vs. 52%) or lie about their spending (34% vs. 43%) (Money Confident Kids). http://www.moneyconfidentkids.com/content/dam/money-confident-kids/PDFs/PKM-Surveys/2017_PKM_Results.pdf
"I want kids to understand the importance of savings and investing. It's crucial that people understand the importance of financial literacy, because it's actually life saving." – Mellody Hobson, President of Ariel Investments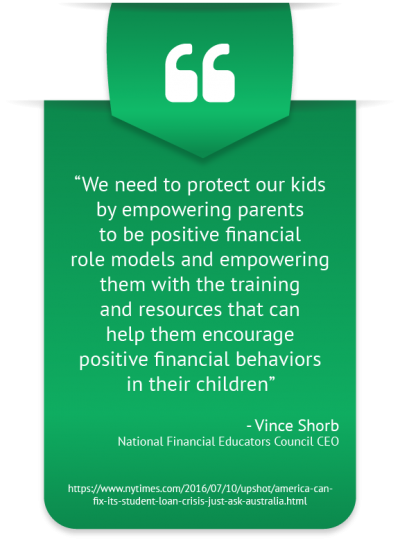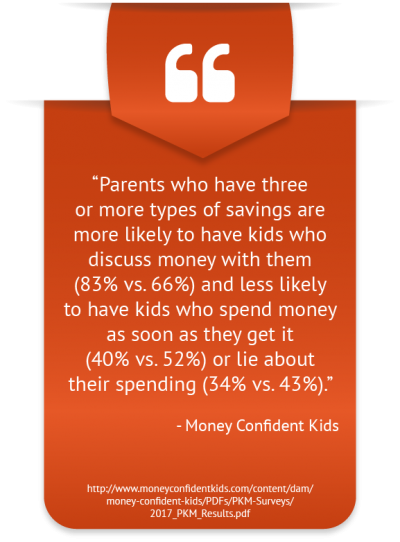 Financial Literacy Programs That Will Have an Impact
The abundance of guidelines published by government agencies and large financial education providers signals a recognition that only well-crafted financial education curriculums are capable of delivering the benefits of financial literacy. A poorly constructed curriculum, even with the right intentions in mind, simply is not effective in improving the financial capabilities of learners. The impacts of proper financial literacy are well documented and represent an empowerment of the individual to tackle the financial obstacles in his or her own life.
The Australian government encourages initiatives to contribute to and conduct research to both discover more effective methods of financial education and to determine the effectiveness of the program (Financial Capability). http://www.financialliteracy.gov.au/media/546585/report-403_national-financial-literacy-strategy-2014-17.pdf
New Zealand's Commission for Financial Literacy and Retirement Income states the benefits of financial literacy should be promoted through appropriate channels so as to make potential participants aware of the practical impact the program can have on their lives (Commission for Financial Capability). https://www.cffc.org.nz/assets/Documents/National-Strategy-for-Financial-Literacy-2012.pdf
One team of researchers decided to analyze the efficacy of simulations in producing behavioral change in students. Students who took Junior Achievement's Finance park, a simulation for middle school students that sees students assume family and income scenarios, were split up into two groups after going through the park the first time. One group underwent financial education training while the other group did not. After 12 weeks, all the students went through the park for a second time. Over half the students in the group that received training were able to successfully construct a budget, a statistically significant amount over the only 1 student who was able to do so before the training (National Bureau of Economic Research). http://www.nber.org/papers/w16271.pdf

Quotes and Statistics Show Need for Financial Literacy Among Youth and Adults
46 percent of respondents said they either could not cover an emergency expense of $400 or would cover it by selling something or borrowing money (ConsumerFinance.gov). https://s3.amazonaws.com/files.consumerfinance.gov/f/documents/102016_cfpb_FinancialLiteracyReport.pdf
Only 16% of Americans between ages 18-26 are very optimistic about their financial future (Bank of America). https://about.bankofamerica.com/assets/pdf/BOA_BMH_2016-REPORT-v5.pdf
"Many entrepreneurs struggle to understand payroll taxes, health care and other thorny issues… In other words, they don't have the financial literacy to scale their businesses and attract investors." – Daymond John, CEO of FUBU and Sharktank host
Financial Literacy Impacts People and Society
With the impact of financial literacy so evident, it is in the hands of policy makers and financial educators to transfer this indispensable knowledge to individuals. If we want communities to reap the benefits of financial education: have higher participation in the stock market, lower rates of mortgage delinquencies and higher credit scores, then we must undertake the mission of educating each and every individual with basic financial literacy skills. The impact of financial literacy is obvious, but the commitment of public educators to teaching financial literacy classes isn't. Let's change that.