Financial Literacy Pilot Programs & Program Evaluation and Enhancement
Building a financial education model that can scale is key to addressing the financial illiteracy epidemic. The NFEC helps you launch, implement and measure financial literacy pilot programs and program overhauls so your program can deliver the results necessary to expand.
Until recently, if you wanted to make a significant impact on the financial capabilities of the people you serve, you've likely encountered significant barriers to entry. New program processes enhancements developed by the NFEC provide a road-map for bringing a professional-level financial literacy program to those you serve.
Having served several thousand organizations over the last decade, the following process has been developed to help you maximize the impact of financial education programming.
Financial Literacy Pilot Program

Conducting a smaller-scale and shorter-term financial literacy pilot program and feasibility studies will help you lay the foundation for your program.   The objective is to build an initial, successful program and provide detailed reporting of that program's accomplishments.  You will then have the reporting and processes in place to expand the programming and attract funding.
Once the feasibility phase is complete, the NFEC provides all the resources your organization needs to continue and scale the program.
Financial Education Program Evaluation & Enhancement
The NFEC developed key outcome benchmarks that distinguished financial education programs possess.  The NFEC evaluates over 45 different segments of your financial education program and grades your programs ability mold and modify participants' behaviors, meet organizational objectives and the ability scale your initiative.
A detailed report is provided and expert guidance is provided to help you adopt the recommendations.  Once the review is complete, the NFEC can supply needed resources or manage your new programs pilot.
Apply for Pilot Program or Program Evaluation
1) Initial Interest – Get Initial Program Buy-in.
First impressions count when introducing the idea of bringing financial education programming to the people and organizations you seek to serve. To build initial interest, enlist stakeholders' support, and obtain initial buy-in requires professionalism and clear messaging.
2) Understand the Stakeholders' Needs.
This discovery phase is where you learn about the needs of the organization and individuals you will be serving. This process lays the foundation for defining programming objectives and helps you design a program for maximum impact.
3) Define Benchmarks to Measure Impact.
The 'define' phase is where you will establish the measurement system that will demonstrate financial literacy program impact. The defined goals will provide overall blueprints for the campaign and barometers of the program's success.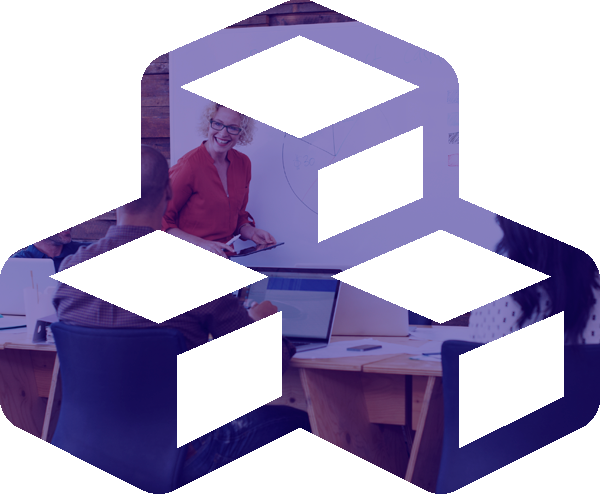 4) Design.
Create a program around the needs and benchmarks you identified. Properly designed financial literacy programs are built with purpose: all campaign components work together to promote financial wellness and further your business objectives. During this phase, you will construct the program based on the goals stated in.
5) Solution Presentation & Follow-up.
Presenting the financial literacy pilot program you designed and getting commitment to launch the financial wellness initiative is the final step to get program approval.
6) Educational Materials & Mix.
Aligning the educational materials and mix with the needs of your stakeholders and learners forms the cornerstone of any financial education initiative. In this phase, you will finalize your educational materials and delivery methods.
7) Personnel Training.
To ensure that your team members are fully prepared for the financial education initiative, training is essential. During this step all client-facing volunteers, personnel, and assistants receive training to better communicate the program and/or lead the educational effort.
8) Personnel Hiring or Outsourcing.
Expanding your team or outsourcing various functions may be needed if you need additional support. Clear hiring and performance expectation criteria should be established for all team members, financial literacy speakers and key stakeholders.
9) Communication, Marketing & Handouts.
Successful programs include professional marketing resources and correspondence that promote the initiative, increase participation rates, and raise awareness.
10) Launch.
Formal program announcements, financial wellness launch events and other methods of letting your audience know about your financial education program raise awareness and encourage participation. All launch options do vary in size and scope, but do possess some common core design elements and goals.
11) Support Materials.
There are a lot of moving parts when you launch a professional-level financial education program. Be sure to think through all support materials.
12) Measurements.
Financial literacy programs that do not clearly define quantifiable measures of success in advance of development lack structure and deliver subjective results. These data-gathering methods empower you with data and reports by which program success can be judged.
13) Participant Recognition.
Build affinity toward your program by recognizing people who participate in the campaign and highlight the program's success.
14) Attendee Follow-up.
Do not forget about your participants after your program ends! Receive follow-up training resources that help them retain what they learned and continue to build upon their personal finance skill sets.
15) Reporting.
For people or organizations serious about achieving the best results and helping others improve their financial capabilities, measurements, data-gathering, and reporting of the financial literacy campaign are vital. Well-put-together reports highlight your success and professionalism.