Financial Literacy Grant Opportunities
The NFEC's Financial EduNation Campaign is committed to giving organizations financial literacy grant opportunities needed to generate funding for financial literacy initiatives and reduce costs associated with the research and application process. When your organization builds sustainable programs, you help us fulfill our mission: to bring practical financial education to people around the globe.
In past years, the NFEC published the Grant Guide which provided information about more than 100 organizations that provide funding for financial education programs. This guide will still be provided complimentary, and we will now post grants on our Sustainability Blog site in a timely fashion.
Receive financial literacy grant updates by visiting our financial literacy grants page and/or complete the form in the left margin of this page. As grants for financial education programs are announced, the NFEC will notify all of you and update the blog.
The goal is to help organizations significantly reduce the time and expense of researching funding sources on their own. The less time you have to spend focusing on fundraising, the more time you can allocate toward teaching personal finance lessons that can have long-term positive impact on those you serve.
Organizations that Provide Funding
Are you an organization that offers funding for financial literacy programs? Connect with over 5,000 organizations served by the NFEC by submitting your grant information – contact us.
You can also view the programs offered by the NFEC, our partners, and our Certified Financial Education Instructors by visiting the financial education sponsorship page.
Details and Terms
Our goal at the National Financial Educators Council is to provide resources to help you uncover sources of financing. NFEC offers turnkey packages to help you fund your financial education services. We offer sponsorship packages, financial literacy grant material, and complete fundraising programs to help nonprofit organizations and schools fund their financial education services—all at no cost.
These resources may help you discover a funding source. There is no guarantee that you will secure funding. Read the complete terms and conditions for use of this website.
Those interested in teaching and promoting financial wellness, the CFEI professional development program is the preeminent financial educator certification training course.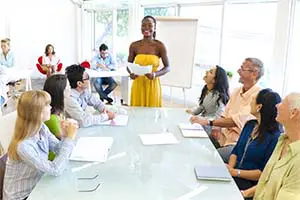 Connect with our audience through engaging and fun presentations that also meets core educational standards. The NFEC's programs have been recognized for their ability to connect with participants.
The NFEC's turnkey financial education workshops provide a complete financial education campaign. Save time, money and the personnel needed by implementing this comprehensive financial education system.
Tips on Winning and Maximizing Your Financial Literacy Grants
In the current economic environment many foundations, corporations, and individuals offer financial literacy grants and funding to support a variety of financial education programs.
The current financial literacy movement is gaining momentum, and an increasing number of financial literacy grants are becoming available. There is good reason why our nation needs to take massive action to combat financial illiteracy now. According to Ben Bernanke, Federal Reserve Chairman, "The financial preparedness of our nation's youth is essential to their well-being and of vital importance to our economic future."
Although many larger financial education campaigns exist, the grassroots financial literacy movement is making an important difference too. This article will explore available funding options for organizations that share your mission of curing the financial illiteracy epidemic.
We have included some tips below to help you maximize sponsorship dollars, fundraising efforts, and financial literacy grant awards:
1) Quit designing new financial literacy curriculum! Many nonprofits and other organizations win financial literacy grant money, then go out and design a brand-new financial education program. Given the quality material already on the market, this is a waste of funds.
The National Financial Educators Council has a wide array of products and services from which you can choose. Our easy-to-use packages will help your program get up and running quickly. Most importantly, our program allows you to focus funding toward reaching more students and making a greater impact on their lives.
Instead of reinventing the wheel, find a financial education program that meets your needs and purchase it with your financial literacy grant funds. This will greatly reduce your investment, and in turn makes you a better candidate for financial literacy grant money in the future.
If you want your own custom-branded financial education program, we can create one for you; or choose from a wide assortment of financial literacy curriculum, camps, and workshops that have a proven track record. Spend your financial literacy grant dollars toward helping your participants receive the financial education services they need.
2) Financial Literacy Certification. No matter how good a financial literacy curriculum is, it won't matter if your teachers are untrained. Many financial education instructors bore kids to sleep. Either educate your financial education instructors, or hire certified financial educators. Teaching personal finance programs right requires qualified, trained educators. Today's youth are motivated and inspired by the educator, not by student guides or materials. Prepare teachers to share this life-changing information in a way to which students can relate—that will ensure your financial education program's success.
3) Financial education services should speak to the target audience. Your financial education program should be designed with the audience in mind. If you're in an area where kids love country-western music, bring in country-western music. But remember, that same presentation will be an absolute flop in a place where kids prefer hip-hop.
Our job as financial educators is to relate to students in a way they understand to maximize learning. The way you present the information is just as important as the financial literacy curriculum itself. Tailoring your presentations also helps you stand out the next time you apply for financial literacy grants, sponsorships, and aid.
4) Measure. Conduct pre- and post-tests to measure the effectiveness of your financial education services. A solid measurement system will be vitally important next time you apply for financial literacy grant money. Measurement not only helps you win more financial literacy grants, it also guides you to improve the financial education program, so the participants get more out of it each year.
Receiving a financial literacy grant means you are responsible for ensuring that the youth you reach achieve their maximum potential for personal finance capability. Our goal is to motivate, engage, educate, and move students to take positive action.
Share This Article