Financial Literacy for Teens: Some Good Practices
Do you have a vision of presenting financial literacy for teens? There are some good practices and techniques that can help programs be most successful. The resources provided here can help get you started.
Top Subjects in Financial Literacy for Teenagers
The key to teaching financial education for teens is to reach them with information they can really use in life. It's useful to center instruction around important life events kids are experiencing now, or are likely to in the near future. Real-world applicability will really drive the lessons home.
Some of the potential life situations that offer teachable opportunities for teens might be buying a car, funding college education, or budgeting to live on one's own. Kids need valuable skills to handle the financial demands of life's realities. Instruction for teens can help them become self-sufficient, self-reliant, and independent adults.
Teens can benefit from just-in-time preparation to meet the financial demands of moving away from their parents' home. Both youth and adults are unlikely to have received any financial education growing up, so helping them modify any negative behaviors is much-needed. And people of all ages should have long-term personal finance planning as an important goal.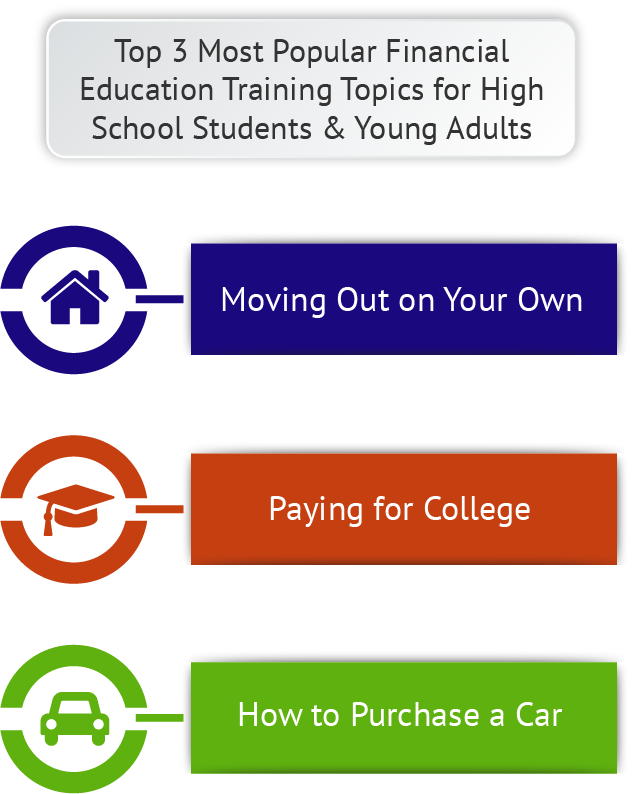 Top Subjects in Financial Literacy for Teenagers
Many features have key impact on a person's future finances, and should be taken into consideration when developing programs to teach financial literacy for teens. We discuss five of those factors here.
The family financial situation is the first consideration. Both the family's SES and the money habits that have been handed down through the generations can be quite influential on teens.
Financial behaviors come next. There are a plethora of motivations for behavior development, but advertising tactics top the list. Youth are exposed to commercials that, in general, are not established on moral ground and can contribute to teens justifying wrong actions.
Then, what about financial sentiment? Young people's financial attitudes and beliefs form early in life, and partially determine how willing they are to move toward financial wellness.
Fourth, we face a severe lack of financial education in this country. Parents and schools are failing to teach financial literacy for teenagers. Youth often spend at high rates and the ease of getting a credit card worsens the problem. There's important opportunity to bring financial education for teens to a new level.
The fifth factor in financial literacy for teenagers is money management systems. By the time they move out on their own, most youth will lack the basic systems they need. By "systems," we're referring to savings, checking, and retirement accounts, and trusted professionals to guide their planning.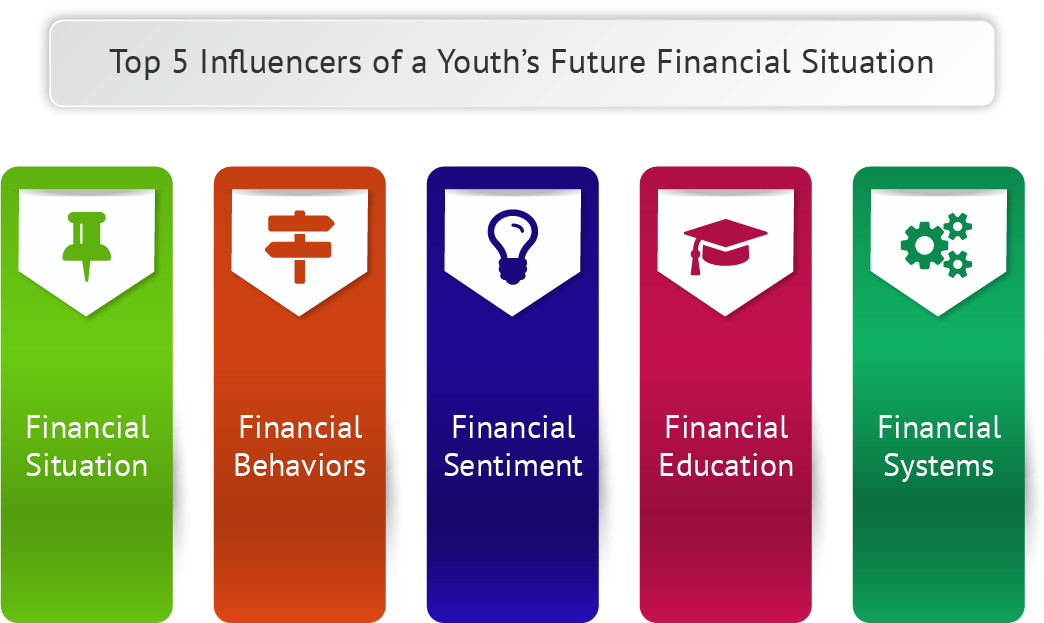 Locate Qualified Instructors of Teenage Financial Literacy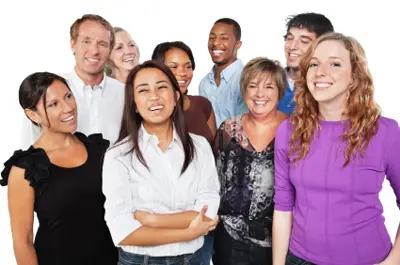 Every day the front-page headlines draw attention to the financial crises so many Americans are experiencing. And young adults are some of the hardest-hit by money problems today. Teenage financial literacy may be the best way to combat the economic slowdown and give youth a head start toward financial independence.
Most kids still get their primary money training from their parents. But unfortunately many parents never received any practical financial education themselves. Still, learning how to teach basic money management for teens is not difficult. The National Financial Educators Council (NFEC) has a certification program that turns out respected, highly-qualified trainers who are primed and ready to begin teaching financial literacy.
If a youth financial literacy program is taught by a poorly qualified instructor, it runs the risk of turning kids off and tuning them out. Choosing a qualified financial educator is essential to running a successful money management and life skills course. The NFEC's Certified Financial Education Instructor (CFEI) training prepares instructors to present personal finance lessons for maximum retention and engagement.
Parents and schools can find a wide variety of instructors to provide financial education to kids by searching online resources, but locating one who is truly qualified and motivating forms the backbone of a successful program.
A good time to find out more about the NFEC program is in April of each year. April has been nationally recognized as financial literacy month, which is apropos since it is income tax season for most people. Use this month to locate an instructor for your kids or the young people you reach. Alternatively, you might consider undergoing the CFEI training yourself. Besides becoming trained and certified to teach others, you will pick up important money skills yourself. Thus you not only will give children a big advantage in life, but you can improve your own life too.
When they Learn Financial Literacy, Teenagers Succeed in a Brutal World
When today's teenagers reach retirement age, the availability of social security or pension benefits on which to rely is doubtful at best. And in a report recently published by the Government Accountability Office, by the year 2050 30% of workers are predicted to have zero dollars saved in a 401(k) style of account. That's right, $0. These cold hard facts are why, when we're concerned with improving people's financial literacy teenagers should be the primary target.
Are people counting on winning the lottery? Or do they figure on inheriting money from their parents that will get them by after retirement? If so, many people are due for a rude awakening. The National Financial Educators Council (NFEC) and the National Association of State Boards of Education agree that "most workers are not participating sufficiently enough to allow comfortable retirement." But what can we do? The NFEC suggests providing practical training in money management for teenagers.
Every day more Americans fall prey to racking up huge personal debt, empty savings accounts, and complete lack of retirement planning. But our kids can live differently. Research has shown that financial literacy for teenagers, presented via a program that lays out practical lessons which can be readily applied to real-world situations, can honestly change their lives.
Schools are unlikely to be the ones to provide this essential coursework, since they're coping with major budget cutbacks and focusing on complying with the No Child Left Behind testing requirements. It may fall on the shoulders of parents, nonprofits, and community leaders to undertake the important task of bringing student financial literacy programs to communities. The NFEC provides resources, products, services, and even an instructor certification course. This organization is a leader in the space where financial education for teenagers is taught, and consultation with their team of trained experts will benefit anyone with an interest in empowering youth to succeed.
Use Entertainment, Relevance to Teach Financial Literacy for Teenagers
It's no secret that young people today must learn how to manage money. Parents, schools, and the entire global community should take an interest in providing instruction in financial literacy for teenagers, to give them key competencies that will benefit them throughout life.
But to really reach kids with information they'll retain and use, youth financial education must be very different from a typical high school class. By the time a teen graduates from public high school, he or she probably has sat through more than ten thousand hours of classroom time. Given the limited time schools allot to teaching money management for teenagers—if they provide any such instruction at all—it's important for personal finance training to stand out.
The National Financial Educators Council (www.financialeducatorscouncil.org) believes that the most effective way to present personal finance for teenagers is to make it entertaining. Toward that end, the NFEC has developed curriculum that can be presented in classroom format as well as in camps, workshops, after-school programs, or large-scale events. They even have online resources that can be used for home schooling or individual study. But all these materials are meant to be fun, engaging, and entertaining so kids enjoy learning.
Not only are they fun, but the NFEC resources also are relevant. That is, the organization's approach to teaching financial literacy is applied and practical. Using games and activities, kids are guided to practice the money skills they need to meet the challenges of the real world.
Parents and schools interested in promoting financial literacy for youth should look for programs that engage students with activities, movement, multimedia presentations, celebrities, and props—in short, programs like the ones available through the NFEC. And when it comes to financial literacy, teenagers will tune out unless the materials relate directly to things they care about.
Financial Education for Teenagers Gets Kids Excited to Learn
Financial education for teenagers is a must in today's economy. Practical money smarts gives kids confidence, which translates into long-term positive benefits that will improve many areas of their lives. But most personal finance training is boring and turns kids off from the learning process. Young people will become money savvy only if they're exposed to financial literacy education that excites and motivates them to pick up these important skills.
Now there's an answer. The National Financial Educators Council (NFEC) has compiled a complete report that lists and describes the top financial literacy programs for youth. Visit the NFEC website (https://www.FinancialEducatorsCouncil.org) to learn more. In addition, you can watch a free video and get a copy of the NFEC's factsheet, 10 Tips to Teaching Kids about Money. These materials offer a sound basis for a good program to teach money management for teens.
While the financial odds may be stacked against young people today, training in personal finance for teenagers can help them avoid many of the money problems that plague so many people. And financial education doesn't have to be boring. The NFEC advises using games, activities, movement, celebrity endorsements, and multimedia to keep financial education lessons exciting. Entertainment is one of the best ways to promote learning in a way that motivates people to take positive action.
Right now it is vitally important that we provide our youth financial education that encourages them to pick up practical money and life skills. To be most successful, such education cannot discourage them from learning. Rather, the lessons must be varied and practical enough that kids become excited to learn. According to the NFEC, such exciting programs are available; you just need to know where to look. Visit the website to find out more.