What is Financial Literacy?
To answer the important question, "What is financial literacy," let's define each word individually. The word finance applies to "any dealings with money." Then, literacy refers to "knowledge or competence." Therefore, when put together Financial Literacy means, "Knowledge and competence of how to deal with money." When people are financial literate, they understand financial topics. However, this does not mean they will make right decisions when it comes to managing their money. Driven by sentiment and systems, their financial behaviors play an important role in their overall financial outcomes.
Financial Literacy Definition
The financial literacy definition developed by the National Financial Educators Council:
Possessing the skills and knowledge on financial matters to confidently take effective action that best fulfills an individual's personal, family and global community goals.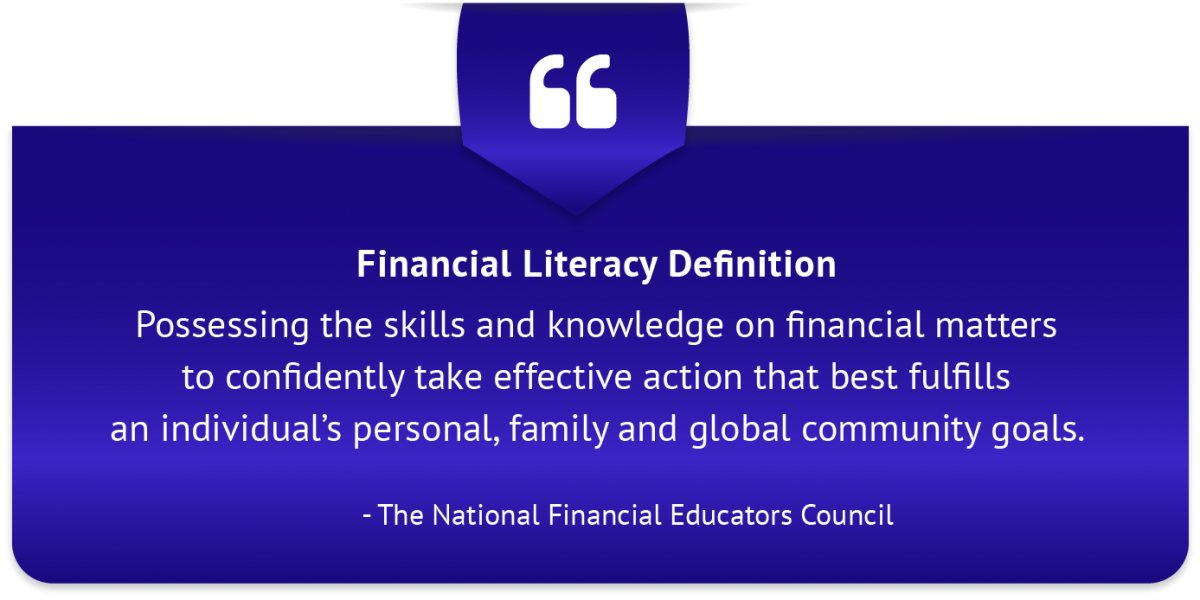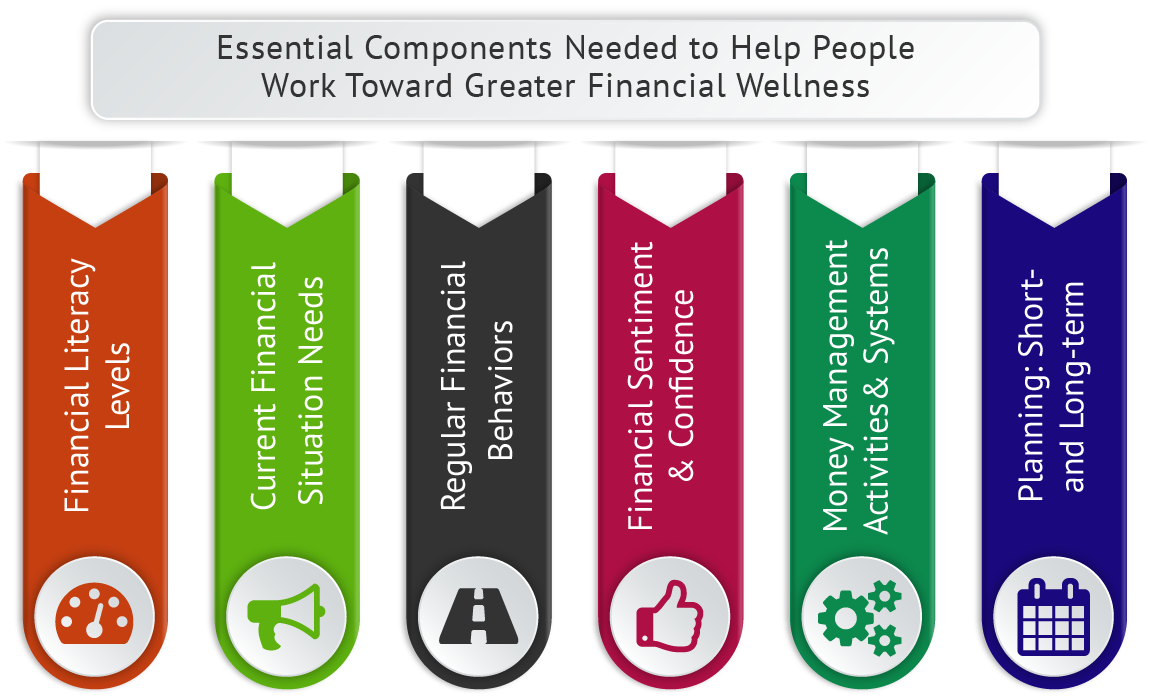 Definitions of Financial Literacy
"Financial literacy is a combination of financial knowledge, skills, attitudes and behaviors necessary to make sound financial decisions, based on personal circumstances, to improve financial wellbeing" (Australian Securities and Investments Commission). http://www.financialliteracy.gov.au
"Personal finance describes the principles and methods that individuals use to acquire and manage income and assets. Financial literacy is the ability to use knowledge and skills to manage one's financial resources effectively for lifetime financial security. Financial literacy is not an absolute state; it is a continuum of abilities that is subject to variables such as age, family, culture, and residence. Financial literacy refers to an evolving state of competency that enables each individual to respond effectively to ever-changing personal and economic circumstances. The combination of knowledge, skills, attitudes and ultimately behaviors that translate into sound financial decisions and appropriate use of financial services." – The Center for Financial Inclusion
"A level of financial knowledge and skills that enables individuals to identify the fundamental financial information required to make their conscious and prudent decisions; and after the acquisition of identified data allows them to interpret said data, make decisions on their basis, all the while assessing potential future financial and other consequences of their decisions." (National Bank of Hungary, 2008).
"The ability to read, analyze, manage, and communicate about the personal financial conditions that affect material well-being." (National Endowment for Financial Education). https://www.nefe.org/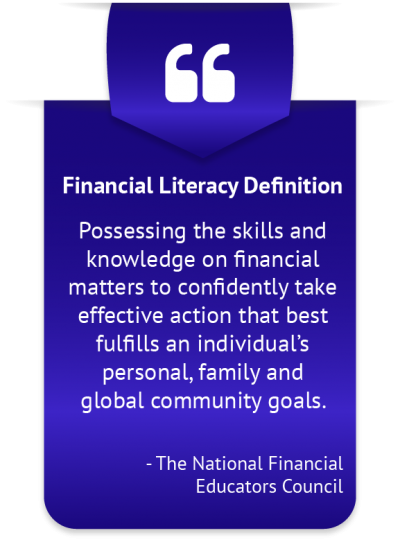 Aspects of a Good Financial Literacy Program
Modification of financial behaviors is the result of proper financial literacy education efforts. Education in personal finance must adopt well-researched delivery methods and program practices in order to maximize the potential for positive behavior molding of students. Multiple papers have shown personal finance knowledge to be associated with positive financial habits that support the long-term financial goals of an individual. Those looking to implement financial education within their communities should be aware that only when done right can the benefits of financial literacy be recognized.
A study undertaken in the Dominican Republic compared two distinct approaches to financial literacy: a standard accounting curriculum and a rule-of-thumb training that taught financial heuristics and found that the simpler rule-of-thumb training produced a larger effect in firms' financial practices and made them more likely to keep accounting records, forecast monthly revenues and objectively report financial figures (Poverty Action Lab). https://www.povertyactionlab.org
The Financial Literacy and Education Commission (FLEC) states that building public awareness of educational resources is the first step a program should take to ensure that its carefully crafted materials are implemented in communities (Financial Literacy and Education Commission). https://www.treasury.gov/
Forming the Habits of Financial Literacy
A research study analyzing the effects of parents' values on children found a statistically significant positive association between parent's savings rates and children's savings rates (Journal of Economic Psychology). https://home.uia.no
An additional year of schooling increases the probability of having an investment income by 4.4% for whites and 1.7% for blacks (Harvard Business School). http://www.people.hbs.edu
Financial Literacy is Best Learned in Youth
Two in five U.S. adults report keeping a budget and tracking their spending (National Foundation for Credit Counseling). https://www.nfcc.org
65% of adults in the United States report using a saving account (National Foundation for Credit Counseling). https://www.nfcc.org
Nearly two in ten adults roll over $2,500 or more in credit card debt each month (National Foundation for Credit Counseling). https://www.nfcc.org
Experts Speak on the Importance of Financial Literacy
"Financial literacy is just as important in life as the other basics." – John W. Rogers, Jr., CEO Ariel Capital Management
"The good news, though, is that all of us can improve the security of our futures through financial literacy. With a better understanding of the basics of finance—how to save, budget and invest—we can increase both our earning potential and our prospects for a solid financial future." – Reba Dominski, President of U.S. Bank Foundation
What is Financial Literacy and Why Is It Important
A growing realization that our youth are graduating without certain fundamental skills has led concerned individuals to seek out what our education system is missing. Once they find out that our youth are lacking, especially in terms of financial decision making, they ask the question: what is financial literacy? When answering the question of, "What is financial literacy," it is important to keep in mind that this is a broad topic that deals with the efficient management of one's personal finances.
A reason why so many people are asking the question of, "What is financial literacy," is in part due to the understanding of many that financial literacy is a required skill to reach your financial goals. The question, "What is financial literacy," has broad answers, but at its core, financial literacy involves the use of knowledge to make astute and sustainable financial decisions. In order to teach such a skill to our communities, individuals must advocate for financial literacy programs within our schools.
The National Financial Educators Council answer to the question "what is financial literacy?"…possessing the skills and knowledge on financial matters to confidently take effective action that best fulfills an individual's personal, family and global community goals.
The NFEC's philosophy was developed around the National Financial Capability Strategy report. The NFEC analyzed 47 recent proceedings documents, agency reports and other materials to presents some of the overall strategies identified by various agencies to guide nationwide financial literacy training. From our analysis three common themes emerged that might usefully underpin national standards for promoting financial literacy: education, awareness, and sustainability.
The National Financial Educators Council has sponsored, reviewed, and designed more than a thousand financial education programs. In process, the NFEC has identified the essential components programs must include for maximum impact and developed a clear financial literacy definition.
Financial education programs can be evaluated using three important criteria that determine their potential for long-term impact. The programs that best reach people with life-changing lessons are those that spark positive changes in participants' financial behavior, raise community awareness, and maintain a sustainable business model.
The NFEC has coined the term "campaign approach" to describe model programs that focus on these three vital components. The campaign approach to financial literacy initiatives engenders strong community support, reaches a wide audience, and employs fun, motivating instructional techniques to keep participants interested and engaged.
Unfortunately, many programs today do not take advantage of the benefits offered by the campaign approach. Many that are teaching financial literacy programs are one-dimensional, fail to align with larger objectives, and lack overall strategy. Such education typically lacks ongoing funding and is just plain boring—alienating participants from the learning process. And stale, boring programs usually suffer from low attendance.
The campaign approach engages target communities in the financial education process to present a far-reaching, appealing, sustainable program. Such initiatives are designed to be fun, engaging, and motivating—inspiring participants of all ages to take positive action. They garner media attention, attract others interested in promoting financial literacy, and thus receive strong backing from funding agencies and donors. Taking the campaign approach maximizes program outreach and impact.