Finding Financial Literacy Curriculum for College Students
Attempting to locate engaging, impactful educational material by looking around online can be an incredibly stressful process. If you're looking for a financial literacy curriculum for college students, specifically, you have probably already realized how true this is. Your frustrating search is over, because the NFEC has exactly what you're looking for right here. Our dedicated team recently put together a comprehensive guide, which can serve as a lifeline for anyone who wants to leverage this type of educational material – regardless of their profession.
With considerable experience helping people in this field for a number of years, the NFEC offers financial literacy curriculum for college students worldwide to both people and companies. The solution we've build helps our clients take advantage of highly-beneficial educational content that's modifiable to whichever audience, no matter how old they are or their socioeconomic status.
Our material is both useful and absorbing, while also offering our users a hint of fun along the educational journey.
Finding Financial Literacy Curriculum for College Students
How has our solution worked out there in the field? Let's take a deep look at an example of a real-world success story where somebody successfully leveraged our financial literacy curriculum for college students in their life:
Dillon has been working as a high school counselor for a few years, and is responsible for about 63 seniors. As many of them were entering college, he wanted to provide them with some useful information to help them prepare for their financial futures. He decided to design some sort of financial literacy curriculum for college students that could help them. He already had acquired a solid level of knowledge on the topic himself, but he never really considered himself a personal finance teacher. For that reason, he understood that it would be best to reach out for some experienced help in teaching this vital information.
After doing a brief, multiple-choice paper survey at the end of his regularly-scheduled meetings one week, he realized that most of them hadn't the slightest bit of basic knowledge on responsible money habits.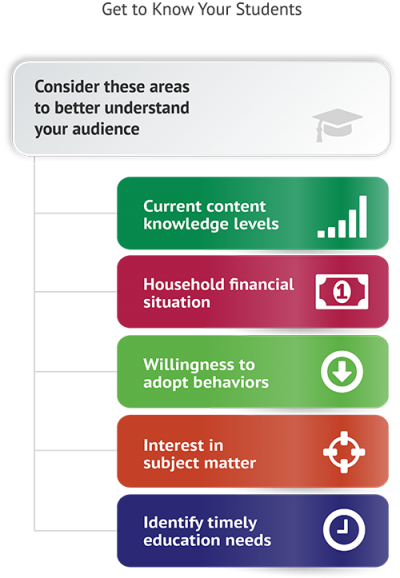 Step 1: Financial Literacy for College Students Curriculum
The initial goal Dillon had was to put together some third-party materials in a package that could be passed out while teaching financial literacy to the college students, so he could bestow this vital information on the students directly in a visual format. He was determined to help them reach an above-average level of proficiency by the end of the year, but wanted to just give a generalized overview to start off with.
The Right Financial Literacy Curriculum for College Students
At that point, Dillon already laid out his short-term plan and his vision for the college financial literacy curriculum. The next decision he would have to make would be practical: what should the format and pace of this course be? They all had busy schedules in their final year of high school, so he decided that an internet-based option would be the best route.
The Importance of Execution
Dillon quickly understood that his concept for the financial literacy curriculum for college students was still broad in its focus, especially since he just wanted to get the ball rolling for these students. He needed to whittle down the core focus of the first financial literacy for college students curriculum, so he opted to organize the initial segment around mainly student loan options and general college financing strategies.  He started by understanding their current content knowledge and gave them a college level financial literacy test.
Working out a Pace
There was no way that this could all be done in one week, or on a fixed schedule of regular lessons. For that reason. Dillon decided that he would need to find a flexible financial literacy curriuclum programming – one that could be divided into modules and done on the students' own free time.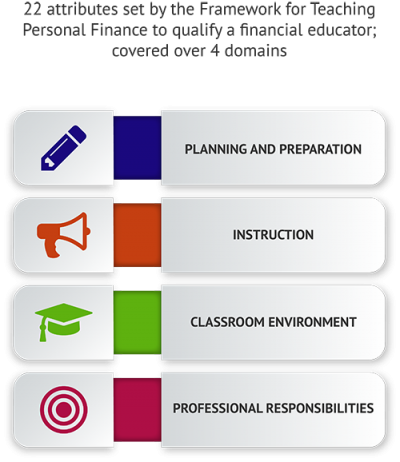 Finding Help with a College Financial Literacy Curriculum
He also needed to find someone to help him – a person who knew how to build financial literacy curriculum for college students that were entertaining while still being effective. Thankfully, he managed to get in touch with a an instructor with the National Financial Educators Council. Thanks to some extra help from an experienced veteran in the field of delivery financial literacy to college students, he immediately felt more confident in his financial literacy for college students curriculum.
Looking at the Results
Of the 63 volunteers that ended up taking part in the college financial literacy curriculum, 60 of them (95%) successfully completed the whole college financial literacy curriculum. After the program was finished, those who completed it filled out a questionnaire and 91% of them indicated that their personal finance confidence "significantly" improved as a result of the course.
The Ever-Crucial Follow-Up
Dillon already realized that all the progress the group gained during this program could potentially disappear if they didn't receive some form of ongoing support. As the first financial literacy for college students curriculum was done, he thought it would be smart to send a personalized message to each of the participants – congratulating all of them and attempting to give them some inspiration to keep building their knowledge of personal finance matters.
To help them even more, Dillon decided to keep offering courses that would be quite similar to the first financial literacy curriculum for college students, as it relates to subject matter and format. Doing so would help them to keep building on top of the foundation of important knowledge they've already created.
Raising financial capabilities among students and community members forms the main goal of an exciting campaign that is now available to colleges and universities nationwide. To promote financial literacy for college students, curriculum available up until now tended to be boring, failed to connect with students, and/or lacked effective promotional components. Now these boring programs are a thing of the past. The National Financial Educators Council (NFEC) designs and implements financial education campaigns that truly get young people interested to learn about money.
The NFEC is an independent organization with a social enterprise model, dedicated to creating a world whose citizens have the capability to make qualified financial decisions to improve their lives. In collaboration with an expert team of financial professionals and award-winning educators, they have developed financial literacy curriculum packages for all ages. At the college level, these curriculum resources can be employed not only to improve students' financial capabilities, but also to achieve a variety of school objectives.
The NFEC takes a three-pronged approach to promoting college student financial literacy. First, the NFEC helps colleges educate. Using engaging presentations, online resource support, trained and qualified educators, and entertaining speakers really drives home the lessons this curriculum is designed to teach. The result is college money management programs that really make a difference in students' lives.
Second, this curriculum is designed to raise awareness. Targeted branding, media packages, and marketing tools help spread the message to the community that a college has taken this important initiative. These financial literacy activities for college -level students build positive relationships between the school and parents, the community, and potential sponsors.
Finally, the NFEC curriculum has potential to achieve maximum sustainability over time. As community leaders and financial companies become aware of the program, relationships will form that help the college or university continue presenting these financial literacy lessons throughout perpetuity. Find examples of NFEC curriculum components here.