Training & Presentations

The Transamerica Financial Educators Academy and the National Financial Educators Council support people who seek to expand their businesses while empowering people in their communities with personal financial knowledge.
The training and presentations to which you will gain access through this collaboration create a comprehensive outreach system you can use to host financial education events. Leverage these tools to acquire new clients, serve your current client base, connect with key organizations, and position yourself as a financial education advocate who supports your community.
The Transamerica Financial Educators Academy has developed custom financial education materials for its Tomorrow Makers. Simply register for the NFEC's Certified Financial Education Instructor professional development program. Upon graduating the coursework you will receive instant access to the presentations and promotions that come with this program.
Certified Financial Education Instructor – Professional Development Training
The Certified Financial Education Instructor (CFEI) training program helps individuals acquire the expertise, credibility, and self-assurance they need to teach money management lessons effectively.  CFEI graduates are recognized as the most qualified financial literacy educators in the industry. Graduates report that the coursework leaves them feeling more confident about their instructor skills, and makes delivering financial literacy presentations more enjoyable.
For those interested in earning their financial literacy certification, the NFEC's CFEI coursework is a Professional Designation listed on FINRA's site*.  The CFEI training program also is well-recognized among the academic community – the program has been utilized by more than 30 U.S. colleges and is taught through major universities.
Graduates are registered as Certified Financial Education Instructors and those who successfully complete the testing and training will receive a graduation certificate in the mail. Upon course completion, financial educators may officially identify themselves as Certified Financial Education Instructors, are automatically accepted into the Personal Finance Speakers Association, and have the opportunity to conduct financial literacy presentations.
Upon graduating the certification course you receive all the material included below:
Presentation Package
The Transamerica Financial Educators Academy presentations are designed to help you conduct financial education events that reach your targeted demographics. Graduates of the CFEI course can use these presentations for a variety of events to serve a broad range of audiences: corporations, community groups, schools, nonprofits, religious organizations, and your own current clients.
This turnkey presentation material includes an instructor's guide, student guides, PowerPoint, testing tools, and surveys. The modular format allows you to accommodate most schedules and provide high-impact, professional-level presentations.
The Transamerica Financial Educators Academy Presentations provide practical lessons to help your participants develop long-term financial plans.
Download Samples of End-Student Education Materials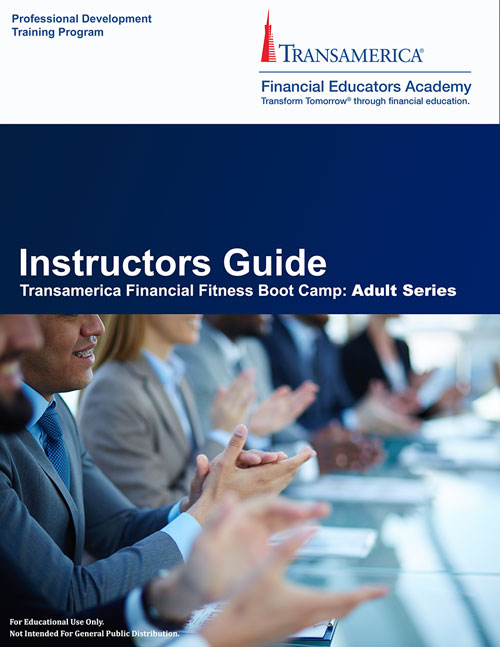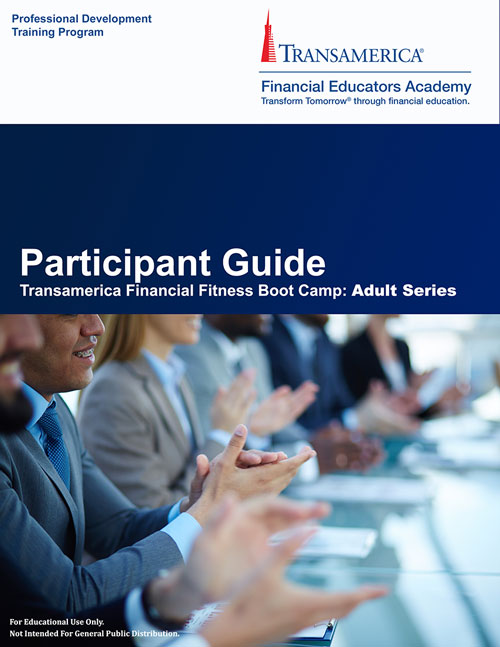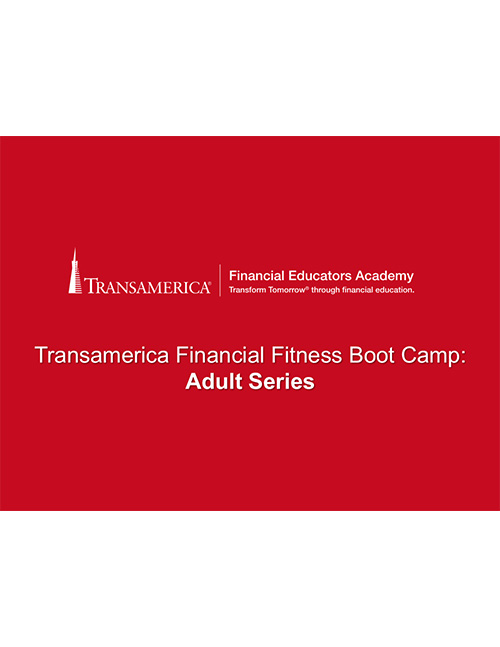 Private Label to Your Brand
When finalizing your student guides for delivery to the end-student, the Transamerica Financial Educators Academy document store allows you to:
Add Your Logo to the Internal Title Page
Add Your Contact Information to the Internal Title Page
Financial Education Promotions
Upon completing the CFEI coursework you will receive financial education presentations, testing/survey resources, and more tools to help you make a positive difference in the financial well-being of others.
Taking a comprehensive campaign approach helps you build positive brand image, gain clients, and generate referrals. You can leverage this turnkey system to:
Support Your Community

Acquire New Clients
Develop Existing Clients

Advocate for Financial Literacy
Receive Media Awareness

Build Community Goodwill
Build a Lasting Legacy

Develop Unique Brand Recognition
The promotions package can help your organization meet its business objectives while you serve the community in a meaningful way. The package helps position you as the advocate and leader who brought a comprehensive financial education program to your community.
Thank You
The Transamerica Financial Educators Academy and the NFEC commend you for your interest in teaching personal finance. It is our shared goal to provide you with financial literacy initiatives that engender strong community support, provide practical financial lessons, and create a sustainable model that aligns with your business objectives.
Your Investment is $264
*An annual investment of $154 is required to maintain Certified Financial Education Instructor status. Read the complete terms and conditions. The annual investment starts 1 year after you register and includes all the training, tools, and testing you will need to keep your certification up-to-date.
*FINRA does NOT approve or endorse any professional designation. Nor does a designation's inclusion in this database imply that FINRA considers the designation to be acceptable for use by a registered representative.
*All curriculum to be delivered to your students is fulfilled through the Transamerica Financial Educators Acadmy Document Store. The TFEA document store is managed by a 3rd party fulfillment company: OCPC. All guides for end-student materials are purchased directly from OCPC through the document store.
*The Certified Financial Education Instructor course is a program developed by the NFEC to ensure financial educators meet the standards set by the Framework for Teaching Personal Finance.